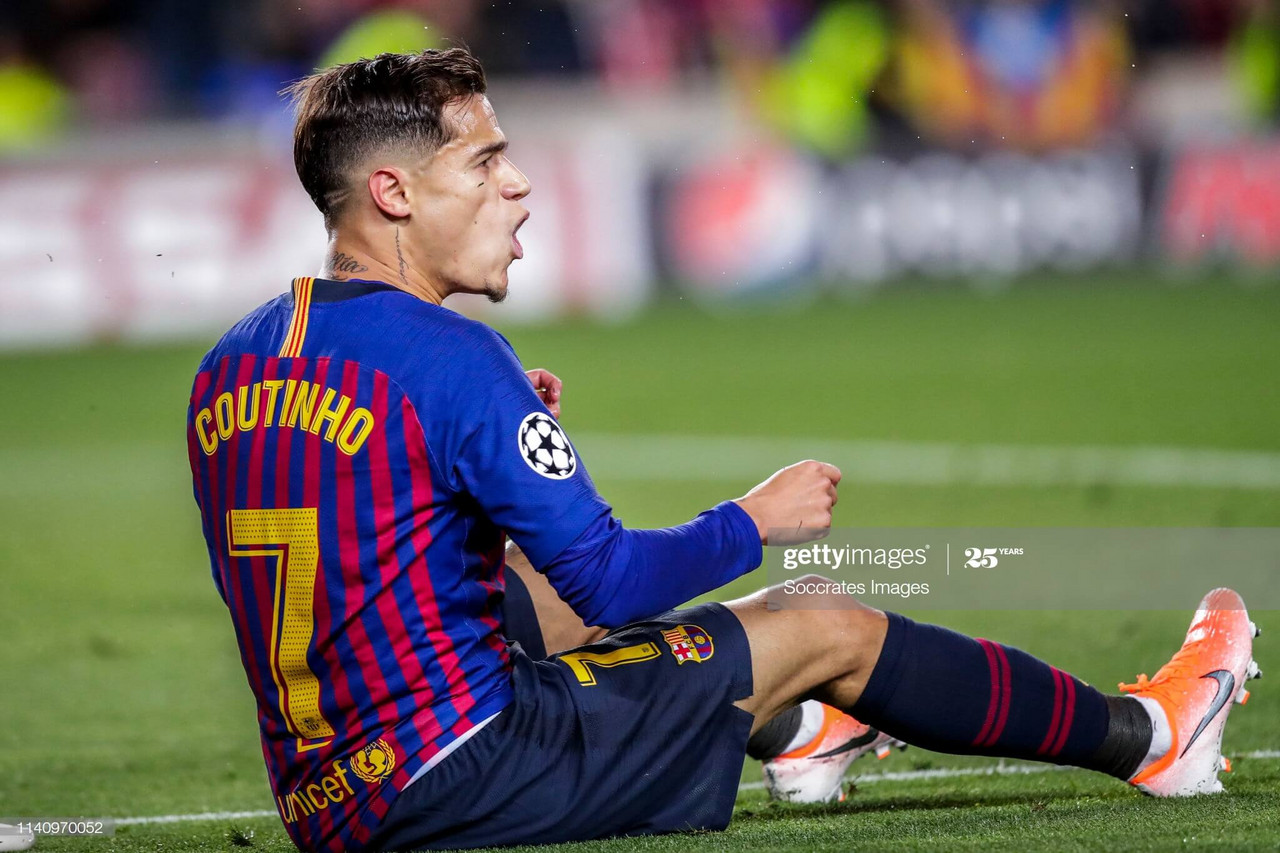 Barcelona are very keen to offload the 28-year-old Brazilian for a cut-price after the midfielder quickly fell out of favour in Catalonia.
Coutinho has spent this season out on loan to German champions, Bayern Munich, where he has managed to score nine goals and assist eight in all competitions.
The Brazil international played for Liverpool before his big-money move to the Spanish giants, where he was one of the Premier League's standout players.
Where has the rumour come from?
Coutinho's agent, Kia Joorabchian, has been extremely vocal about his players' desire to return to English football.
Barcelona reportedly has offered Coutinho's services to Newcastle and Arsenal - as they look to raise funds in an attempt to sign Inter Milan's Lautaro Martinez.
Why would he be offered to Newcastle?
From the perspective of an outsider, it would be ludicrous to think that a player of Coutinho's calibre would be offered to a mid-table Premier League club, but there is a clear reason why.
Newcastle are on the brink of being taken over by a consortium which means the club will be 80% owned by the Public Investment Fund (PIF) of Saudi Arabia.
The PIF itself is Saudi Arabia's sovereign wealth fund, headed by Saudi Crown Prince, Mohammad bin Salman.
The net worth of the Public Investment Fund is an estimated $382bn, therefore, Newcastle will be inheriting an unthinkable amount of cash - which some of it is likely to be spent on making the Toon a European powerhouse.
During the takeover process, which is still yet to be concluded following multiple legal complications - football agents from all corners of the globe have been in contact with the prospective new owners in a bid to get their client on board at a forward-thinking, mega-rich, Newcastle United.
Many believe that the ambitious Saudi consortium, fronted by financier Amanda Staveley, is likely to follow in the footsteps of Manchester City when they were taken over by the Abu Dhabi United Group in 2008.
Owner Sheikh Mansour wasted no time when it came to acquiring a marquee signing, as City signed Robinho from Real Madrid for a British transfer record of £32.5m, just moments after their takeover was confirmed.
Many are describing this audacious potential purchase of the Magpies as 'the next Man City', so it is natural that big players are going to be linked with kickstarted the new regime on the pitch.
Coutinho is not the only top player to have been linked since rumours about the deal picked up in April - as the likes of Gareth Bale, Ciro Immobile and Edinson Cavani have all been mooted with moves to Tyneside this summer.
Could the move happen under the current owner Mike Ashley?
The short answer: no.
This deal, if there is any truth in it, will specifically be based on whether the Saudi Arabian-backed consortium gets approved by the Premier League.
There has been growing uncertainty about the deal passing the Premier League's owners and directors test, due to allegations that have been released about the Saudi regime.
Multiple human rights groups, as well as the fiancée of murdered journalist Jamal Khashoggi, have all written letters to the Premier League in a bid to block the deal.
A letter to the Premier League was also filed by beIN Sports, who want the deal blocked due to the setup of beoutQ - which was used to steal their own sports footage, in particular the Premier League, so it could be re-distributed in Saudi Arabia.
The alleged TV piracy has cost the Doha-based company millions of pounds and has caused 'huge damage' in revenues.
The owners and directors test, which has to be passed in order to purchase a football club, has so far taken a staggering 16 weeks.
However, sources close to the deal believe that a conclusion is arriving very soon.
What would Coutinho bring to Newcastle?
Coutinho somehow arriving at Newcastle this summer would bring the Magpies back into the European football question, it is as simple as that.
There is so much to like about him, he certainly fits the bill when it comes to a being a fans favourite on Tyneside - with his skilful prowess and his set-piece taking ability his primary assets.
Coutinho is no stranger to St James' Park and will have fond memories of playing there, as he scored one of the best goals the stadium has ever seen - when his Liverpool team faced the Toon back in 2017.
One of the reasons why he was exiled from Barca was because he was shifted out wide to play as a left-winger, where he struggled to make an impact.
Coutinho is a natural central attacking midfielder, from this position, he could form a partnership with current player, Allan-Saint Maximin - who is undoubtedly the most exciting talent to play for the club for some time.
The only question mark surrounding the Brazilian is that he is prone to injury, he suffered an ankle injury at Bayern this season, which kept him out for two months.
But, if you keep him fit, you have one of the standout players in the division at your disposal.
Who would he replace at Newcastle?
In hindsight, Coutinho will walk into the Newcastle side as he is far superior to anyone that the Magpies have on their roster.
The 28-year-old would directly threaten the positions held down by Miguel Almiron and Matt Ritchie - who operate down the middle and out wide.
A way to incorporate the Brazilian into the current side would be to play a 4-2-3-1 formation (a formation which Newcastle have mostly played in this season) - and shift Almiron to the left-wing, leaving Coutinho in his preferred role of central attacking midfield.
How much would Newcastle have to pay?
According to a number of news outlets, Barcelona are looking for £71m for Coutinho.
That fee is an enormous sum for a player who is now 28-years old and has struggled with injury since leaving Liverpool.
Bayern Munich had the option to pay £70m to keep the Brazilian on a permanent basis, but have opted against it - the reason why the Blaugrana have offered his services to Newcastle and Arsenal.
An avenue that interested parties could explore is a loan deal, but it is to be noted that Barca will want to recuperate money for Coutinho as soon as possible - especially with the coronavirus pandemic leaving the Spanish giants cash-strapped.
Barcelona, according to the Daily Mirror, is willing to subsidise his £200,000 per week wages as part of a loan move - which would increase the probability of him joining a side like Arsenal.
If Coutinho was to leave permanently and move to Newcastle, it is thought that the wages paid to him would be astronomical - and far greater than what he is currently earning at Barcelona, due to the lack of European football on Tyneside.
Could it genuinely happen?
The fact of the matter is, you never know in football.
If the takeover happens, and the new owners want to make a statement on the rest of the division, there is a chance he could be arriving on Tyneside.
Philippe Coutinho signing for Newcastle would symbolise change, a new dynamic of a club that has stagnated under the 13-year reign of Mike Ashley.
But, Coutinho's stock is still very high, and it is imaginable that clubs who are playing in the Champions League will be interested in him - a much likelier proposition than signing for a mid-table Premier League club.