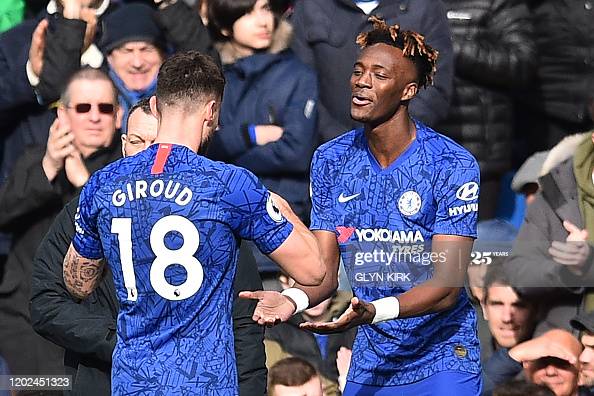 In the earlier part of the season, the answer to the question of who should lead Chelsea's attack was not up for debate. The Blues' academy star Tammy Abraham was proving the doubters wrong, he struck 11 goals in the first 14 Premier League games of the season.
If anyone was to replace an injured Abraham, it was not Olivier Giroud. The Frenchman's Chelsea career looked over. From December to February, Giroud didn't even feature in the squad in the league for ten matches in a row, the place on the bench was instead taken up by Michy Batshuayi.
But the 2018 World Cup winner has since experienced a new lease of life at Stamford Bridge. The failure to bring in Dries Mertens from Napoli meant that Giroud did not leave West London and Abraham's drastic downturn in form has put him back in the team.
In the league, Giroud has 6 in his last 11 games while a floundering Abraham has the same number in 17 matches. Granted, five of these were substitute appearances, but it is clear that coach Frank Lampard's current preferred choice up top is the experienced Frenchman.
With Timo Werner coming in to to bolster the Blues' attack later this summer, Abraham needs to improve his form and perhaps learn a few things off his teammate.
Here's VAVEL's take on how he can do that.
One of the main problems the Blues have faced this season is an inability to break down opposition defences that choose to sit back and defend deep. Giroud's introduction has helped Chelsea somewhat here. Abraham is arguably less wasteful than Giroud when a chance does fall to him, but it is noticeable that for all his football intelligence that serves him well running in behind, his movement in the box needs improving.
The tactic deployed against Chelsea often sees them funnelled out wide and resorting to a barrage of ineffective crosses into the box, but only four of Abraham's goals this season have come from crosses from outside of the box.
It is probably the main reason that Lampard currently prefers to start Giroud as the way opposition defences set up
Former Chelsea striker Jimmy Floyd Hasselbaink told Premier League Productions: "One thing Giroud is really good at is his movement. It's a feeling and he has that feeling of where the ball is going to go."
On the contrary, Abraham's movement in behind defenders is excellent, his pace and intelligence can stretch teams. But when Chelsea are penned in and need an outlet, the four-time England international is second best to Giroud.
With the likes of Christian Pulisic, Willian and Mason Mount, the Blues have an array impressive attacking talent, but they need time on the ball to be effective. 18 points have been dropped from winning positions already this season and Chelsea have often wilted under the pressure of sustained opposition attacks.
Although the Champions League hopefuls have scored the third highest amount of goals in the league on the counter, Abraham is rarely part of the build-up play with his back to goal.
Hasselbaink said: "What Abraham has to learn, look at him [Giroud] he brings other players in, he makes other players look better."
This is not actually Giroud's strong point, but with Werner and other potential signings coming to Cobham, Abraham may continue to find himself left on the bench. Now 22, Chelsea's number nine is reaching the point in his career when he will no longer be the promising academy prospect, but the developed and experienced centre forward.
Werner reportedly appealed to Chelsea and Lampard because he can play in a number of positions. Thus far, Abraham has only been used by Lampard in the middle of a front three.