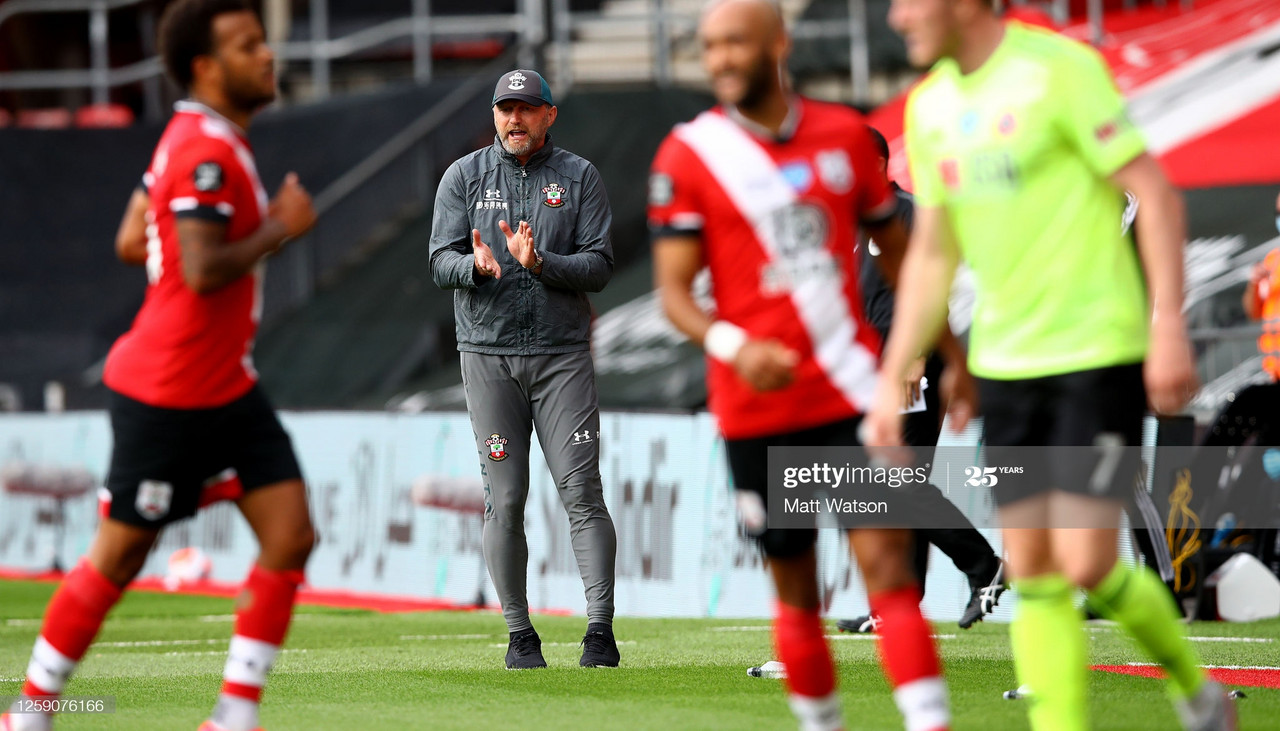 Premier League- 11th
FA Cup- 4th Round
EFL Cup- 4th Round
Southampton's season can only be described as a mixed bag.
As low as 19th and struggling to stay in the Premier League in November, the Saints produced a remarkable recovery to be as high as 9th in January.
Another dip in form meant that Southampton were 14th when the season was called to a halt because of the coronavirus outbreak.
But a wonderful run of form post-lockdown, partly down to Danny Ings' brilliance in front of goal, saw Southampton finish 11th, their highest league position since the 2016/17 season.
They suffered a record-breaking 9-0 loss at home to Leicester City as well as beating Pep Guardiola's Manchester City superstars in a season of up and down results.
Manager Ralph Hasenhuttl was rewarded with a new four-year contract to keep him at St Mary's until 2024, and there's real evidence that the Austrian is starting to form a special team that could bring success back to the South coast.
In the FA Cup, the Saints produced two good performances against Jose Mourinho's Tottenham Hotspur in the fourth round, only to be knocked out in the 87th minute to a Heung-Min Son goal.
The EFL Cup matched Southampton against their rivals Portsmouth, who they thrashed 4-0 away from home in a morale-boosting win.
They made it to the last-16, where they were beaten by Manchester City.
Player of the season- Danny Ings
When thinking about Southampton's player of the season, there is only one man who springs to mind.
Danny Ings has proved to be practically unstoppable this season, netting 22 times in the league to finish just one goal behind the golden boot winner Jamie Vardy.
His prowess in front of goal has never been questioned but, following a torrid time at Liverpool where he had many injury setbacks, many wondered whether Ings could rekindle the kind of form he showed at Burnley.
Ings initially joined the Saints on loan in August 2018 and scored seven goals in the 2018-19 Premier League season.
A mediocre return, but nevertheless, Southampton decided to make his move permanent ahead of the 2019/20 season.
What a decision that was.
Ings' goals fired Southampton out of the relegation zone and put them in touching distance of European football.
He sat on 15 goals before the coronavirus outbreak caused a halt to the season, and there was real hope from Saints fans that he would go on to become the first Southampton player to win the Premier League golden boot.
Electric form in front of goal after the resumption of the season saw that hope turn to reality as Ings hit seven goals in nine games to come so close to Jamie Vardy in the race for the top scorer accolade.
Although he wasn't quite able to overcome Vardy, Ings became only the third Saints player to hit over 20 goals in a single Premier League season, following in the footsteps of Matt Le Tissier and James Beattie.
His goals were crucial in firing Southampton to 11th place this season and, if they can keep hold of him, his goals may fire the Saints to new heights next season.
How new signings have fared
Southampton made five new signings before the start of the season, with two players also joining mid-way through the season.
Danny Ings' move was made permanent having previously been on loan but the other six were completely new players for the Saints. So how did they get on?
Striker Adams joined Southampton from Birmingham City with a big reputation having netted 22 goals in the Championship for City during the 2018-19 season.
Life as a Southampton player did not get off to a good start for Adams however.
A whole year came and went before Adams scored his first Saints goal.
Having signed in July 2019, it wasn't until July 2020 that Adams broke his duck.
But what a goal it was.
29 appearances came and went with Adams seemingly forgetting how to put the ball in the back of the net.
So when he picked up the ball 40 yards out against the reigning champions Manchester City, the last thing many expected him to do was shoot.
But that's exactly what he did, getting a huge burst of confidence to take on City keeper Ederson and loop the ball over his head and into the net.
A fabulous strike that was certainly worth the wait as Southampton went on to take a massive victory against one of the best sides the Premier League has ever seen.
After that goal, Adams played with more freedom and added three more goals to his tally before the season finished.
The club will be hoping that sees an upturn in form going into next season for the Englishman.
Moussa Djenepo signed for the Saints last summer in a reported £14 million deal with Belgian club Standard Liège.
Djenepo didn't feature for Southampton as much as he may have liked in his first season at St Mary's, making just 13 league appearances and scoring two goals, albeit one of them being a brilliant goal.
At just 22 years old, there is real hope that Djenepo can grow as a player and have a similar impact to that of former player Sadio Mane in seasons to come.
Southampton signed young goalkeeper Tommy Scott last season from Yeovil Town.
The Englishman hasn't played yet for the Saints although, at just 20 years of age, he is likely to be a part of Ralph Hasenhüttl's plans in the future.
Young full-back Kyle Walker-Peters signed for Southampton in January, on loan from Tottenham Hotspur.
The Saints' revival in the Premier League coincided nicely with the signing of Walker-Peters, who was brought in to replace Cédric after his move to Arsenal.
The young Englishman excelled at right-back for the Saints and the club will be looking to make his loan move a permanent one, in a move that may see Pierre-Emile Hojbjerg go the other way.
21-year-old centre-back Kevin Danso was another loan signing that the Saints brought in.
He joined in August 2019 and has spent the full season with the Saints, making six league appearances.
It remains to be seen whether or not the club will take up the option to buy clause that is in his contract.
The turning point in the season
The topsy turvy nature of Southampton's season makes it hard to put a finger on where exactly their upturn in form started but the faith shown in manager Ralph Hasenhuttl following the club's embarrassing 9-0 home defeat to Leicester City certainly gave Hasenhuttl the confidence to push on as manager.
Many called for his head after that game, with the club looking destined to be relegated but the Southampton board kept their faith in Hasenhuttl, and boy did he repay them.
The high pressing, at times, attractive football that the Austrian has implemented on his team has really troubled a lot of teams this season, including some of the best in the league.
That show of faith following that record-breaking defeat is likely to have a very positive impact on the club's league position over the next few seasons.
Most improved player since project restart
This accolade has to go Adams.
He seems to have really bought into Hasenhuttl's style of football since the resumption of the season and all that was missing from his play was a goal, which he got with that fantastic strike against Manchester City.
He'll be hoping he can continue that form into next season and rack up some serious numbers alongside Danny Ings.