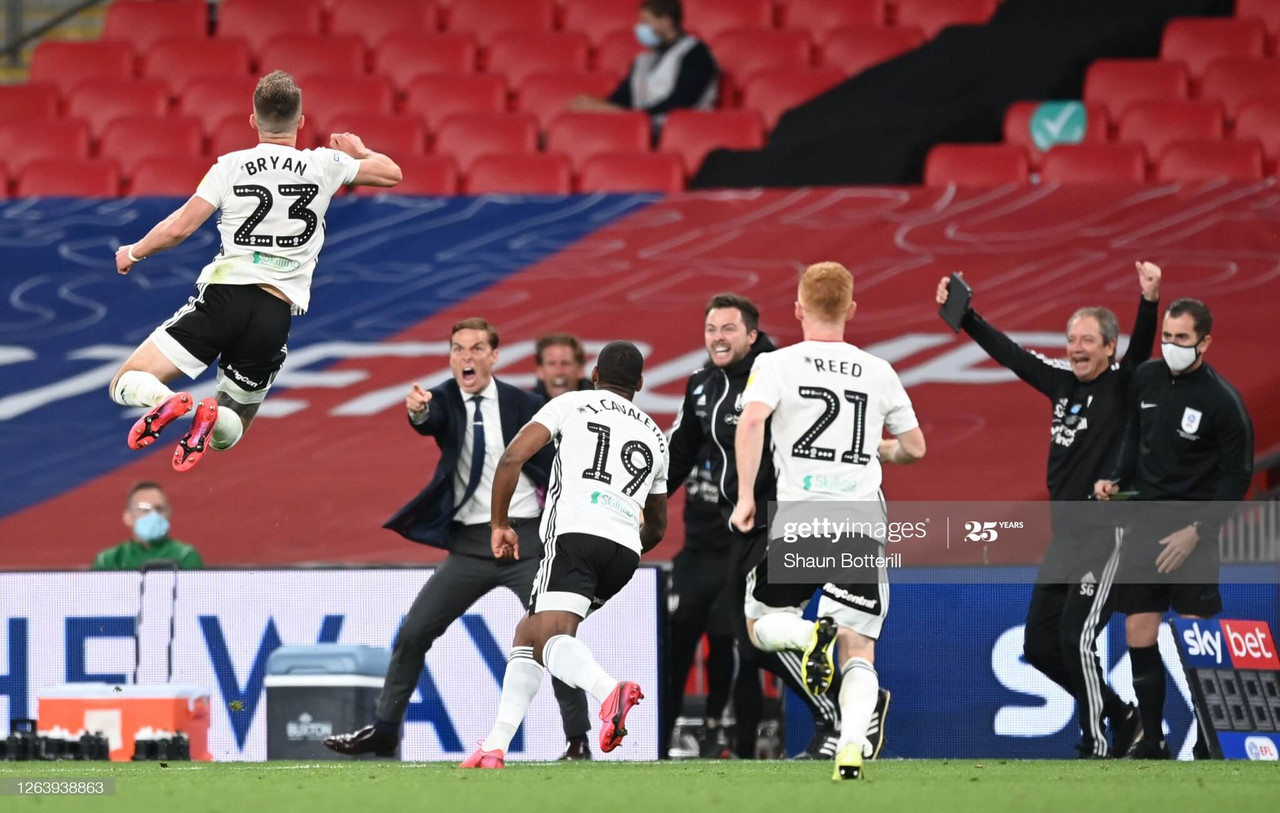 Joe Bryan's first strike in the play-off final was a remarkable free-kick from 35-yards that he looked to be crossing for his Fulham team-mates, but instead shot straight for goal and caught David Raya out.
His second arrived with just minutes left as he burst through Brentford's defence before slipping the ball past Raya.
Despite a late rally from The Bees which saw Henrik Dalsgaard pull one back in the 124th minute of play, Fulham held on leaving Scott Parker an emotional figure as he spoke to Sky Sports shortly after the final whistle.
The 39-year-old said: "This season couldn't have got much tougher, I think I've said it many a time about my team and where we were year ago, coming out of the Premier League, we had some open, big wounds what from the outside nobody sees."
Parker succeeded Claudio Ranieri as manager in February 2019 with Fulham languishing 19th in the Premier League.
'I'm so, so proud of them and what proud of what we've done'
While he was unable to prevent relegation to the Championship, the bounce back ability of his team and staff over this season has left him with immense pride.
Spearheaded by the goals of Aleksander Mitrovic and the creativity of Tom Cairney, they comfortably made the play-off positions and took their automatic promotion hunt right down to their final game of the regular season.
"I'm very proud of my team, I'm so so proud of them and proud of what we've done.
"There's still improvement but that's what makes me so proud, that's what makes me so happy.
"For all the good players and everything you see what makes me happy is that I see a group of players that only a year ago were struggling psychologically, didn't have a mindset about them, didn't have a mentality."
In his first full year as a manager, Parker instilled the belief and confidence needed at Craven Cottage to achieve a fourth placed finish after a tough campaign in the top flight the previous season.
So often the figure of resilience during his playing days, Scott Parker had to bring more grit and determination to The Cottagers who shipped 81 goals in the 2018/19 season.
"I've driven and driven and driven this team every single day and what makes me proud is that I stand on the touchline tonight and I see a team what represents what I've been saying over the last 12 months."
In what was an emotionally charged interview in front of the Sky Sports camera's the Fulham chief thanked his family and vowed to give some of the time he has sacrificed, back to them.
"I hope that after tomorrow I can sit down with the family, sit down with my wife and kids who probably for the last year at times have been on egg shells at different moments.
"Just get their husband back and get their dad back who just does the things that I want to do really."