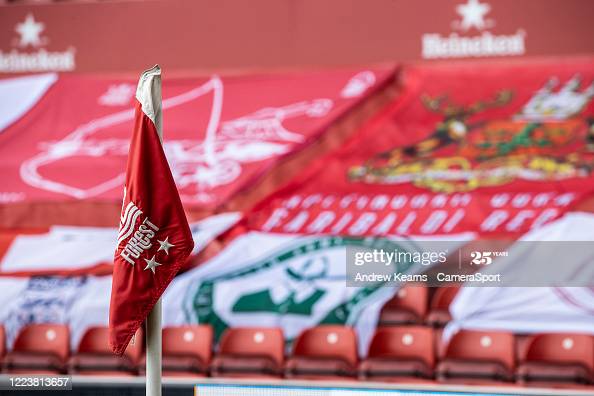 For Nottingham Forest, a club that has so often ventured blindly overseas and looked past the talent on its own shores, the past week has served as a welcome respite from the usual question marks that entail a new signing.
The triple acquisition of Jack Colback, Tyler Blackett, and the highly-sought-after Lyle Taylor has, to many observers, represented astute business, with all three having garnered a great deal of experience at EFL level.
Colback, returning to Forest after two impressive loan spells, will most likely fill the void left by Ben Watson, who is understood to be on the cusp of a departure after the expiration of his contract, while Blackett should at the very least provide back-up for left-back Yuri Ribeiro, something which is in high demand at the City Ground given the ineptitude of Forest's understudies last season and the fixture congestion of the forthcoming campaign.
It speaks volumes about the calibre of Taylor, though, that his role will likely encompass much more than that of playing second fiddle to Lewis Grabban, who notched 20 goals last season. The Montserrat international averaged 0.62 goals per 90 minutes in the Championship last season where Grabban could only manage 0.46, and is seen as a more dynamic option upfront.
To secure Taylor's signature, along with that of Blackett and Colback, Forest had to be decisive and quick off the mark, which - in fairness to Jose Anigo (head of international recruitment), director of football Kyriakos Dourekas and the other members of Forest's transfer committee - they have been.
Anigo, who also works closely with technical director Francois Modesto, has had his competence cast into doubt at times during his first season in charge, most notably after a few disastrous dealings in the January transfer window.
Forest's squad depth, or rather, their lack of it, had been repeatedly exposed during the first six months of Sabri Lamouchi's tenure, and with gaps needing to be plugged, the committee got down to business.
In came Adama Diakhaby, who looked shorn of confidence ever since he set foot on Trentside; in came Gaetan Bong, whose sole appearance against Charlton will linger in the minds of Forest fans for all the wrong reasons, and in came striker Nuno Da Costa for whom the jury is still out after showing flickers of promise towards the end of the season.
It remains to be seen how the new signings will fare, but where before Forest had gambled sizeable sums of money on unproven players - Joao Carvalho and Djamel Abdoun (who was thought to be on more than £35,000 a week) spring to mind as prime examples - the latest newcomers seem a much safer bet, especially given all three were signed on free transfers.
The shift in approach, though, is probably less a product of a conscious desire to evolve and more a case of financial reality. Forest spent 143% of their income on wages in the 2018/19 season and 122% the season prior, two campaigns in which an overall operating loss of £49 million was recorded.
In the aftermath of a pandemic that turned off the money taps and decimated cash balances, they're the sort of statistics that don't bode well for the financial health of the club. Forest are also heavily reliant on their matchday income; it makes up 30% of their turnover, that figure being the fourth highest in the division, another bad omen for a period when fans remain unable to attend matches.
Forest needed to strengthen this summer, but it was always going to be difficult to source the funds given the current financial landscape. Owner Evangelos Marinakis' wallet is only so deep, after all, and compliance with the division's profit and sustainability regulations only stretches so far.
Those responsible with the decision-making seem to have made the best of limited resources up to tis point, even if the work is not done yet.
Much of Forest's future business will be dictated by their outgoings, primarily concerning the in-demand Matty Cash. Cash looks destined for a move to the top flight after an award-winning season at right-back, and at this point, with interest stacking up, it's less a case of trying to hold onto the 23-year-old, and more about securing the best deal possible for him.
Sheffield United, the leading contenders for his signature, have so far fallen short of Forest's £15m price tag but a move to Brammall Lane would appear ideal for Cash, providing him with the opportunity to link up with former teammates Ben Osborn and Jack Robinson while allowing him to stay put at his house in Retford, not far from Sheffield.
Where Forest are concerned, the sale would not only afford them some extra wriggle room in the transfer market - with a new No.10, a centre-back and a winger still on the radar - but it would also account for the inflated wages of the incoming trio who, having arrived on a Bosman at the end of their respective contracts, will have had leverage to negotiate higher wages as Forest did not have to incur any fee for their registration.
Joe Worrall, much like Cash, is another man to have come in from the cold and stamp his authority on the side last season, but could well be moved on should the right offer come in. The list of potential suitors is not as long as the one for Cash but Forest will make sure to keep one eye trained on any developments in that department, especially with their pursuit of Rob Dickie, fellow centre-back and captain of playoff finalists Oxford United last season, apparently gathering momentum.
After a month spent licking the wounds of that devastating knockout blow delivered by Stoke City, Forest seem to have sprung into action. New signings, after all, are the go-to medicine these days.