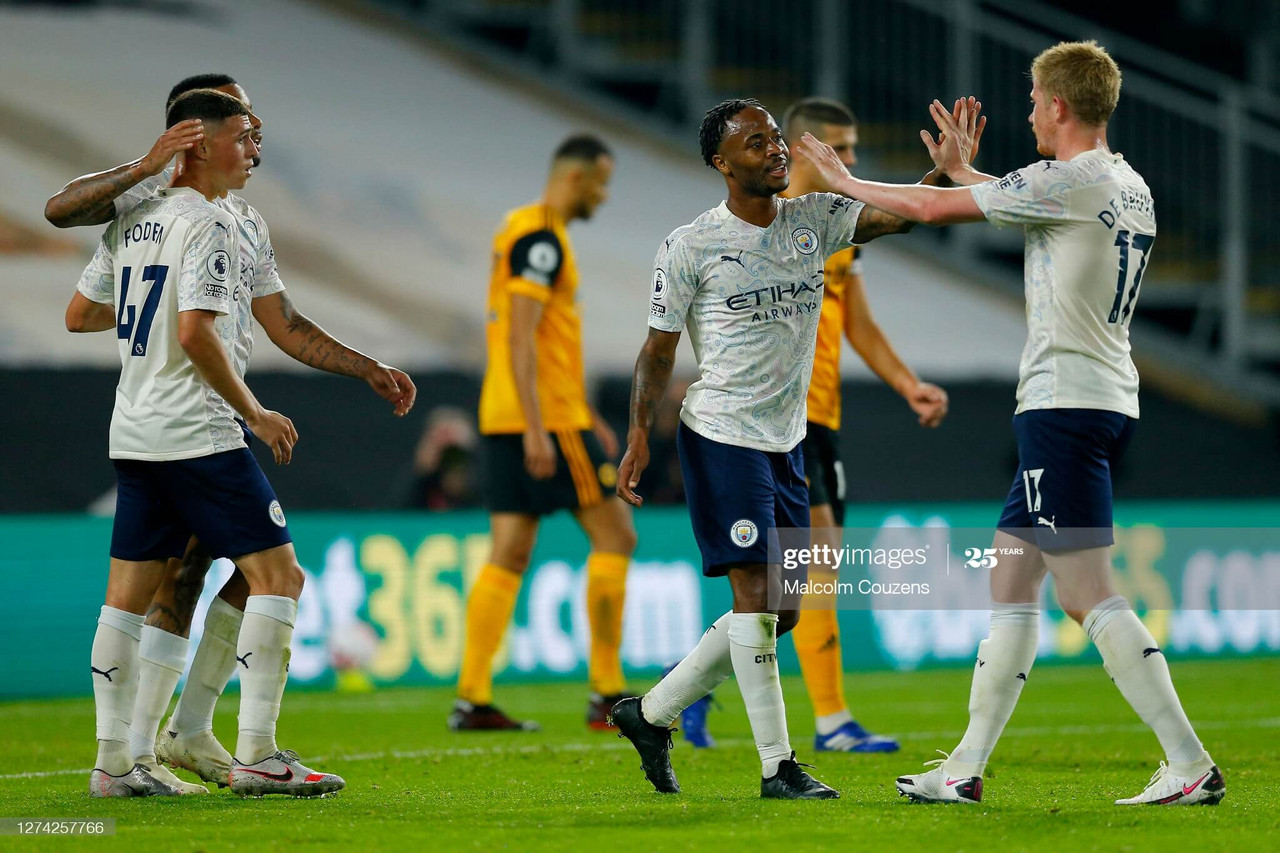 Manchester City kicked off their Premier League campaign with a 3-1 win away at Wolverhampton Wanderers, thanks to goals from Kevin De Bruyne, Phil Foden and Gabriel Jesus.
In doing so the Blues once again recorded a new Premier League record, becoming the first side to win ten consecutive season-opening matches.
The last time the Blues failed to win their opening league clash came back in 2010/11 where they drew 0-0 away at Tottenham Hotspur, and the last time they lost came way back in 2008 when they were defeated 4-2 by Aston Villa.
So, after the Guardiola's side acquired yet another Premier League record let's take a look back at the 10 season-opening victories.
2011/12 - Manchester City 4-0 Swansea City
The record-breaking run started back in the Blues' maiden Premier League title winning season, as they started with a convincing 4-0 win over newly promoted Swansea City.
The main headline of the game was the debut of City's now all-time leading top scorer, Sergio Aguero as he kicked off his career at the Etihad Stadium with a second half brace, the beginning of one the greatest Premier League careers.
2012/13 - Manchester City 3-2 Southampton
Next up came City's first game in their maiden title defence, in a nail-biting encounter at the Etihad Stadium. The newly promoted Saints took a shock 2-1 lead with 20 minutes to go, however two late strikes from Edin Dzeko and Samir Nasri saved the day for Roberto Mancini's side.
2013/14 - Manchester City 4-0 Newcastle United
Once again the Blues kicked off their campaign on home soil and once again it started with an impressive win. Their attempt to regain their league crown began in perfect fashion thanks to two first half goals from David Silva and Aguero and two in the second from Yaya Toure and Nasri.
2014/15 - Newcastle United 0-2 Manchester City
A year later the Blues met the Magpies once again, this time it came on away soil, however the outcome still fell in the Blues' favour with a 2-0 win. Once again Silva and Aguero were the men on the scoresheet, with 'El Mago' opening the scoring just before half time, whilst the latter secured the points in the final moments with a strike in injury time.
2015/16 - West Brom 0-3 Manchester City
Half way through the list, and once again it was another convincing City win to kick off their campaign. It was three City hall of famers that found the net in this one as Silva, Toure and finally captain, Vincent Kopmany netted in an impressive win at the Hawthorns.
2016/17 - Manchester City 2-1 Sunderland
Over to 2016 now and the beginning of Guardiola's tenure as Blues boss, and whilst it began with a win it is fair to say it was a nervy one. After Aguero opened the scoring just four minutes in, Jermaine Defoe's strike 20 minutes from time looked to have earned a points for the Black Cats.
However, City's blushes were spared late on as a Paddy McNair own goal gave Guardiola an opening day win.
2017/18 - Brighton 0-2 Manchester City
A year later, and it was once again an own goal and an Aguero strike that kicked off City's Premier League campaign, as they ran out 2-0 winners at the Amex to begin their eventual record-breaking 100 point season.
2018/19 - Arsenal 0-2 Manchester City
Over to 2018, and like the season before, the Blues Premier League season began with a 2-0 away win, this time at the Emirates. Raheem Sterling got the ball rolling with an opener inside 15 minutes before Bernardo Silva's superb strike from 18 yards sealed the points for Guardiola's men.
2019/20 - West Ham United 0-5 Manchester City
It seems City began to develop a knack for clean sheet opening day wins, and this time came it came in emphatic style. Guardiola's side began their back-to-back title defence with a thumping victory at the London Stadium thanks to a Sterling hat-trick and one each for Aguero and Gabriel Jesus.
2020/21 - Wolves 1-3 Manchester City
Finally we make our way to the record-breaking win as De Bruyne's, Foden's and Jesus' goals proved too much for Nuno Espirito-Santo's side once again cementing themselves into the already City-dominated Premier League history books.