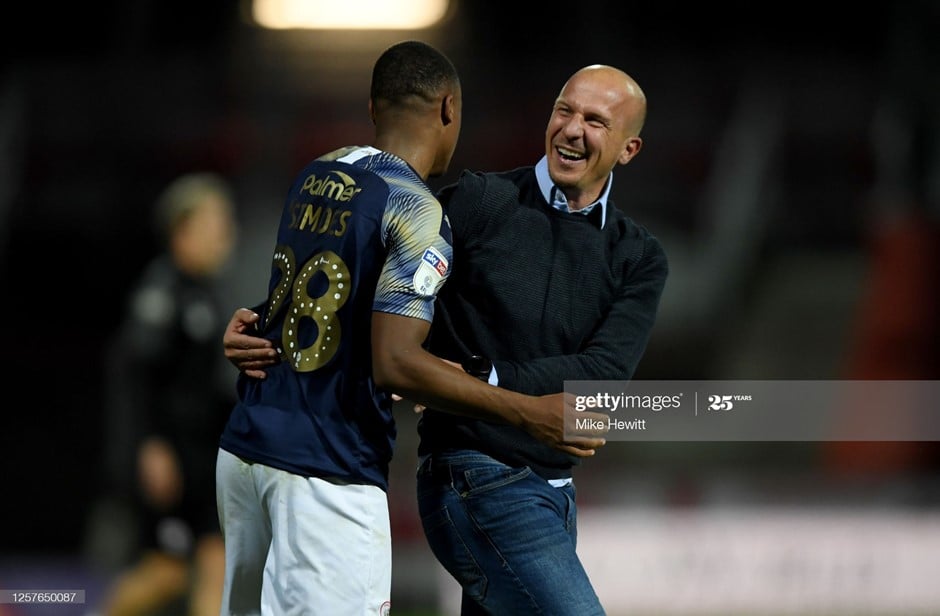 The dotted line has at last been signed on, and Gerhard Struber has swapped the rolling hills of South Yorkshire for the bustle of the Big Apple.
His departure as Barnsley head coach has seemed close to inevitable over the past couple of weeks, with the lure of the MLS and New York Red Bulls too great for the Austrian for turn down.
He leaves behind a club with a multitude of problems on and off the pitch, from disgruntlement with the ownership and uncertainty over the stadium, to transfer failure and a concerning start to this Championship season, and fans may be struggling to find positives at the moment.
Struber's exit has only heightened the ill-feeling, but since their fantastic escape from relegation last season it has always been likely that grander suitors would take an interest in his abilities.
It may have lasted less than 12 months, but his spell in charge should be reflected back on very positively in years to come. Here are some of the reasons why…
The numbers
Everything in football must be catalogued and codified into cold statistics these days, but the numbers certainly help show the impact that Struber had in his time in charge.
The situation that he found on flying into England in mid-November last year could hardly have been more challenging. The Reds were rock bottom on their return to the Championship and without a win in 15 games going back to the opening day of the season.
It took a few weeks for the wheels to really start turning but they were back squarely in the survival fight when the campaign was halted in March, and then lost just twice in the nine-match summer run-in, culminating in the two staggering late victories which kept them up.
In total, Struber won 11 of his 34 league games in charge, or 14 of 39 in total. In the Championship he has earned 1.2 points per game (equivalent to 55 points over a season), or 1.33 just in his time last term, which over the full campaign would have placed Barnsley 13th.
Nothing staggeringly high, but by Barnsley standards – not least the ones they set themselves in the opening months of 2019-20 – it was damn good going. This is a club where there has seemed to be little distance between the bottom three and their proverbial 'glass ceiling' in recent times, finishing in the bottom half in their last 13 second-tier campaigns.
They may have benefited from Wigan Athletic's misfortune in the final judgement, but Struber's Barnsley were more than worthy of retaining their Championship status. Even with the off-season struggles the former Wolfsberger boss would have been confident of repeating the feat, but such battles were not the limit of his ambition.
The memories
But nobody supports their club to celebrate the win percentages – the best legacy any coach can leave is moments that will stay in the memory for many years to come.
On that count, it is gut-wrenching that fans missed out on being able to witness first-hand one of the greatest 'great escapes' in English football in recent times. To be minutes from relegation and find an injury-time winning goal, not once but twice, was truly extraordinary, and a price cannot be put on what it would have been like in a packed Oakwell against Nottingham Forest or a riotous away end at Brentford's Griffin Park.
Whether or not such memories are devalued by watching a questionable iFollow stream instead of seeing and tasting it in the flesh is up for debate, but it might still be a piece of video which best encapsulates Struber's reign.
"I have such a big heart for those boys" 😢

Emotional Barnsley boss Gerhard Struber sheds a tear as the Tykes survive from the relegation in the final minute of the Championship season

📲 More: https://t.co/uDw05cCTLw pic.twitter.com/qsI9yKoxpo

— Sky Sports Football (@SkyFootball) July 22, 2020
Minutes after the final whistle he broke down in his Sky Sports interview, with tears in his eyes as he said: "I have such a big heart for my boys… We worked so hard for this. We always believed that we can stay in the league. And now it's reality. I am so happy. I am so proud of my boys."
The emotion showed clearly the characteristics that made Struber such a popular figure with anyone who had the pleasure of meeting him. He was warm, charming, humorous, and most of all passionate: about football, about his job, and about 'my boys', the players with whom he struck such a chord on both a professional and personal level.
The style
Struber's main brief on appointment was to keep Barnsley in the Championship, but it was far from the typical rescue job. Bottom of the table and with the worst defensive record in the division, most incoming managers would have looked to shore things up and battle to safety, but Struber wanted to do things the right way.
While Daniel Stendel's promotion team looked to press high and counter at speed, his successor called for a calmer, possession-based approach. He also identified the need to deviate from the club's model of only signing players under the age of 25, with both the squad and system looking too naïve for the demands of the Championship.
It naturally took some time, but Barnsley were hitting something of a groove before everything was halted in March. Their improvement was not to be stalled by the lockdown, and the restart proved to be their best period of the season as they produced some of the best football in the league.
Never was that more evident than in one of the two matches they lost in that run-in, when they outplayed eventual champions Leeds United to an extent arguably no other team did all season. Their achievements were only masked by the lack of cutting edge, found right in the nick of time to secure safety.
It may not always have got the results, hampered perhaps by the tools at his disposal in certain areas of the pitch, but Struber made many of the individuals in the squad far better players, and made the team much better as a whole too.
The spirit
None of Struber's achievements would have been possible without his ability to foster a special spirit within the group, through his drive and charisma.
That has been perhaps most evident in this transfer window, in which – Jacob Brown apart – the players subject to interest from higher up the table after their part in last season's heroics pledged loyalty to their boss and were happy to remain. It was a unique situation at a club so used to seeing their best fruits picked off each summer.
Ultimately, one of the biggest things he brought to the club was ambition, making his players and the fans believe that Barnsley could be bigger and better. However, the people he couldn't convince of that were the ownership group, led by Chien Lee and Paul Conway, and their failure to invest and strengthen the squad this summer was a decisive factor in his departure.
While Barnsley's natural place in the football ecosystem made it hard to make the next financial step, particularly amid Covid-19, fans will rightly wonder if more could have been done to placate Struber's demands, particularly with a start to this season of one point from four matches showing where they are lacking. Instead of daring to fly under a bright, young coach, they are again shackled by their own timidity.
The future is uncertain, but the past should be clear. Just as Struber loved 'my boys', so fans briefly fell in love with him. As Tennyson knew best, "'tis better to have loved and lost than never to have loved at all."