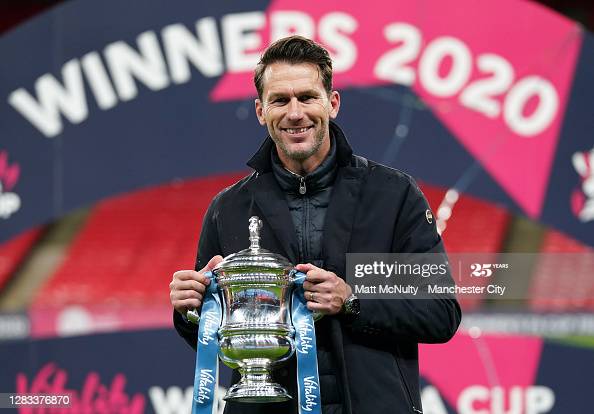 Gareth Taylor led Manchester City to their third Vitality Women's FA Cup in just his tenth match in charge after taking over in March in a dominant win over Willie Kirk's Everton.
Both star American summer signings started on today's occasion, but it was Sam Mewis who made an impact scoring the opening goal of the match five minutes before half time with a bullet header from an Alex Greenwood corner.
The World-Cup champions are having a positive impact on Taylor's side both on and off the pitch and today saw the result of that. Not only did Mewis give City a crucial goal, but the match saw 19-year-old Jess Park comfortably get an assist in a FA Cup final. The City boss credits the youngster's development on playing with and competing against world class players like Mewis.
"Jess to show that maturity and that performance to put Everton on the backfoot. She'll really improve playing in front of Lucy Bronze, next to Sam Mewis and at times off of Ellen White," said Taylor.
"She's really having to fight for minutes against really good players in the squad. Having x experience around those young players is only gonna help them grow. For [Jess] to put on a performance like that was beyond her years."
"We're trying to improve the squad as much as we can, but it's really building on the foundations that we have already. [We want to win] more things, and that's not easy, I've seen the level of quality of teams in the WSL really improve this season."
Mewis has scored five goals in nine matches since signing for City in August, but has made an immediate impact in the midfield not looking like this is the first time she's played outside of the NWSL.
"She's a huge player for us, you don't get time to reflect on the impact she's had. Not even just the way she plays, but the way she conducts herself.
"If you have someone that's there for the team, she's gonna drag players along with her and have an amazing impact on young players like Jess Park."
Everton sit second in the FA WSL table, five points ahead of Manchester City in fifth. Both sides have enjoyed an undefeated season, but City dropped points twice against Bright & Hove Albion and Reading. Four crucial points to keep up with Champions League spots and a hefty blow for title contention.
Taylor is hopeful that City can continue to build from the strong display his side put on today after getting 68% possession and 28 shots compared to Everton's 13.
"It can be a springbroad, we need to improve our final actions and you saw glimpses of that today when we were dominate and we needed to do what we did in extra time."
"Within ten minutes of the second period we had to find some resolve and that's tough when you conceded like that in a game when you're fairly dominant and the opposition doesn't look especially dangerous.
"The will imposed by the players as a collective was top. We kept knocking on the door, and eventually it opened. The will imposed by the players as a collective was top-class."
Another busy week ahead for clubs with a midweek Continental Cup fixture and a league game on Sunday, but Taylor is motivating his players to make history in this unique campaign that sees two FA Cup finals played in the same season.
"Today is all about winning, this is new for a lot of the players for me. Hopefully this gives us a platform now to push off on and [the performance today] confirms the process that we're sticking to."
"This can be a springboard. We want to achieve big things, we want to make history, and challenge the players to do what may never be done again, which is win the FA Cup twice in one season."