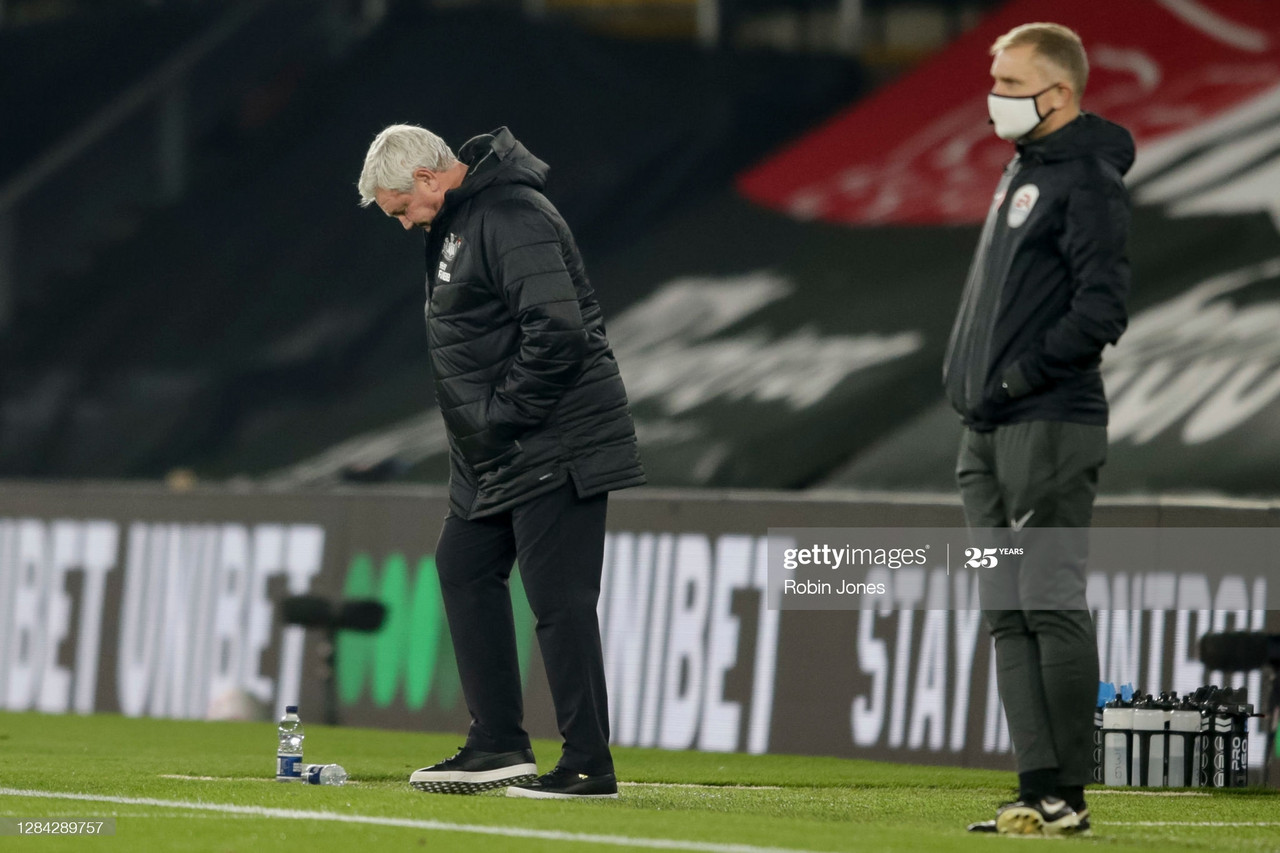 Only three defeats in all competitions this season, in the quarter-finals of the Carabao Cup, points taken off Tottenham Hotspur, Wolverhampton Wanderers, Burnley and West Ham United, yet the feeling on Tyneside has never felt more underwhelmed.
There seems to be no gameplan or the players are not able to execute what Steve Bruce is asking of them a lot of players seem idle on the ball and out of ideas when it arrives at their feet.
After the 2-0 defeat to Southampton last night it seems the latter may be the case as nobody seemed comfortable or wanted the ball. Only three touches in the opposition's box, all of which were headers sums it up.
Results are the polar opposite of the performances
Bruce has guided his side to 11th in the Premier League, eight points off the bottom three to the quarter-finals of the cup, but there seems to be mass amounts of resent towards him.
From the outside looking in many people the same stance as Mark Lawrenson did on FootballFocus today when he said: 'They're never happy are they, they want to win the Champions League'. Statements such as that are utterly ridiculous and embarrassing, the lengths pundits will go to 'protect' Bruce when he really doesn't need it as his results have done the talking for him is very poor and insulting to Newcastle fans.
Stats don't lie
If you support Newcastle or live in the North East it's quite simple to understand what the general thoughts are: Bruce is winning games, fans don't know-how based on performances, seems to be no plan B and it's all a bit strange.
Newcastle currently average 40% possession in league games this season, with only West Ham (38.6%), Sheffield United (38.4%) and Crystal Palace (35.4%) recording lower percentages. However, the former have played six of last seasons top eight so would be expected to have less possession in those games. The Blades have played four of last seasons top eight as well as Leeds United so it seems Newcastle fans may have a point when it comes to the questions being asked about Bruce.
Having mustered up 64 shots this season which included zero against Brighton & Hove Albion at home as well as 15 away to West Ham highlights how much of an inconsistently frustrating season it has been on Tyneside.
Despite having attacking flair in Allan Saint-Maximin, Callum Wilson, Ryan Fraser and Miguel Almiron they currently sit bottom for percentage of shots on target per 90 minutes (7.6%) as well as being third bottom for shots on target (20) only ahead of Sheff United (13) and Burnley (18).
What makes this so perplexing though is the terrific results and performances against West Ham, Everton and the ability to stay in games for long periods. For example, they were dominated against Spurs and Wolves but came away with a point from both games.
Does anything make any sense anymore?
It's usually the same core group of players playing every week, which would make you think they could start to gel together and learn each others game, but no. Last night against Southampton it seemed like they'd never played together before there was no communication, leadership or ownership. Nobody wanted to take control of the game and start giving people a reality check.
Less than seven days ago Newcastle deservedly beat Everton playing some good stuff, looked defensively solid and looked terrifying on the counter-attack. However, they couldn't get hold of the ball to impose themselves on the game and Fabian Schar summed it up perfectly in his post-match interview with Nufc TV when asked what went wrong: 'Everything'.
Until Stuart Armstrong got on the scoresheet it just felt lie another snatch and grab from Bruce's side, but it wasn't to be, although it seems that's their best weapon at the moment. Bruce has instilled a never say die attitude which has come from him being an excellent man manager. The squad like him and enjoy playing for him thus will keep going until the very end, even if they have not had a sniff of a chance for 90 minutes.
However, endeavour and luck can only get you so far and if Bruce can't conjure up a real game plan and give the Magpies a strong identity he will be fighting a constant battle with fans and his own players.