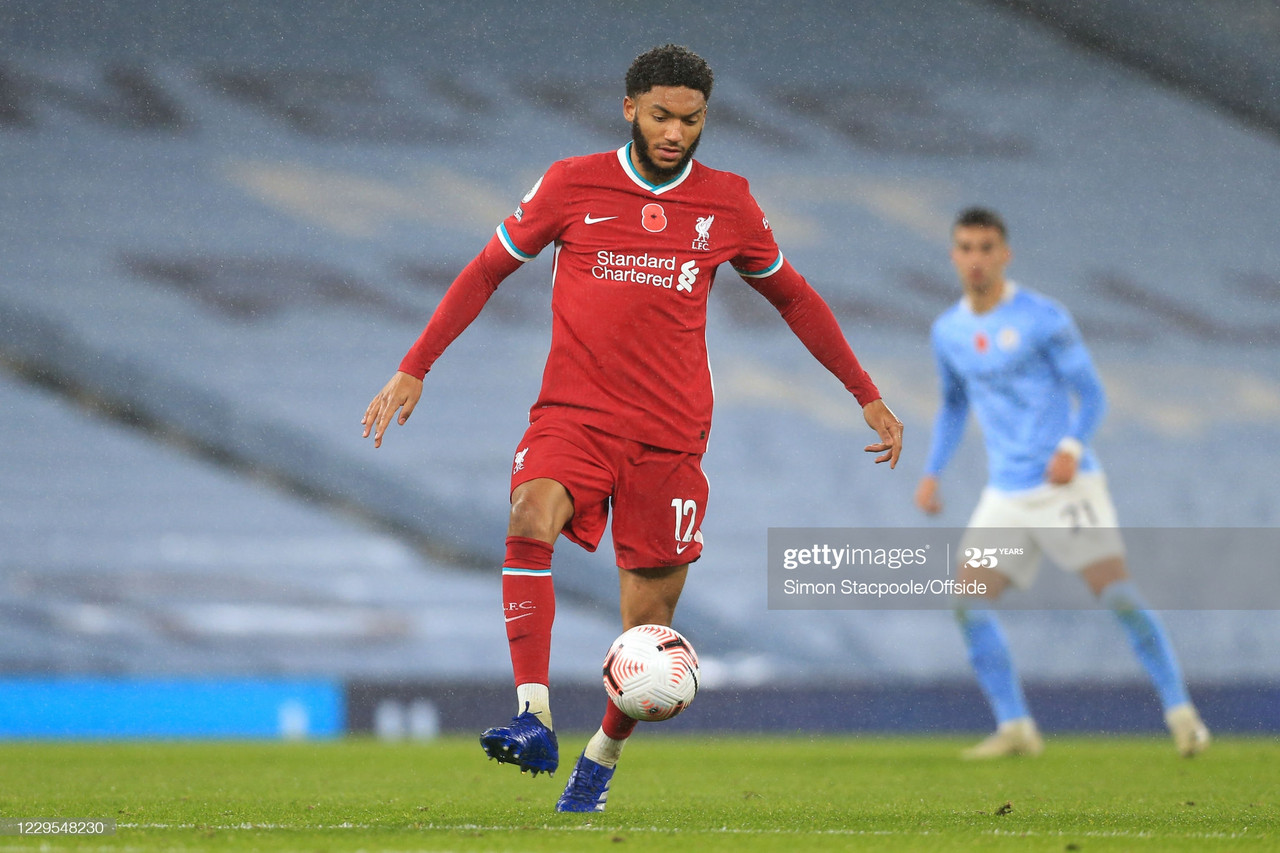 Liverpool have suffered a further blow to their defensive options, with Joe Gomez set to be sidelined for a significant part of the 2020/21 campaign following a knee injury while on international duty with England.
The Premier League champions have endured a nightmare start to the season on the injury front, with Jurgen Klopp already having to contend with thirteen injuries to his side in the opening eight games. Having lost Virgil Van Dijk to a season-ending knee ligament injury after Jordan Pickford's challenge in the Merseyside derby, the Reds are now without their two first-choice central defenders, with Trent Alexander-Arnold also sidelined for a month.
While they currently sit just one point off top spot, it represents another extreme test, leaving Klopp desperately short at the back.
So, just how does the manager go about living without Van Dijk and Gomez for the foreseeable future? Here, a selection of VAVEL writers give their thoughts on who could fill in.
How do Liverpool deal with Van Dijk and Gomez out? And who comes in?
Leanne Prescott: The Reds have so far coped admirably without the talismanic Van Dijk, but they must now do it all over again. A swift return to action for Fabinho is pivotal, with his performance at Stamford Bridge highlighting his ability to slot in at the back.
Another real problem for Klopp, though, is Joel Matip's less than stellar injury record. Starting just four games in the past 13 months, it is hard to see the defender remaining fit for a significant period of time. Jordan Henderson and Gini Wijnaldum have both filled in before, but doing so would take significant strength away from the midfield, with Nathaniel Phillips and Rhys Williams arguably the better options to retain the team's balance.
Against West Ham, Phillips offered a significant aerial presence inside the area, and the 23-year-old is significantly more experienced than his teammates. Given he is not registered in the Champions League, his game time could be managed in the league, while Rhys Williams, who has also yet to put a foot wrong, deputises in Europe.
Should Liverpool manage to navigate the next few months without further injuries, Joel Matip and Fabinho are the obvious duo to come in at the back. The reality is, however, in a season as gruelling as this, Klopp will need to call on his youngsters.
David Comerford: For the next few weeks, Liverpool's first-choice back four will be James Milner, Fabinho, Joel Matip and Andrew Robertson. To me, that actually sounds reasonably solid. I have confidence in that centre-back partnership. The problem, of course, is that there is very little confidence in Matip's fitness.
He hasn't started back-to-back games for over a year. But on the other hand, from January 2019 until October, he started all but four matches and he was operating at a world-class level. Obviously after a succession of injuries Matip's game-time needs to be managed at first. That should be done by fielding Rhys Williams in the remaining Champions League group games and Nat Phillips in the upcoming league meetings with Brighton and Fulham. If this enables us to cautiously nurse Matip back to something resembling full fitness, all hope is not lost.

Adam Doyle: Replacing the centre-back pairing of Virgil van Dijk and Joe Gomez, both of whom were at the heart of the Reds' Premier League triumph in July, is a near impossible task. It would be during a 'normal' season, let alone one which demands already fatigued players to compete at an elite level three times a week for 40 weeks in a row.
With the transfer window not opening for another 2 months, Klopp will have to call upon the likes of Nat Philips and Rhys Williams to step up in the absence of the two first team regulars.
Both have featured in the senior set up this term against West Ham and Atalanta respectively and on both occasions, the Reds managed to keep a clean sheet. The difficulty for Klopp in utilising the pair is that with the unforgiving schedule, it leaves no time to truly coach the players. The day or two in between games are more for rest and recovery than anything else.
While Phillips and Williams won't be expected to feature every week, with the defensive injuries mounting at the club, you would expect Klopp to take a more cautious approach with his team selection over the next few weeks and rotate the defensive options he does have.
As of today, the Reds' first choice centre-back pairing will most probably be Joel Matip and Fabinho. The former returned from injury in time to start the 1-1 draw against Pep Guardiola's Manchester City while the latter his still recovering from a knock he picked up against FC Midtjylland in late October.
Callum Ferguson: Liverpool being left with one fit centre back in Joel Matip is certainly not an ideal position to be in. Matip himself is injury prone and hasn't made back-to-back starts for Liverpool in 14 months, with just four starts in 2020. Jurgen Klopp and his team will now be weighing up the options.
Are Matip, Fabinho, Rhys Williams and Nat Phillips enough cover and quality to retain the Premier League? Whilst a partnership of Matip and Fabinho could be good enough to accumulate the points needed, I have worries with their fitness. Both have had time injured this season and could very easily be added to a growing list.
Do Liverpool sign a free agent or bring someone in in January?
Leanne Prescott: It is now all about getting to the January window with the least amount of damage done. Between now and then, there are 11 games to play, with two become free hits should Liverpool beat Atalanta. I suspect Klopp will opt to make use of his current options, rather than going for a free agent. As we have seen, he rarely sign players at the drop of a hat, and there is a lack of quality options available, with Ezequiel Garay not playing since February and Daryl Janmaat no stranger to the treatment room himself.
As for January, buying a centre-back is no longer a priority, but a necessity. David Alaba would be a great addition, although I suspect Bayern won't want to lose him mid-season, while Ozan Kabak has been touted. Whatever the answer, Klopp will be desperate to find one after another crippling blow.
David Comerford: I'm torn. It's a choice between moving for a free-agent immediately or returning to our summer shortlist in January. Liverpool won't be bringing in their next great centre-half, they'll only be bolstering their ranks. Can we afford to wait a month a half? I'm going to say yes. If this galling crisis somehow worsens before then, we'll have no choice but to act.
Adam Doyle: It's safe to say Klopp and co. will be living in fear for the next two months. He has to rely on an injury-prone Matip who hasn't started back-to-back games for Liverpool in 14 months as well as make-shift centre-back Fabinho who himself has had a torrid time with injuries of late.
There's been talk of Ozan Kabak of Schalke being on the Reds' radar, but I don't think bringing in a fairly inexperienced 20-year-old defender at this moment in time is the right call. The club needs a strong, experienced head at the back who can confidently command his teammates.
January can't come soon enough and whether it be David Alaba, Jerome Boateng or Daryl Janmaat, Michael Edwards will have to bring at least one defensive body into the club before the 31st deadline.
Callum Ferguson: Personally, I would say there is a need to see a centre back signed in January. With Liverpool's lack of funds, it seems it would have to be a free transfer. Whether the club would be able to find someone suitable to come in and play straight away could be another issue. It is always tricky to find someone happy to be a short-term option; maybe this is a year to have faith in the youngsters.