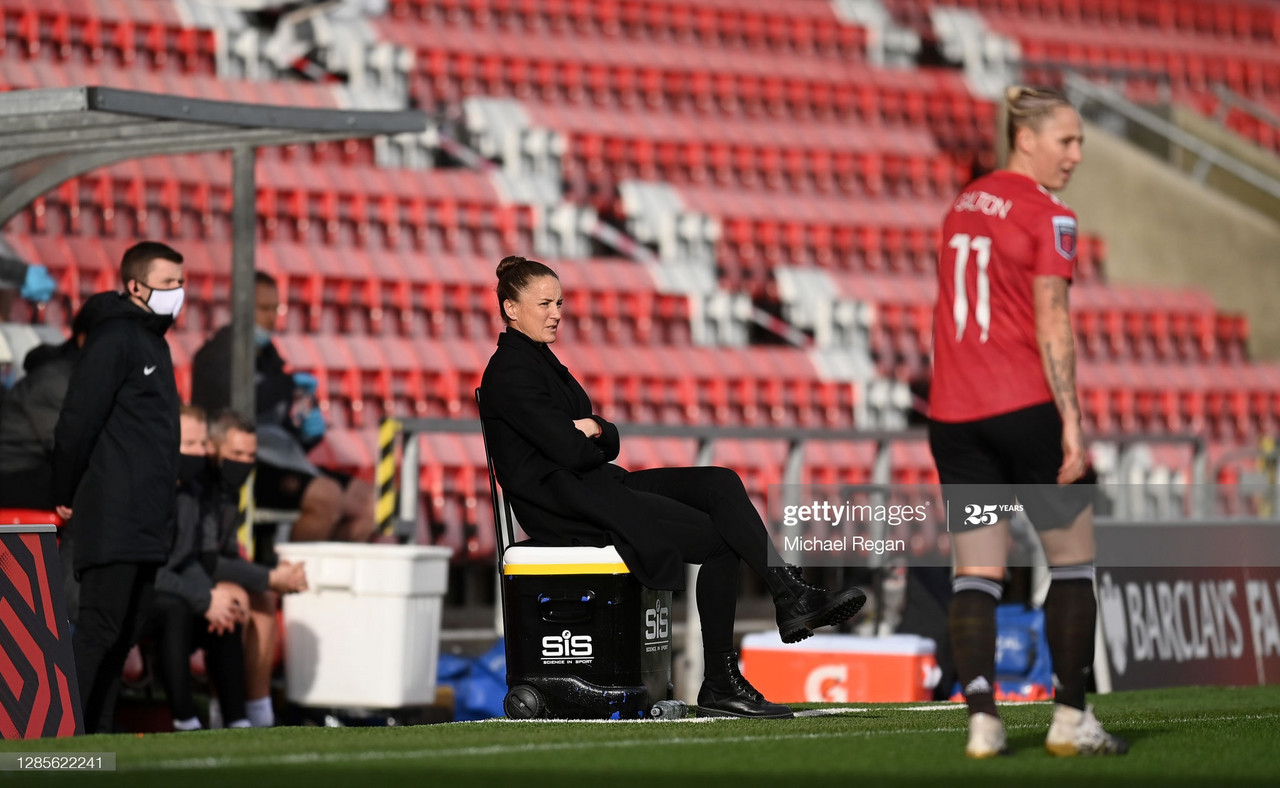 Casey Stoney called on her Manchester United side to aim for "consistency" in their "winning mentality" as the Reds look to mount a title challenge in the Women's Super League.
United came from behind to draw 2-2 with local rivals Manchester City on Saturday afternoon. It was a frenetic but thoroughly entertaining game to watch. United were utterly dominated in the first half and were fortunate to go in at the break trailing by only two.
Stoney's half-time team talk and substitutions changed the flow of the fixture. Goals from Tobin Heath and Kirsty Hanson, a sub, got United a point that keeps them at the top of the WSL table for now.
Stoney: My team have done well in a tough week
Asked by VAVEL UK what her message would be to her players now, Stoney was clear; "consistency."
"No matter who we're playing we have to be consistent in our performances," she explained.
"We have to play ourselves from the first whistle to the last. We've had a tough week with, Arsenal, City and then City again now."
"It doesn't matter who you're playing, we have to be consistent. We have to believe in our performance and make sure we go out there with a winning mentality."
The former-England captain is certainly not getting carried away by United's unbeaten start to the season. Throughout her post-match press conference, she was keen to iterate that her team's aims have not suddenly shifted.
The objective at the start of the season was to break up the WSL's big three of Arsenal, Manchester City and Chelsea. United have gone some way to doing that already having played all three and got two draws and a win.
Stoney: No hairdryer from me
Going into the game as league leaders, it appeared as if United had received a harsh reality check in the first half. City blasted them away. But United stayed within touching distance and Stoney explained that her half-time team talk was not an all guns blazing 'hairdryer'.
"I was actually relatively calm for once because I had to take an element of responsibility for it," she told The Guardian's Suzy Wrack.
"I'm not sure I got the press right."
"When we were getting the ball we weren't looking after it so it was just about trying to relax them a bit, getting the ball, looking after the ball, reduce the gaps that City can play in."
"I knew that at 2-0 it's a very funny scoreline in football and that we were still in the game but that's a massive credit to my players to come out turn it around."
United now play City again in the Continental Cup on Thursday night.