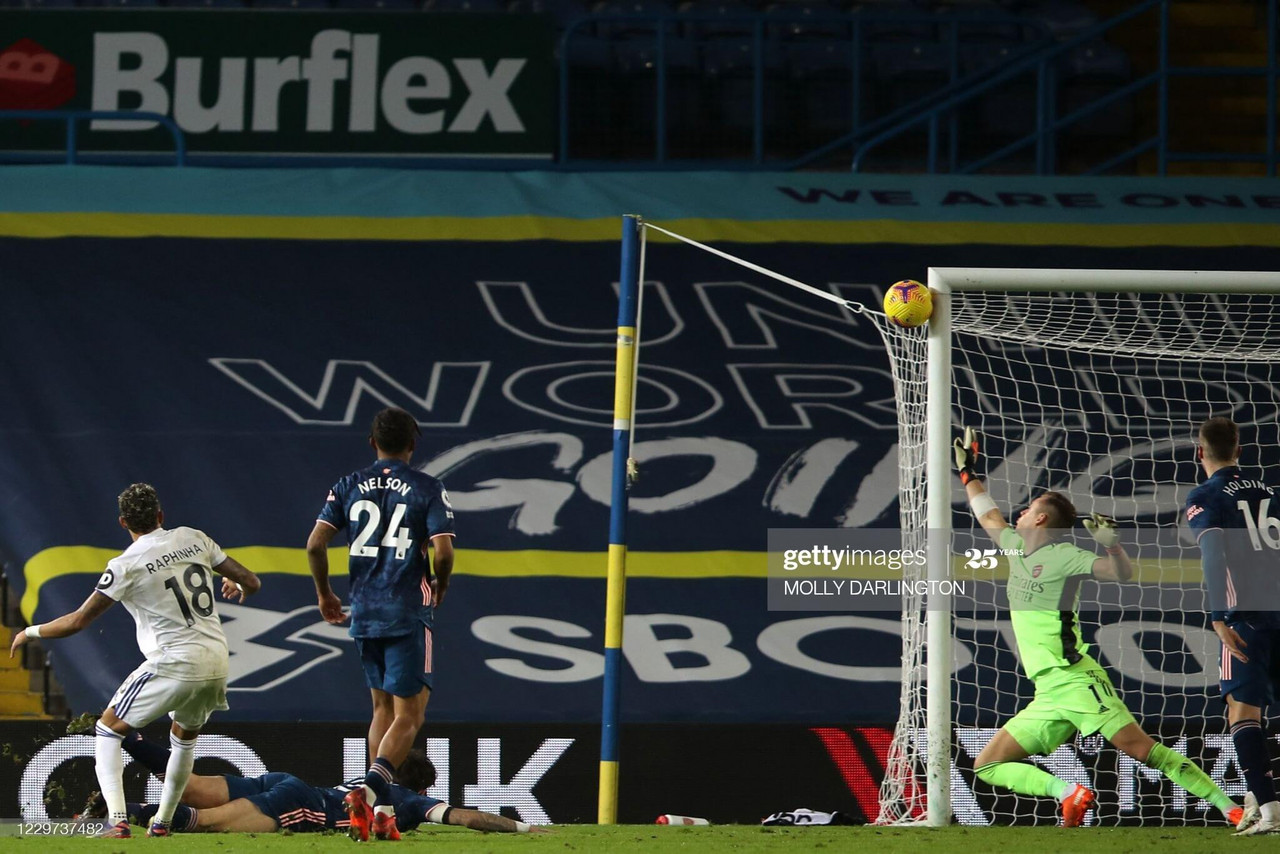 A point garnered from a match against Arsenal would normally be well received by Leeds United, but Marcelo Bielsa's side were wasteful in searching for what would have been three valuable points. The Yorkshire side should not be disappointed despite having numerous opportunities to score as they dominated in the second half.
This was a game that Leeds could and should have won with Patrick Bamford's strike against the woodwork late on amongst a plethora of chances that the home side couldn't convert. The clean sheet was welcomed but, given Arsenal were down to 10 men for all but five minutes of the second half, Bielsa was left ruing Leeds's squandered chances.
Leeds dominate Arteta's men
Inconsistent is one word that could be thrown at both Leeds and Arsenal's start to the campaign. Bielsa's side have won three, drawn twice and lost four times while Arsenal had four victories, as many defeats, and one draw to their name. That led to an encounter which on paper was finely balanced and could have gone either way.
But at Elland Road Bielsa likes his side to dominate, hustle their opponents and attack with pace. Here the Leeds manager saw his side gather more possession than their visitors (66 per cent to 34) and more shots at goal (25 compared to nine). From the start the home side were sharp and dominant. They prevented Arsenal from getting a foothold in the game.
However, Leeds were unable to capitalise on their superiority, which will have been a slight cause for concern for Bielsa the perfectionist. In truth the points were there for Bielsa's men to grab at numerous times but despite not gaining the three points their showing was another sign of the promoted side's capabilities even against opposition from the 'big six'.
Pepe's petulant red card
What aided Leeds's domination of proceedings was the 51st minute sending off of Nicolas Pepe. The Frenchman put his head towards Ezgjan Alioski, leaving referee Anthony Taylor with no choice but to show red following inspection at the pitchside monitor.
It seemed that Pepe was led by some provocation from the Leeds player but there was no excuse that could be given for the headbutt that left Arsenal retreating and chasing shadows for much of the second period. This will not be something that Mikel Arteta forgets easily. The busy schedule means that the Arsenal manager must draw upon all resources available and the loss of another option for three games is substantial.
The sending off allowed Leeds to see even more of the ball with Kalvin Phillips enjoying greater possession in the central areas. In the end the dismissal didn't prove costly on the day but it could have easily done so. "It is very clear that it was unacceptable," a furious Arteta said of the incident afterwards.
Leno keeps Leeds at bay
When the hosts did progress past Arsenal's midfield and bared down on the visiting defence they had to face Bernd Leno who is in decent form. The German goalkeeper was not overly exerted in the first half but when called upon during the second period he denied Leeds from taking the lead. It was either him or the post.
Bamford, Rodrigo Moreno and Raphinha all struck the woodwork rather than the back of the net. Leno did well to prevent another Bamford shot and then produced a spectacular one-handed save to deny Stuart Dallas's powerful strike. At times Leeds found their way to goal too easily but luckily for Arsenal Leno was up to the job.
Bamford's supply is better than Aubameyang's
What this game did demonstrate was why Leeds have scored five more goals than Arsenal so far in this league campaign. Jack Harrison and Raphinha were constantly feeding Bamford up front meanwhile Pierre-Emerick Aubameyang, who was playing as a central striker for the first time under Arteta, was afforded very few goalscoring chances by his supporting cast.
It was evident why Bamford has seven league goals to his name this season compared with Aubameyang who has not scored since signing his contract extension in September. Before this game, Aubameyang had taken just seven shots on target this season: the problem not being his own positioning but the creative work of the players behind him.
It has been one rising criticism of Arteta's Arsenal that his tactics have straightjacketed the more creative players in the final third. Arsenal missed Thomas Partey, their new midfield signing from Atletico Madrid, as he has proved to be a welcome productive addition in central areas.
Simply put, Leeds had more chances than they knew what to do with whereas Arsenal had too few to really mount much of a challenge.