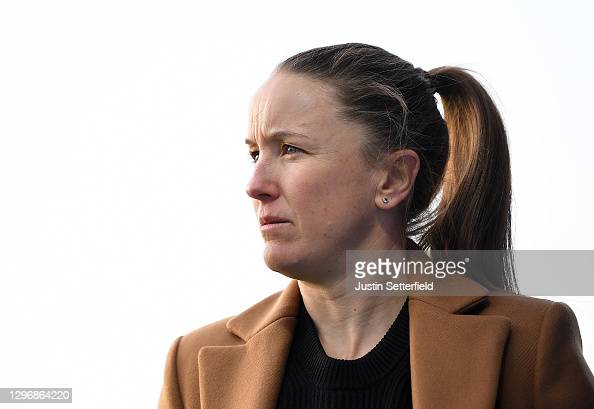 Casey Stoney wore the captain armband at Charlton Athletic at just 20 years old; then she later captained Lincoln Ladies, Arsenal, England and Team GB at the 2012 Olympics.
A successful leader who has the backing of her entire squad and staff, met with praise every time someone is asked what it's like to work with Stoney.
Incoming players rave about working under the ex-England captain and her leadership seems to be a major part of why players chose to join Manchester United.
Most recent signing, Maria Thorisdottir, was no exception. In a recent interview with TV2, she mentioned; "When United had their presentation and I got to talk to Casey Stoney, it was very easy [to pick United]."
The Norwegian also mentions that she has had more coaching in the few days she's trained in Manchester than in the 3.5 years at Chelsea, of course Stoney and Thorisdottir play the same position.
The Red Devils currently sit top of the FA Women's Super League and Stoney has been nominated for manager of the month every month since the start of the season, winning the last two consecutively, along one of her players each time.
The squad tasted defeat for the first time this season in a 2-1 loss against Chelsea and the squad's attitude in facing Birmingham City on Sunday was oozing the confidence and security that Stoney mentioned in the week between Chelsea and Birmingham.
"[The week] was about reviewing the game and learning the lessons, putting it behind us and moving on. I think from Wednesday on it was brilliant, back to our standards, back to preparing for the next game and obviously going into it wanting to bounce back," said Stoney.
"It's not about getting high when you win and it's not about getting low when you lose, it's about being consistent and believing in the process and believing what we do day to day."
Perhaps the toughest match so far was against Emma Hayes' Chelsea. United were for the first time, the team at the top, the team everyone wants to beat, something Chelsea failed to do the first time around. A feeling of being the ones to beat comes as a first for United, just in their second FA WSL season.
Hayes has been building this team for nine years, growing momentum slowly each year and attracting some of the best players in the world. A team that's built around competing -and winning- in the Champions League, which subsequently should give enough strength to compete comfortably in the WSL.
Stoney's side managed a draw at the start of the season with a light bench and without the likes of Tobin Heath and Christen Press. But last week, it took a lapse in concentration from United for Chelsea to steal all three points in London.
It seemed like the visitors were putting the Champions in an uncomfortable position and Chelsea keeper, Ann-Katrin Berger, kicked the ball as far as she could to get it out of her half and let her team reassemble. United's defence were unable to deal with the ball over their heads and Fran Kirby swooshed past Amy Turner to save Chelsea's afternoon.
The Blues showed the six years of experience they have on United and saw out the game comfortably, something Stoney can't disagree with:
"Focusing what we do as a team, we were up against a good side, Chelsea are a good side and they've been building for nine years. They have exceptional players and it was a defensive error that cost us two points in the end but if we're realistic we could've been 2 or 3 down at half-time so we were lucky to be in the game at half-time. Albeit, I thought we played very well in the second half so a lot of positives to take."
"I wasn't angry, I was disappointed because I think it was a lapse in concentration that cost us the game where we definitely took a point with the chances that they and I thought we worked ourselves back into the game, but I as actually really proud of them in the second half.
"They won comfortably, but my players have never been in the position before of being top and playing the favourite in the league. It's a different position for them to be in, we've learned from it we've lifted ourselves and its all about the next game now."
That attitude, you don't see it in every manager or player. Not everyone admits they perhaps deserved to lose on their performance, and not everyone can be as reflective on their first loss of the season.
Stoney is a realist, who sees exactly where her team stands and doesn't demand less or more than she thinks they are capable at that moment. A trait perhaps most players don't realise how important it is to their development as an individual. She also sits Bielsa style on the sideline on every match, which might add a bit more encouragement to do better.
She immediately gets up from the loss and there is no pondering over on the loss for long and no blaming anyone else but herself.
So it builds, it builds to every week being a stepping stone to the next. Stoney's side is confident and comfortable with learning without straining themselves on the low moments, they're together in picking each other up and making sure everyone is together on the highs.
Invaluable when the club and the squad still have so much space to grow.
Not every manager is as interested in taking care of relationships with their players and staff. It's not always common to have full confidence in a coach, and know that if your coach makes a mistake she will stand up and take the responsibility off of your shoulders.
Stoney has a balance in her coaching ways that makes people believe and trust in what she has to say about you or a certain match, but does not let you rely on her.
Women's football is a tough world and without trust in your own club and without trust in what your manager is doing, things can go wrong very quickly. Stoney handles the everchanging football world seamlessly.
"I could write a book to be honest, every day is a different page and a new chapter. I've learnt that tactics and the x and o are about 25%-30% of my job and actually the most important thing is the other 70% of managing people and relationships. Making sure I know how to make my players tick, who's up, who's down, who can I help, who can I support as well as my staff," said Stoney.
"Yes tactics are important but I need to make sure that I coach those payers on and off the pitch the right ways. I've learnt a lot and I'm still learning; I get loads wrong and I still do all the time, I constantly make mistakes, but I think they're the best learning tool for me so yeah it's ever learning on and off the grass."
"My players might tell you different to be honest, but maybe I knew there was something natural in me because at 20 years old I was made captain at Charlton, I was captain at Chelsea, captain at Arsenal, Liverpool.
"I've been captain of every team I played for, including England so there was obviously some leadership quality in me and I find people fascinating because we're all so different and I find being different is so brilliant. But it's knowing how to make sure you utilise that difference and how you motivate people. I like to lead through influence, inspiring and persuasion rather than poking and telling them to go where I want them to go."
Stoney has the vantage point over Emma Hayes, Carla Ward and Hope Powell given she started this team from scratch under her own philosophies and direction. This squad is a direct correlation to that foundation she has laid out.
As much as she likes to credit her players and staff in all their success, Stoney's personality, character and leadership has been a pivotal key to success in the WSL and a break in the 'top three' rota.