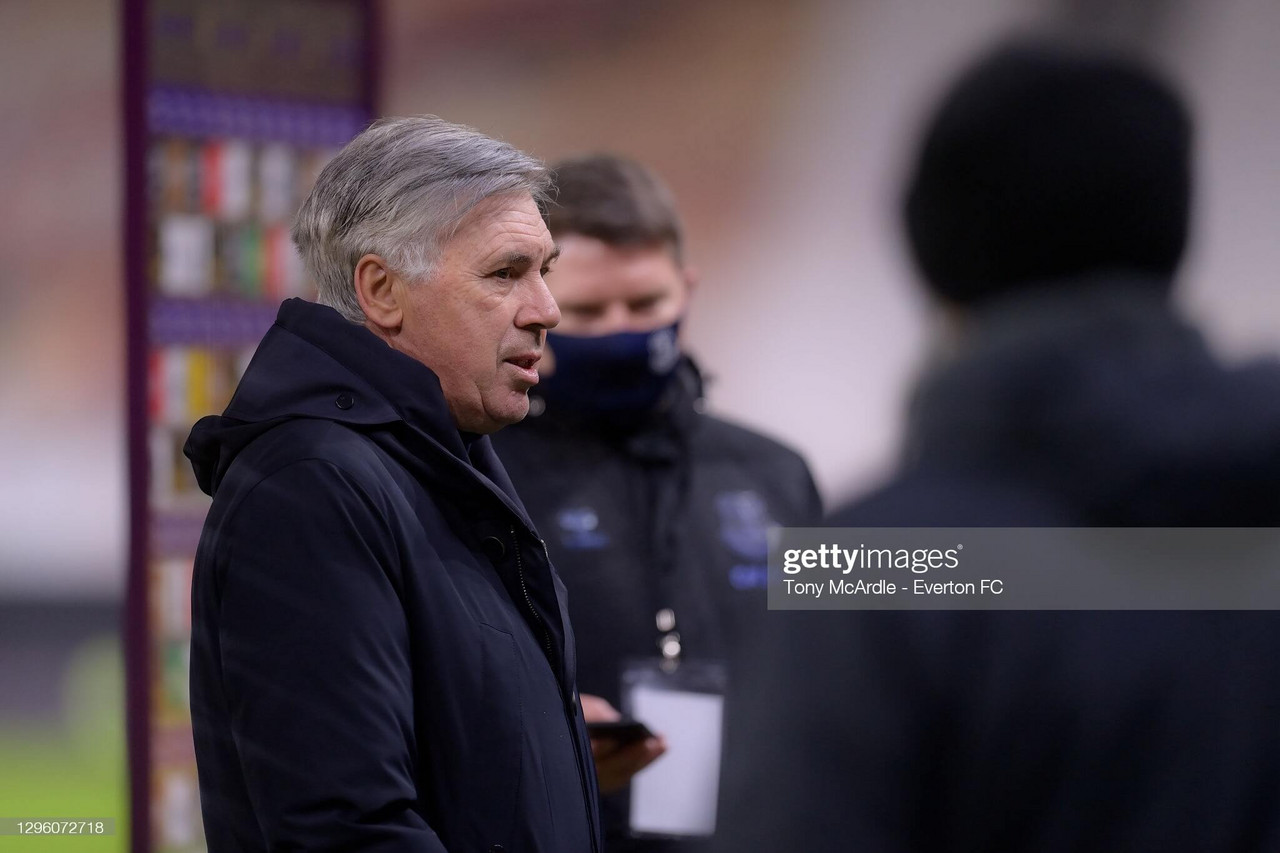 It is third versus sixth in the Premier League standings on Wednesday evening as Everton welcome Leicester City to Goodison Park. Both teams are in good form with only one loss between them across their last 10 games in all competitions.
Carlo Ancelotti, the Everton manager, previewed the match and also spoke of his team's latest team news and the sacking of his former player Frank Lampard at Chelsea.
Capitalising on weekend success
Both Everton and Leicester progressed from their FA Cup fourth-round games at the weekend, and Ancelotti's side did so in impressive fashion against Championship side Sheffield Wednesday. It is on the back of that 3-0 triumph, their third successive victory, that Everton hope to achieve a league double over Leicester.
"I think we started well and played good football, it was a good result," Ancelotti said of his team's performance in the FA Cup. "Now we have a different kind of game, more difficult, and it's an important test for us.
"Leicester are one of the top teams in the Premier League. We have good memories of the last game we played against them [which Everton won 2-0] because I think that was our best game this season and for this reason we have confidence."
The Everton manager also confirmed that Lucas Digne and Alex Iwobi will be back available for this game having missed Sunday's match. "The squad in this moment, given the fact that we didn't play much in the last 10 days, is in good condition," Ancelotti said.
Leicester's top-four blueprint
Brendan Rodgers's team, who have played two games more than Everton in the league, are six points ahead of Ancelotti's side and are themselves in good form. They are unbeaten since the defeat to Everton on December 16, but will be without Jamie Vardy for this game after the striker had a planned hernia operation last week.
"We know the qualities of this team," Ancelotti said. "They are good up-front and it will be important to not let them use this quality when they attack. They are really good on the counter-attack, the absence of Jamie Vardy could really affect them because he is a fantastic striker. But they have a good squad, good players and good organisation.
"To be contenders for the title means to be at the top and it is a long time that they are at the top. They were there last season and then didn't reach the Champions League because of one point but they are still there and they have confidence. They seem to have a lot of confidence when they play."
Everton ready to make move
Ancelotti spoke of the opportunity that presents itself to his team over the coming days with two home games to play and a squad in good shape. "If you think about the games against Leicester and Newcastle United, it will be important for us to understand were we would like to be in the future," he explained. "I think they're really, really important games for us.
"We want to fight for the top four, the top six - it's important, not only the game against Leicester but the fact we are going to play at home in the next two games. I think after Saturday we will know where we are going to be in the future.
"I think the Premier League is competitive this season for different reasons because there are teams like us, West Ham United, Southampton that are not used to staying there [in the upper places]. I think for our clubs it's really exciting to be there and try to fight with the usual 'top teams'.
When asked if he personally missed not participating in the Champions League, Ancelotti replied: "Personally? Yes. I think the Champions League is the best competition in the world and so when I arrived here brining Everton into the Champions League was a massive motivation for me personally."
Calvert-Lewin back and on target
Everton's match against Sheffield Wednesday was Dominic Calvert-Lewin's first since January 01 and he managed to score his first goal since early December. His return to the team is a welcome addition for Ancelotti.
"It's really important to have him," he said. "He scored a goal against Sheffield Wednesday. Also Richarlison is back, and seemingly, in a better condition. So we are happy to have both of them because it provides more opportunity up-front."
With Calvert-Lewin and Richarlison both back after short spells on the sidelines it means that the pair can start alongside James Rodriguez in what would be Everton's most attacking triumvirate. So far this season the trio have only started six games together.
"I think it will be really important to have them together, they combine well together up-front. Of course, we need them defensively also because I think the balance is really important. I think we're going to have a lot of games were we can't rest properly so rotation for this reason can be important."
'Sacking is part of our job'
Ancelotti also had a word for Lampard after his sacking at Chelsea on Monday. Ancelotti managed Lampard when he was Chelsea manager between 2009-11.
"It's not unusual that a manager is sacked, Frank know this," the Everton manager said. "My personal opinion is that being sacked is part of our job. We have to understand this because that's it - I was sacked everywhere so I have to consider the fact that it's part of our job.
"Frank will soon find another opportunity because he is a good manager and did well at Chelsea but for the club it was not enough. In the end it's not sad news; it closes one door for him, and I understand that it's Chelsea and for him Chelsea were his club, but for sure he's going to have another opportunity soon."