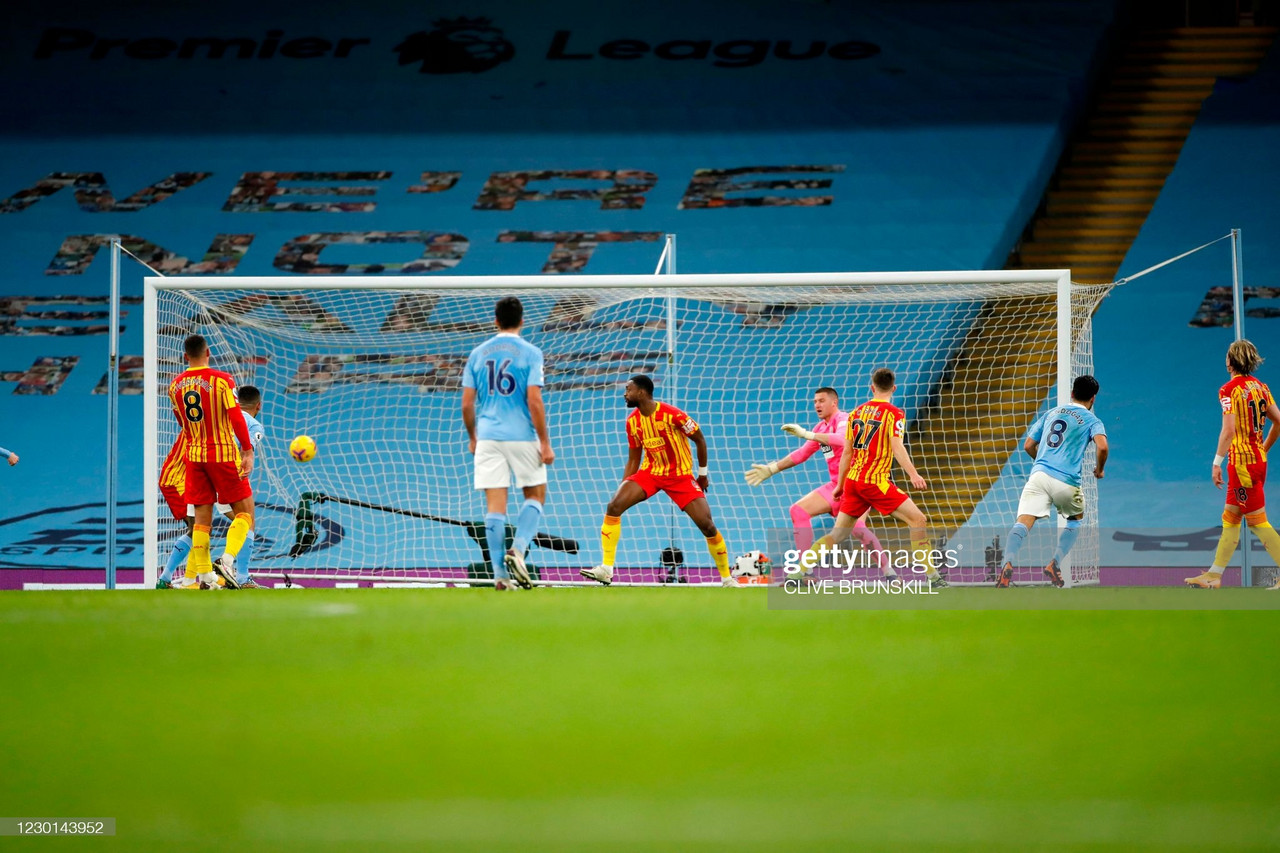 Manchester City are unbeaten in 17 games and have won their last ten in all competitions.
The last team to take points from Pep Guardiola's side were West Bromwich Albion back in December.
Guardiola has revealed that Sergio Aguero and Kevin De Bruyne will both miss tonight's game against the Baggies at The Hawthorns.
We already know that De Bruyne is out for up to six weeks with injury, whilst Aguero continues to self-isolate following a positive COVID-19 test.
With a chance to go top of the Premier League league this evening, the City boss explained the situation with his star striker.
"When we first contacted Sergio, he was struggling," he said.
"Today we sent him a message and he replied saying that he felt better.
"Now it's time for him to test negative and hopefully he can start to come back here and then we can assess how he feels day by day.
"I can't tell you how long it will be until he starts playing. We will see.
"I am optimistic he will help us in the decisive moments and give us the goals. I am confident it will happen.
"He is one of the best strikers ever in football history."
City failed to beat Slaven Bilic's West Brom in the reverse fixture at The Etihad.
However, as Liverpool learnt last month (following a 1-1 draw with the Baggies at Anfield), Sam Allardyce's side cannot be taken lightly.
Ready to face the West Midlands outfit, Guardiola praised the team sat 19th in the table.
"I know how good Sam Allardyce teams are on set-pieces," he said.
"They will have worked this week to see how they can hurt us, but we have to discover the weak points they may have and impose our game.
"Sam is a genius to take these teams when everyone believes it's over and gets results.
"It is not easy to take over a team during the season as he has done.
"It happens once or twice [survival] it's lucky but not in this case as he's done it I don't know how many times."
Asked at his pre-match press conference what the secret was to maintain a remarkable run of form, Guardiola had a simple answer.
"Focus and concentration believe me is the best advice," the boss asserted.
"People want predictions of who will be champions, how many points etc. Focus on the next game. Now it is not about Sheffield United or Burnley - it's about West Brom. That's the only way.
"I never say to the players 'Win five games in a row.' I say 'Win the next one and see how many we can win.'
"When you have won 10 games in all competitions, focus on the next one. That's all that matters. After we see what happens. When you start to think ahead, you will lose a lot."