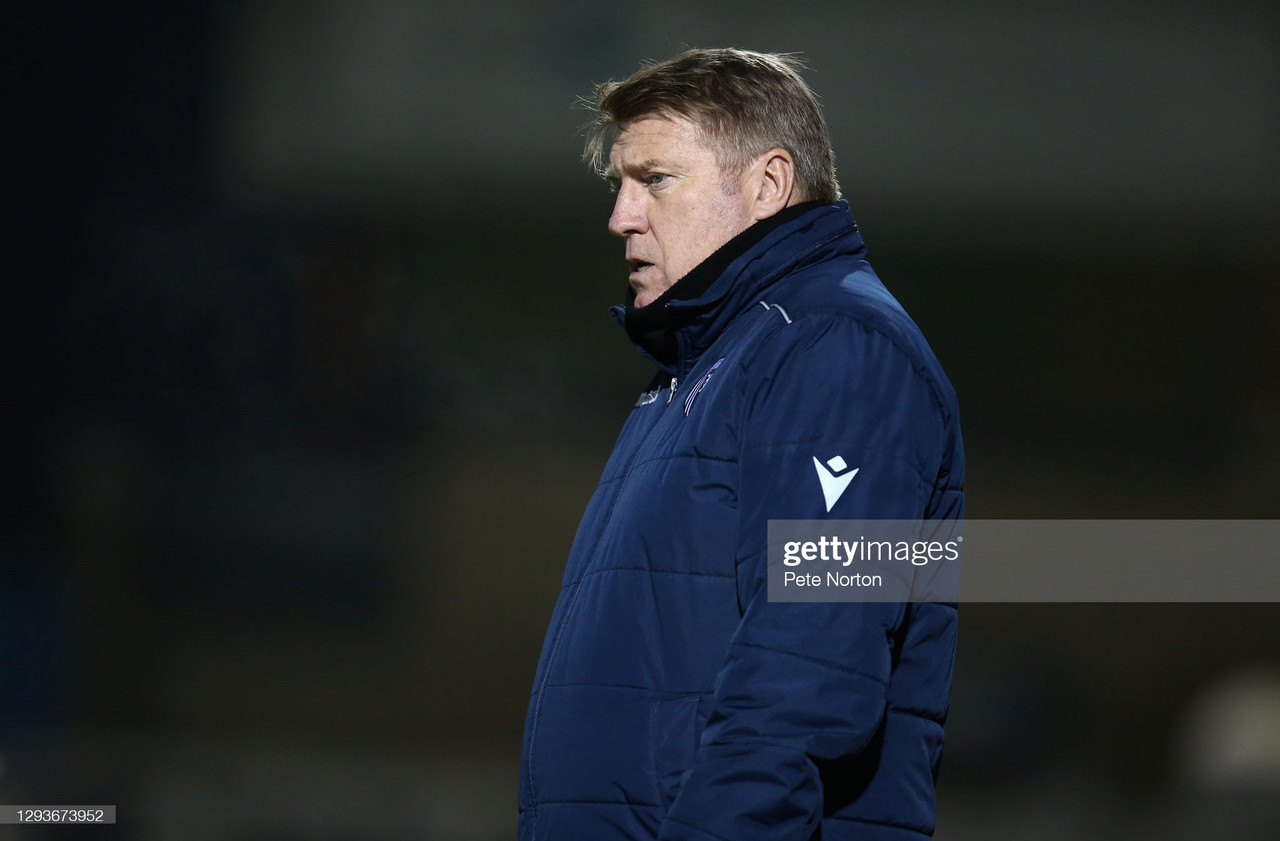 Gillingham defeated Crewe Alexandra 4-1 in League One on Tuesday after goals from Jordan Graham, Kyle Dempsey and Olly Lee (2).
Chris Porter added a late consolation for Crewe, but Gillingham's high press caused the Railwaymen plenty of problems throughout the game.
Following full-time, Gillingham assistant manager Paul Raynor spoke to the press. Here are five of his key quotes.
On the performance
"That was reminiscent of some of the performances of last season – the intensity, the way we pressed the ball, the way we turned it over against a very good passing Crewe team.
"They passed us off the park at their place earlier on in the season and we were very fortunate to come away with the win, but we decided to sit a little bit deeper. We turned that on its head today – we told the boys we wanted to press a lot higher, stop it at source, and the intensity which we did that was fantastic."
Gillingham defeated Crewe 1-0 away from home earlier on this season but were dominated all game and extremely fortunate to come away with three points.
They sat back that day, but they pressed hard here and reaped the rewards.
On a change of tactics
"We went up to Crewe and sat deeper so they could not play through us. We talked about it earlier in the week in regard to how we would deal with it, and we went for it.
"We went with two up front, flooded the midfield, tried to make it difficult for them and went with that high press and intensity. It was absolutely fantastic, and we cannot ask any more from the guys with the effort they put in. They saw the rewards of that effort tonight."
Raynor was chuffed with the output from his players and rightly so. He and manager Steve Evans were extremely vocal throughout the game, instructing their troops who to press and when, and it worked a treat.
The first three goals all game from a high press and forcing Crewe into errors. All involved with Gillingham will be hoping that continues.
On Oliver Lee
"We knew what Olly would bring to us, that was why we were desperate to go and make that move happen. He brings a real calmness – we do play a high-intensity game, and amongst all that hustle and bustle there is Olly there who puts his foot on it, gets that first pass away and that is crucial.
"We are delighted with Olly, but we are delighted with everyone – we do not want to pick any individual out – it was a collective performance from everybody."
Lee has recently re-joined Gillingham, on loan until the end of the season – his third stint at the club. Since his arrival, the Gills have turned around their fortunes, losing five in six before his arrival and now picking up seven points from three games since he arrived.
He picked up a brace and an assist here – he really does make this Gills side so much better.
On Robbie Cundy
"We have been looking for that elusive CB. We have scouted him for al long time now – I do not think Cambridge were too impressed when we nicked him off them, but we have a good relationship with Bristol City – the manager there has a good relationship with the gaffer, they did a lot of their badges together.
"We were very impressed with him in the EFL Trophy against us, we monitored him and asked if he would be available to step up a level and to be fair, they want him to play at a higher level. But let us not get carried away – it was a good first performance and he needs to build on that."
New Gills centre half Robbie Cundy made his debut on Tuesday and looked assured in the middle next to Jack Tucker.
Unfortunately for him he did not pick up a clean sheet, but, after a long search for a centre back, Gillingham will be more than chuffed with his new man.
On how the performance compares to the rest of this season
"It has got to be up there, with the opposition. They are a very good side, their unbeaten run shows that.
"We had some great performances last year and went on that long unbeaten run which was great – Doncaster 3-0 in the cup and we beat Sunderland here a couple of times – so it is up there, but we have just said to the guys that we have set the level of quality and intensity now and it is about getting the consistency. That has been the problem this year – we have had some great performances and some rogue performances, and we know we have to get that level of consistency and turn up every week. There will be dips and blips here and there but there have been too many so far."
This was arguably Gillingham's greatest performance of the Evans-Raynor era, and Raynor himself agrees.
Consistency has certainly been a problem for the Gills this campaign. But if they put in a few more performances like they did on Tuesday, that will soon change.