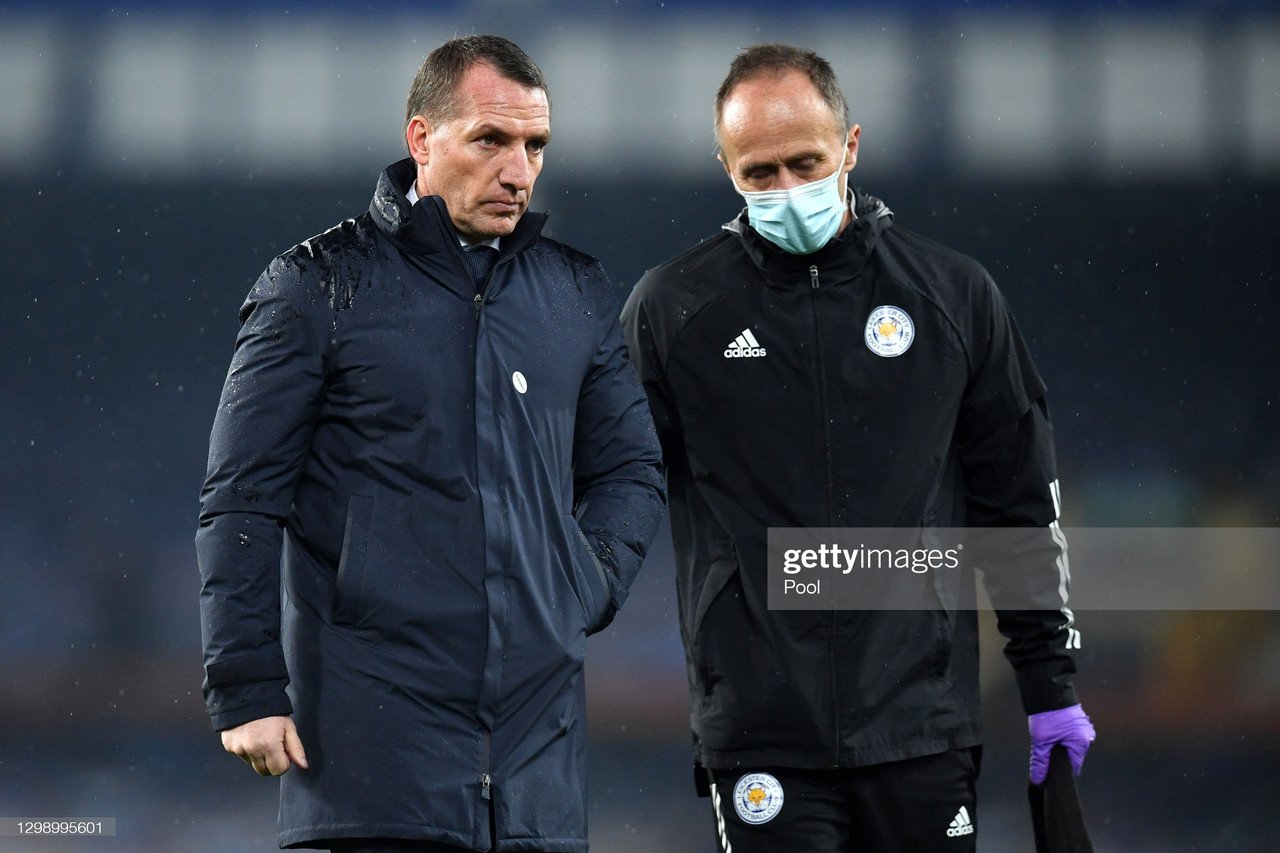 Leicester City return to action in the Premier League against Marcelo Bielsa's surging Leeds United tomorrow and will face the challenging opposition without a number of influential players.
The talismanic Jamie Vardy remains side-lined following hernia surgery whilst Wilfred Ndidi has suffered a hamstring setback during the entertaining draw at Goodison Park in midweek.
Regardless, Leicester will be confident of securing victory and going ten matches undefeated as they welcome a team that they emphatically disposed 4-1 in the reverse fixture back in November.
The Foxes pragmatic manager Brendan Rodgers covered all the key aspects ahead of the key clash at Friday's pre-match press conference.
Vardy and Ndidi confirmed absentees
Rodgers confirmed that two of the Foxes key components in Vardy and Ndidi will be unavailable for the immediate future, on the forward, he said:
"He's six days post operation. Having been sore initially, I saw him in the gym today and he's starting to run. He's progressing really well. He's on schedule. We'll look to get him training after 10 days following the operation and we're on course for that."
Whilst Vardy's instrumental abilities for his team are unparalleled – with 13 goals and five assists to his name already this campaign – Rodgers has been keen to stress his sides capabilities in operating effectively regardless of his presence on the field.
"It's the same test as we've had all season when we've had players missing. We've managed to get really good results over the course of the season. It's very important to get the performance level right. We performed very well this week.
"If you shine a light over the course of the season, we have had important players missing. We trust the squad. You will miss someone of Jamie's ability. He would help any team."
Concerning the availability of Leicester's dynamic holding midfielder Ndidi, Rodgers was able to shed some positive light on an injury initially anticipated to have bleaker consequences.
"He's just got a slight tear, so he will be out for eight to 10 days. Sometimes those can be a lot longer than that, so we're fortunate."
The news will emanate great feelings of relief for those around the club, with the Nigerian's importance evidenced by a 79%-win percentage with him present contrasting to a 48%-win rate in his absence.
Huge admiration for the Whites
With Leeds excelling in their first season back in the Premier League after a lengthy and turbulent absence, the praise has been heaped on Bielsa's men as they have established themselves away from the bottom of the table in swift and enthralling fashion.
Rodgers was quick to speak of his commendable counterpart and how he has rejuvenated a side desperate for years to return to the esteemed top division.
The Northern-Irishman said: "They've been outstanding. I'm a huge admirer of the coach. The team have played very clearly in their way in every game. They want to attack; they play without any fear. That's got them some good results, and some games where they have lost heavily."
And on preparations for Sunday's pivotal encounter, Rodgers said: It's really enjoyable. They were coming off the back of some great results the last time we played them. Marcelo's teams always play an exciting brand of football, and it's a style you don't usually see in the Premier League.
"I'm a big admirer of Bielsa and the job he has done. They play in a respectful way. They don't argue with the referees so much. They have great integrity in the game. I've enjoyed watching them and preparing to play against them."
Although no movements of significance are expected to be conducted in the final days of the transfer for Leicester – bar the potential departure of fringe winger Demarai Gray – Rodgers was on hand to provide clarity to the situation.
"I think our notion is always to improve, but if you can't do it… I know the club have given me incredible support. If we can't do it, it will be on availability. Dennis being injured is a blow to us, and it leaves a gap to us. My first look is within our youth and we don't have anybody there who can step up for us, so we have to look to the market."
Rodgers also gave a swift answer to ponderings over the status of Gray's potential departure to Bayer Leverkusen:
"There have been negotiations. I'm not involved in that side so I don't have a clue."