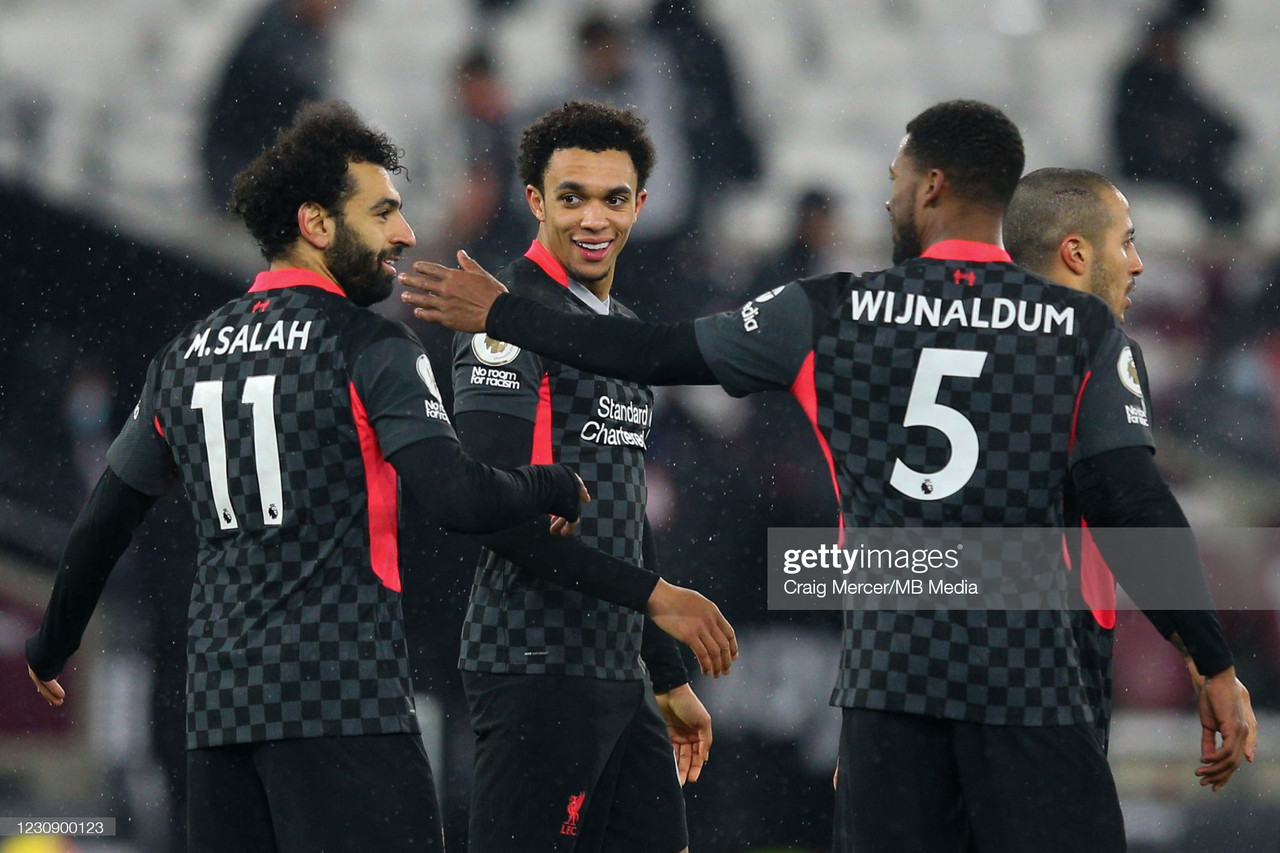 Liverpool's fine form in London continued with a 3-1 win over West Ham United. Two well-taken Mohamed Salah goals gave the Reds the lead and the comfort they needed in a well-fought game.
Liverpool mainly struggled in the first half. Both sides played rather reluctantly and laboured in the opening 45 minutes. Jurgen Klopp's side had more of the ball as expected but failed to capitalise on this. Divock Origi had a couple of half-chances, whilst the Hammers too had a couple of opportunities to test Alisson.
In the second half the rise in intensity and precision in passing from Liverpool was noticeable. They came out strong and capitalised in the 57th minute. Curtis Jones, who had just been substituted on for James Milner, found Salah on the wing. The Egyptian found half a yard of space and curled his effort into the far corner of West Ham's net. This fantastic goal meant that Salah has netted 20 goals in four successive seasons for Liverpool and is a signpost for how spectacular a player he is.
Salah's first goal was impressive, but his second may be a Liverpool goal of the season contender. From defending a corner to Salah dinking the ball over Lukasz Fabianski, the Reds broke with such pace.
Trent Alexander-Arnold's raking cross-field pass found Xherdan Shaqiri. The Swiss found Salah with a first-time pass before Salah controlled and chipped the ball over the keeper. It was exceptional play and all but settled the game.
Georginio Wijnaldum made it three in the 84th minute with another well-worked goal, leaving him an easy finish.
The only blemish on Liverpool's afternoon was conceding from a corner in the 87th minute.
Salah steals the headlines
Salah was sensational this afternoon. His two goals ended a run of five Premier League games without a goal and meant that he stayed the league's top goalscorer with 15 from 20 games.
Not only was he offensively at his best, but he helped out Trent defensively and often tracked back to help out. This is something he does very often but doesn't always get the credit he deserves for doing so because his goal record overshadows it.
Going into the game without Sadio Mane and Roberto Firmino on the bench, there was a lot of pressure on him to win Liverpool the game. He certainly did that this afternoon, once again performing at his best.
Positionally, Salah was all over the place, drifting into the box at times but also staying out wide. This made it difficult for Aaron Cresswell to mark him and whilst the West Ham fullback did a good job for parts of the game, ultimately Salah was too much for him.
Trent continues fine form
Following on from Thursday's win against Tottenham Hotspur, Alexander-Arnold had yet another very good game.
He has struggled for large parts of the season but looks to be finally finding his form and getting back to his best. It is early to say this, but good performances in two successive games will be a massive boost for his confidence.
Trent was involved in all three goals this afternoon, playing a vital role in the build-up to all the goals.
The onus will now be on Trent to continue to work hard in training and continue to play at this high level. He is so important to Liverpool offensively and to Salah getting the opportunities to score. If they can both play as well as they did today, Liverpool will have a good chance in clawing their way back up the table.