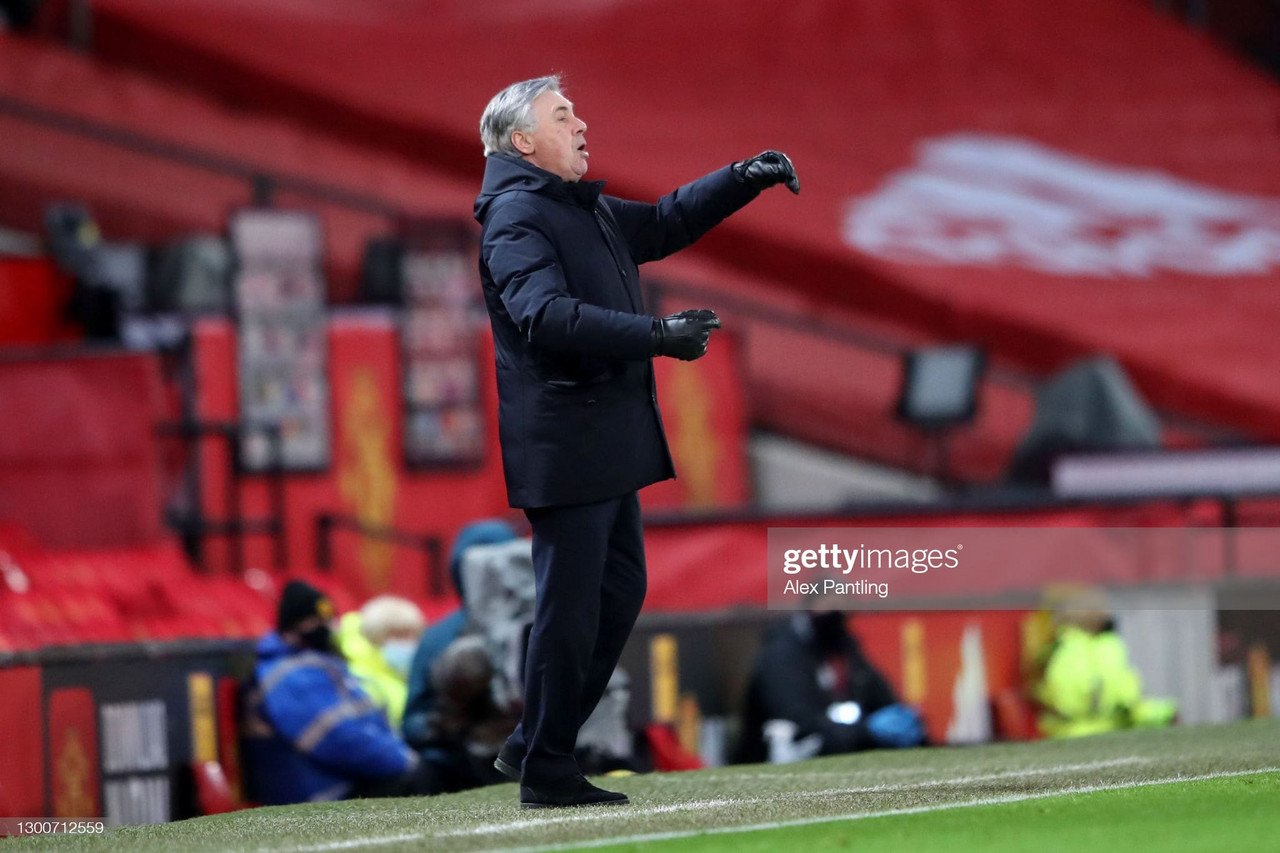 Manchester United looked in total control at half time after goals from Edinson Cavani and Bruno Fernandes sent the Red Devils into the break with a 2-0 advantage. The duo have scored seven goals in four games against the Toffees [Fernandes 4, Cavani 3].
However, a seven minute second half revival saw Carlo Ancelotti's Everton shock Ole Gunnar Solskjaer's United to draw level, with two finely worked goals finished by Abdoulaye Doucoure and James Rodriguez.
The hosts were left stunned when Dominic Calvert-Lewin scored with the last kick of the game to grab the three points out of United's grasp after Scott McTominay had put United ahead with 20 minutes remaining.
It was a draw that felt like a win for Evertonians and one Ancelotti felt was fully deserved post match.
When Everton went two goals behind a minute before half time, and with their track-record at Old Trafford, you'd have been forgiven for thinking the second half would be doom and gloom for the visitors.
However, the Toffees fought from behind twice to earn a point at the death and according to Ancelotti, it was what his side deserved:
"I am really proud of my team that we never lost the ambition to get a result we showed fantastic spirit and fantastic attitude.
"The quality we have in the squad won't be enough if we don't put in the spirit and sacrifice we shown in the second half. The best part of the game was when we were 3-2 down and showed we didn't want to lose by pressing forward, fighting, sacrificing and that's what you need to compete in the Premier League.
"Of course when you score in the last second of the game you are a little bit lucky. I think we deserved the luck and at the end of the day we didn't deserve to lose."
Everton's first half game plan of waiting to strike on the counter attack didn't work as Ancelotti would have hoped and instead allowed the hosts to control play and enjoy plenty of attacking joy for Mason Greenwood and Aaron Wan-Bissaka down the right.
In the attacking department, chances were limited for the Toffees who failed to register a shot on target in the first half. However, in the space of seven second half minutes, Everton fought back from two goals down to draw level, but done so without a change in tactics the Italian manager revealed:
"We tried to play a little different by controlling more of the ball and play a diamond in the middle with James as a No.10 with two strikers. In the first half we were shy, lost a bit of confidence when we conceded but I don't think we deserved to be two goals down.
"We didn't change tactics, we were the same but with more cards. The second half was a different game, we had different courage which is the only thing I asked for."
Calvert-Lewin at his best
Calvert-Lewin was the all-important hero when he stabbed past David de Gea to score goal number 17 for the season and earn a crucial point towards Everton's European ambitions.
Since the arrival of Ancelotti last season, Calvert-Lewin's turn in form has been revolutionising with the England international only two goals off the golden boot. The striker has scored 21 Premier League goals under the Italian manager, five more than he had managed previously in his Everton career.
Post-match Ancelotti was high in praise for his No.9 who he felt was close to his best against United:
"Calvert-Lewin at the minute is doing really well, he is working hard, scoring goals and I am really happy about his performances.
"He has improved but not yet reached his best level. Outside the box he can be so effective like today against an opponent like Harry Maguire who is very strong. Dom fought well, won lots of duals and I think today he was close to his best."
Everton's Columbian magician scored his first away goal for the club with a sweetly struck left footed volley to draw the Toffees level- his fifth league goal of the season.
Rodriguez was first to be replaced for Everton, a minute before United regained the lead, by Gylfi Sigurdsson who had been extensively warming up during the half time break.
Ancelotti confirmed the substitution was precautionary with the playmaker feeling a tight calf during the break:
"James had a problem on his calf at the end of the first half and we tried him out for the first 15-20 minutes but because the calf was tight I preferred to take him off."
With Everton in FA Cup action on Wednesday night against Tottenham, Ancelotti will be hoping Rodriguez is fully fit.