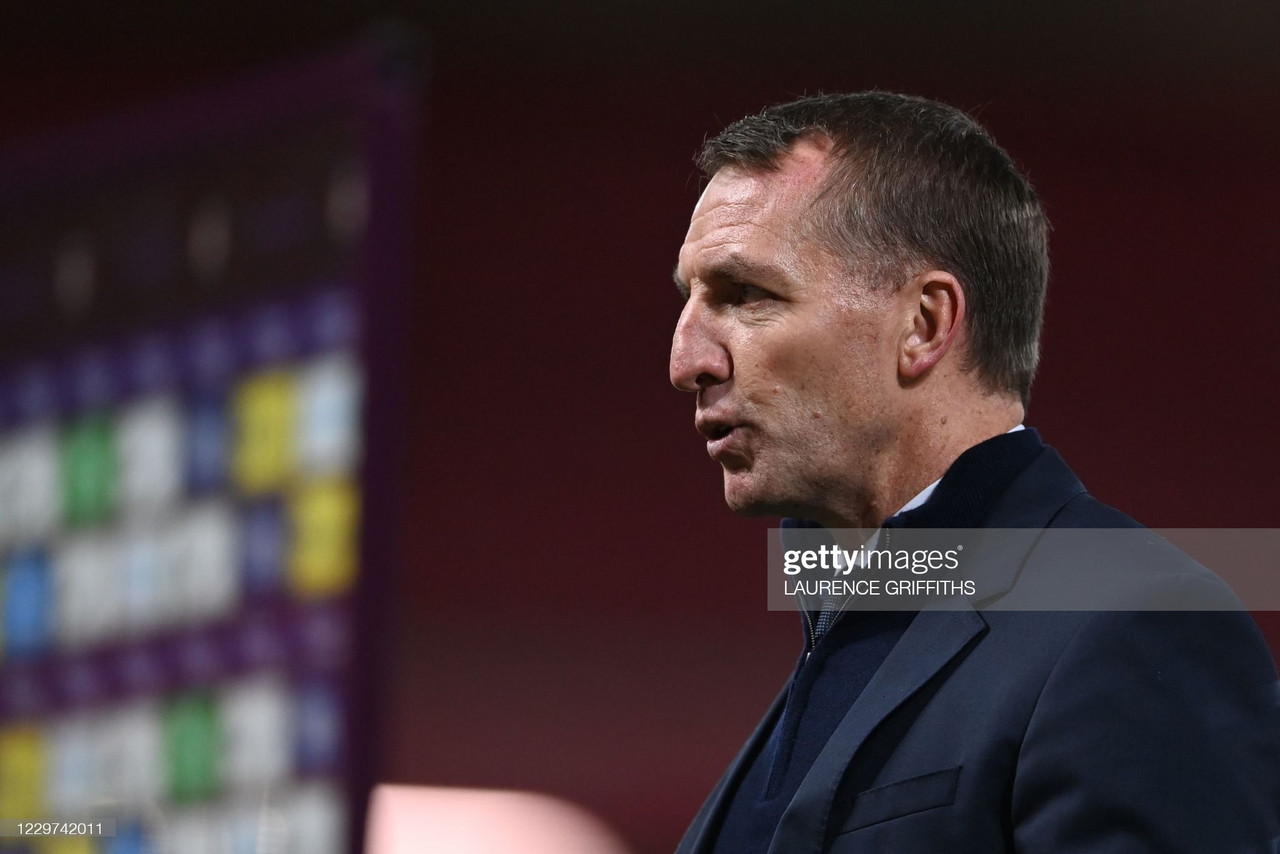 Leicester City welcome Liverpool to the King Power Stadium on Saturday afternoon in a game that could have a huge impact on the outcome of both teams' seasons.
The Foxes are in good form having bounced back from defeat against Leeds two weeks ago, with back-to-back wins against Fulham and Brighton in the Premier League and FA Cup.
Jurgen Klopp's side on the other hand are struggling in their title defence. The Reds have lost four of their last six games in all competitions, with three of those losses coming at Anfield.
Both sides will be keen to pick up a positive result in what will be an extremely important fixture in the context of the campaign. Leicester boss Brendan Rodgers spoke to the media ahead of the match.
Injury to James Justin
James Justin was stretchered off during Leicester's game against Brighton in midweek. This afternoon, Rodgers confirmed that the right-back had suffered an ACL injury and will be sidelined for the considerable future.
Justin has played every minute of Premier League football for the Foxes this season and was in contention for an England call-up ahead of the Euro's.
Rodgers spoke about the injury and how he feels the 22-year-old will respond. He said: "The scan hasn't shown up so well, it's a massive blow for us – it looks like he's blown his ACL. He's been incredible for us, played in so many positions, and been a minimum 8/10 in all of them."
"He's tough mentally and physically, that's what makes him the boy he is. It will make him stronger. He was upset yesterday because he's been so robust, he's played nearly every game."
Preparation ahead of the game
The Foxes' overall form against Liverpool is poor, with their last win coming back in 2017 in a 2-0 victory in the Carabao Cup. Earlier on in this season, the Reds put in a dominating performance to win 3-0 at Anfield, leaving Leicester will small hope of a result this time around.
However, Rodgers' side will be keen to put that behind them and take advantage of Liverpool's recent poor form.
Rodgers discussed his preparation for the big game. He said: "You look at your strengths but you also have to prepare for the other team's strengths. We've given up some cheap goals against them.
"We were analysing the game from Boxing Day and we started the game really well, but let's learn from it. You have to run and run, and that will be key for us tomorrow."
Importance of the game
With both sides three points apart inside the Premier League's top four, this game bears a lot of weight for the outcome of the season.
A win for the visitors will move Liverpool above Leicester and into third place whereas a win for the Foxes would put them further ahead of Klopp's side and in a great position in the Champions League places.
Although, Rodgers believes the game won't have a significant impact on his team's season. He explained: "I don't think it will define where we finish and it's going to be a really tough game for us. It will help measure our progress."
Liverpool's injuries
Liverpool have had a similar injury problem to Leicester this season with both squads being littered with knocks and they have felt the impact of missing key players.
Rodgers discussed the injury problems for Saturday's opponents but praised the strength of their squad. "They've been unlucky with injuries as well," he said. "Virgil [Van Dijk] was a huge reference for the team. The frontline is still there and they still have a very good team.
"They've set such a level that any drop-off, there will be a focus on that. They are up there challenging and will continue to do so."
On James Maddison
James Maddison has been in the form of his Leicester career in recent games. He has scored three and assisted three goals in his last eight matches and his confidence is sky-high. The Foxes boss spoke about his number 10 and his improvement.
He said: "I think what we've talked about with James and Harvey [Barnes], it's about efficiency. You have to have numbers. You can't be a creative player and only get a couple of goals and a couple of assists.
"He had a few niggles early on in the season and he's either creating or scoring every game now."