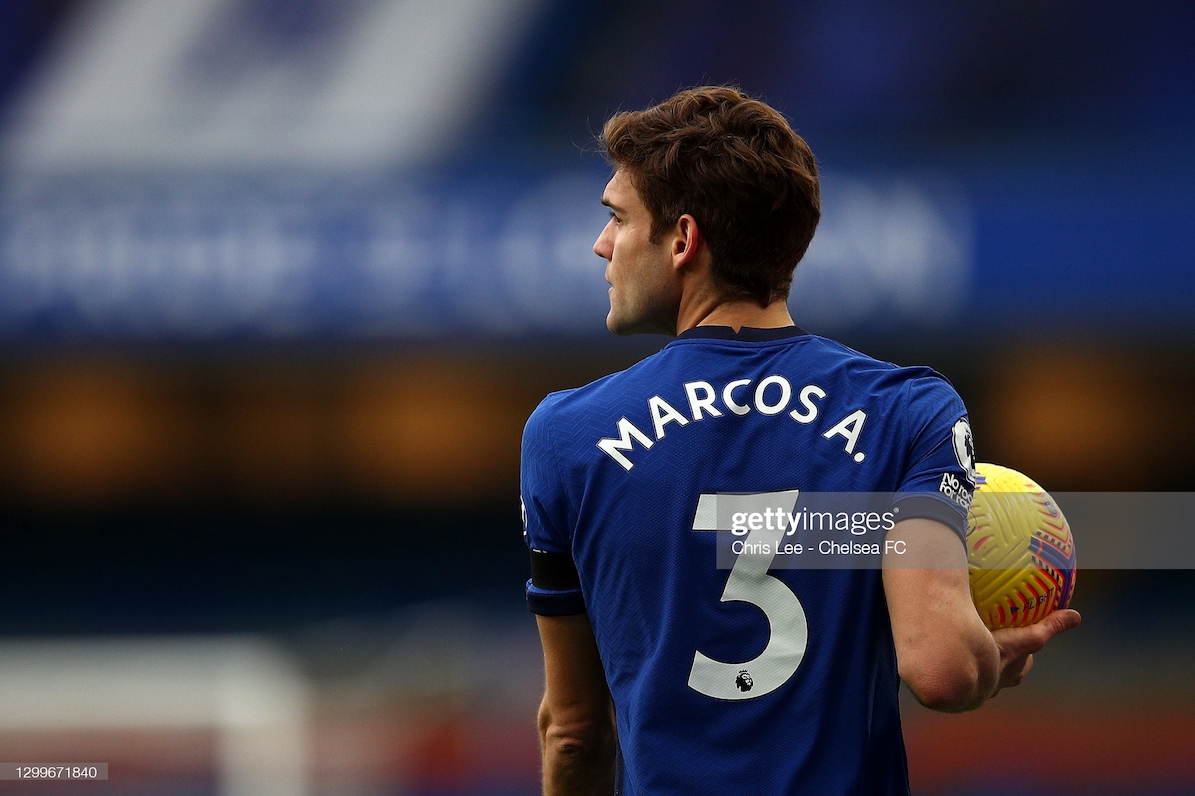 Only one of Antonio Conte's four major signings in his first summer with Chelsea came from Italy. Until he replaced interim manager Guus Hiddink at Stamford Bridge, Conte had coached exclusively in Italy — with club sides and then as manager of the national team. His knowledge of Italian football was second to none. And yet he brought only one player in from Serie A. In came Spanish left-back Marcos Alonso from Fiorentina.
The Real Madrid academy graduate had already played nine matches in the Premier League during a three-year stint at Bolton Wanderers. This would be different, though.
Alonso would have a second chance to show the world's toughest league that he merited a regular place in a title-chasing team. He scored six goals in 31 games for Conte's side, who romped to a Premier League title at the new manager's first time of asking.
The 2017/18 season that followed saw the Blues fall off the pace. An FA Cup triumph couldn't save Conte from the sack — Roman Abramovich's ruthless cutting and changing called into action as Chelsea finished fifth and missed out on Champions League football.
Alonso was still peerless though, even improving on his already impressive attacking stats from the previous campaign. The Spaniard had established himself as a leading wing-back.
Falling down the pecking order
Under Maurizio Sarri and Frank Lampard, though, Alonso was a less obvious fit for their footballing philosophies — by no means similar to each other, but certainly both very different to Conte's.
Alonso was still top dog on the left under both, but wide players whose day job is playing at wing-back will tell you just how different a role that is to playing full-back. Alonso's defensive solidity had never been his finest facet — breaking forward, assisting and scoring goals had. His influence at Stamford Bridge was steadily waning. His luck wasn't about to change for the better.
Unconvinced by a fading Alonso and the decent but error-prone Emerson, Lampard wanted a new option on the left flank. He'd seen what Ashley Cole had brought to that role during the club's 'golden years'.
While statement signings like Kai Havertz, Timo Werner and Thiago Silva had been brought in by powers over his head, the former Chelsea great did at least play a key role in the club's other marquee transfer of last summer's window. Leicester City's and England's best left-back travelled south to Cobham; Ben Chilwell promised to offer fresh intent and a level of quality unseen since the Conte incarnation of Marcos Alonso.
Chilwell — like Chelsea — made an assured start to the new season. A record nine different teams have led the Premier League table at one stage or another this term. The Blues are one such team, largely thanks to their strong start. Then in early December, the light seemed to go out for Chelsea. It signalled the beginning of the end for Lampard.
German revival
Most of Chelsea's most important players had dipped in form during the last couple of his reign. At their worst, Chelsea had lost all chemistry and looked a collection of misfiring misfits. The tactically obsessed German coach Thomas Tuchel was tasked with changing their fortunes, and fast.
If the new manager's first six games are anything to go on, clearly knowing which players to fit into which system wasn't just Lampard's problem. Tuchel is finding his feet at the helm — trying different personnel with different strengths and weaknesses in different games against different opponents. Marcos Alonso has been perhaps the most obvious beneficiary. The physical wing-back has fitted into the side best under 3-4-3, owing to his attacking pedigree in the final third.
A scrumptious chest-and-volley goal against Burnley a few weeks ago showed just what Lampard had been missing by persisting with Chilwell during the 24-year-old's difficult spell.
In an era when there seems an obsession with rhetoric about "nailing down a starting berth" or "making one's position one's own", the early signs suggest Tuchel might just have played a masterstroke here.
By alternating Alonso and Chilwell depending on the fixture, he can retain competitiveness as neither would choose to be sharing the role. They are similar enough that the team won't miss one's specialities when the other is playing, but distinct enough in style to make a range of different game plans viable.
Chelsea's increased squad depth from last season to this allows such rotation in a number of different positions. Up front, at the back, and in the wide-forward areas, Tuchel is blessed with options.
Golden generation of left-backs
At left-back, Arsenal's Bukayo Saka shone for England in 2020. As Luke Shaw enjoys the best spell of his Manchester United career to date, Saka continues to star in a number of different positions for Arsenal, still aged just 19. It means both are highly likely to earn England call-ups in March; Chilwell — for a year or more England's best left-back — is suddenly on the outside looking in.
A run of strong performances is needed to cement his place in Gareth Southgate's team. But it seems he needs to convince Tuchel to give him the lion's share of the left-back game-time at Chelsea first.
International aspirations aside, the left flank provides a fascinating microcosm of the whole Tuchel operation. His conundrums are both who and how to play. Alonso and Chilwell look set to go toe-to-toe with each other for the rest of the season. Even then, the winner of this enthralling race still might not be decided. Where it once looked settled, the left-back spot is now fiercely competitive.
What must Emerson be thinking?