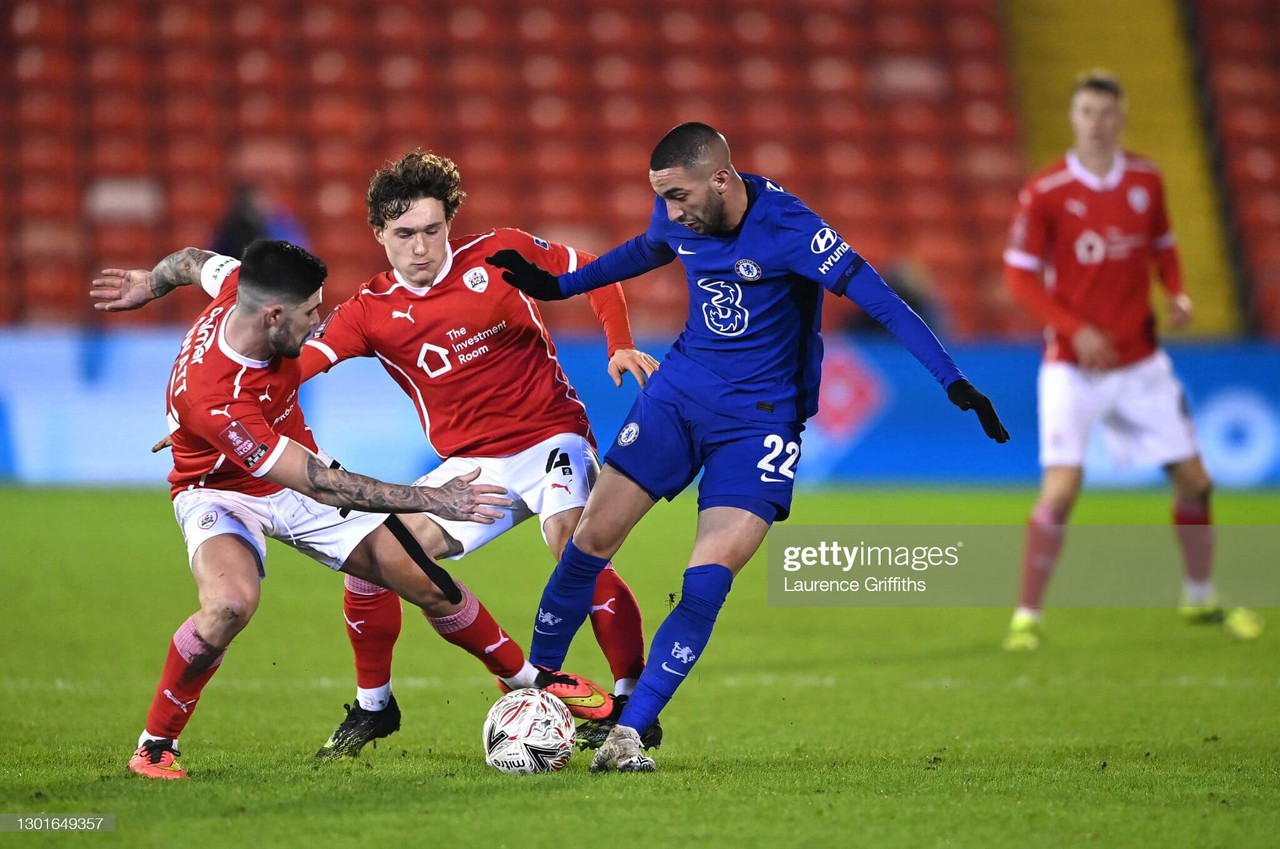 The final match of this season's FA Cup 5th round saw Chelsea come out as victorious against Championship side Barnsley at Oakwell.
The Premier League side booked their place in the quarter-finals with a tight 1-0 victory, with striker, Tammy Abraham, notching the only goal midway through the second half, which was laid on a plate to him by Reece James.
This was the Blues' 4th victory in the 5 games they have played under Thomas Tuchel, albeit with their most unconvincing team display since the German took charge, as several out of favour players failed to impress on their return to the starting line up.
Ziyech and Pulisic underwhelm
With Tuchel naming a much changed team from the side that won 2-1 at Sheffield United on Sunday, there was an opportunity for the front three to stake their claims for a starting place - considering Chelsea's recent difficulties in terms of chance creation and consistently finding goals - that has plagued whoever has played in those positions.
There was particular interest in the performances of Hakim Ziyech and Christian Pulisic in tonight's match, two players who have struggled with injuries and inconsistent form this season.
Unfortunately, both players failed to get into the game, with wayward passing, incomplete dribbles and lack of work rate being a common theme from both of them.
The issue with both Ziyech and Pulisic is not their ability; it is more their application and willingness to make the impact that players of their ilk should be making on the team.
While players like Mason Mount and Timo Werner are far from perfect options, and may not score as consistently as they should, there is a reason why Tuchel trusts them more at the moment, as what they contribute to the team is considerably greater, particularly their movement which has opened up more opportunities to happen in an attacking sense.
If Ziyech and Pulisic want to start more games they have to show greater willingness to get involved in the game, show greater experimentation and enthusiasm on the ball, and prove that they can be match winners for Tuchel.
The versatility of Tuchel's tactics
When you hire a tactician like Thomas Tuchel as manager, it is important that they show that they are more than just a system, and have the ability to notice and change things when they are not going right.
Under managers such as Antonio Conte and Maurizio Sarri, Chelsea were often criticised for forcing themselves to stick to the systems that the managers introduced for that game, even when they have been found out by the opposition, which changes being limited to personnel and not so much on intensity or formation.
In this game, this was the first time Tuchel made a change from his preferred three at the back formation to move into a back four, something that is more suitable for left back Emerson Palmieri, who struggled in the first half as a left centre back, and for Reece James, who came on at half time for Andreas Christensen.
And it was through James that the goal came, as he was picked out by Billy Gilmour down the right channel, and the right back managed to set up Abraham in the middle for a tap in.
What was noticeable in Sunday's match against Sheffield United, was both James' and Ben Chilwell's positional struggles as wing-backs, with both being clearly more comfortable and effective as full-backs.
And even though it was Callum Hudson-Odoi and Marcos Alonso starting the game as wing-backs today, such was the nature of Barnsley's high press that they could not act as extra attackers like they were in the 2-0 win against Burnley, and were pinned back and constantly having to defend.
It could be of Tuchel's best interest to play the three at the back and Hudson-Odoi and Alonso as wing back against teams playing a deep block where Chelsea will dominate possession, and then revert to the four at the back, deploying James and Chilwell in the full-back positions, against teams that will press and have a fair amount of possession themselves.
System players vs reputation
The most concerning thing for Tuchel from this game would probably be Chelsea's difficulty when passing out from the back. While there are factors to take into account, Barnsley's bobbly pitch, their high press, and the absence of Thiago Silva in the back line to name a few, Chelsea really struggled to keep possession for an extended periods, often playing safe passes, looking backwards rather than forwards, and relying on long balls forward from goalkeeper, Kepa Arrizabalaga, to get the ball into the opposition half.
The most notable reason for this ultimately comes down to how the players coming into the side adapted to the system and they looked a lot less comfortable than those who have starred in games under Tuchel in the Premier League.
In Jorginho, Mateo Kovacic and Mason Mount, Tuchel has found a near perfect midfield for how he wants his Chelsea team to play, with Jorginho being ideal for controlling the game's tempo, Kovacic's ball carrying ability and ability to pass between the lines and Mount being able to link midfield and attack on the half turn.
With this trio absent from starting the match today, Tuchel handed first starts under him to N'Golo Kante and Billy Gilmour, who, while being undeniably talented players, could not keep up the high standards of the regular starters in terms of ball retention.
Whether it be failure to give a better option to the centre backs when in possession in their own half, or being too casual and safe on the ball, Chelsea's failure to physically dominate the midfield made them more susceptible to Barnsley than they needed to be, which made the game a lot less comfortable than it should have been on paper.
To come through this game unscathed and into the next round will come as a relief to Tuchel, and it will be interesting to see what his line up will be for the quarter final clash with Sheffield United to come in the next few weeks.