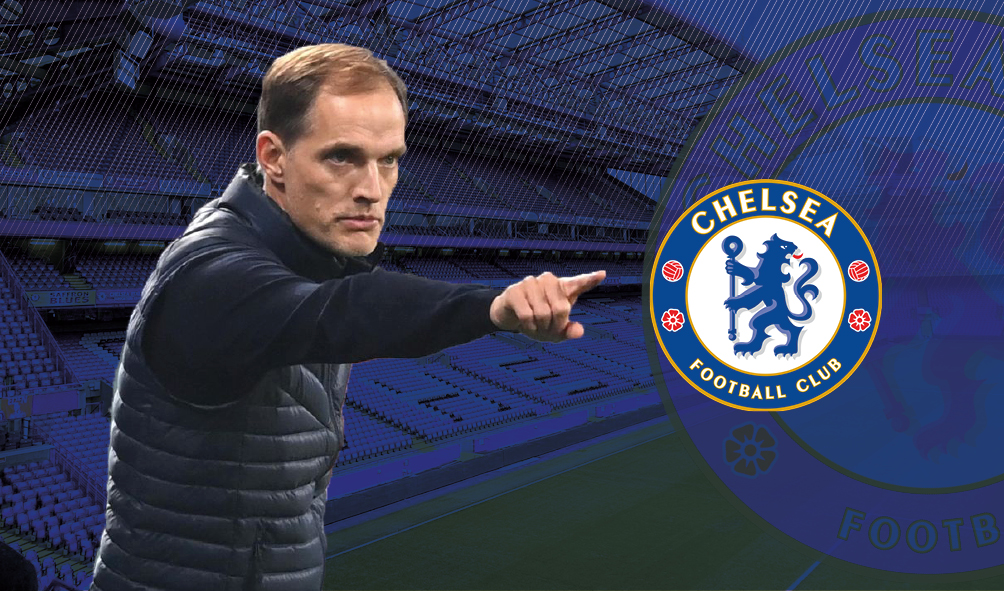 Thomas Tuchel has admitted he must earn the trust of his Chelsea players as he gears up for his second match in charge.
The German boss took the Stamford Bridge helm on Tuesday, just 24 hours after Frank Lampard was sacked by the club.
Chelsea's record goalscorer Lampard had built a robust connection with the club's vast array of academy talent that he ushered into the Blues' first team.
Lampard's exit left behind the kind of split squad that follows any managerial exit, but the 42-year old's departure was felt all the more keenly by those home-grown stars he had fostered and promoted.
Former Paris Saint Germain boss Tuchel insists he will give youth a chance at Chelsea, but left Mason Mount on the bench in Wednesday's goalless draw with Wolves and omitted Billy Gilmour entirely.
And the new head coach at the Bridge is determined to prove himself to his new players, with the Blues bidding to kick-start his tenure with a win against Burnley in west London on Sunday.
"Why should the players trust me? Because it's not my first job in football," said Tuchel. "I have to prove to them that they can trust me.
"I have to prove it to them on a daily basis, on the pitch and in the meetings; it's as simple as that.
"The style here in England is unique, the intensity – Wolves played with 11 guys that seemed to be two metres five tall. This is a level of physical input, a level of athleticism that is unique.
"It brings out the best in every player, I truly believe this. And to compete with the best coaches in the world, hopefully it brings out the best in me. That's why I'm here.
"Hopefully that is enough for the players to trust me."
And the former Borussia Dortmund boss must also repair the wounds left after Lampard's sacking and set the Blues forward on a new course.
Sunday's Premier League opponents Burnley will offer just as stubborn a defensive test as Wolves had in midweek, where Chelsea dominated territory and possession without finding a breakthrough in front of goal.
A man that will be needed to help find that breakthrough will be Timo Werner.
Tuchel omitted Werner from his first game in charge because he fears he is suffering self-doubt under the weight of his poor form.
The German striker has not scored a Premier League goal for almost three months and Tuchel found him in low spirits when he arrived at London this week.
"Sometimes as a striker, it does not help if you care a lot," said Tuchel. "Sometimes as a striker it's better not to care at all. But he's not that guy. He cares and he's not happy with himself and the way things went lately.
"At the moment I see his face is a bit closed and the weight is on his shoulders. He cares a lot and that shows he has a fantastic character.
"It's important to rebuild his trust in himself and to find a smile on his face and stop doubting too much. It's my job to do this, to help him with this and then to find also a position where we can use his strengths."
Chelsea beat Liverpool to sign the Germany international from RB Leipzig last summer in a deal worth up to £53million.
He opened with a flourish of eight goals in a dozen appearances but has found the net only once in 16 games since, a goal against League Two side Morecambe in the third round of the FA Cup.
Chelsea's results took a turn for the worse as his goals dried up. They slid down the Premier League table and Lampard was dismissed just a day after a 3-1 win over Luton Town in the FA Cup.
And Tuchel defended his choice not to use the German, with the new boss opting to start Olivier Giroud up front in his first game against Wolves.
He then sent on Tammy Abraham from the bench in a game when the visitors defended deep and denied Chelsea the sort of space Werner thrives on.
"I would say he prefers to have space," added Tuchel. "That's clear because he's super fast and he likes to play in the last line, very high up, but a little bit more to the left, half open to the goal and to receive the ball into the open space.
"There will be games like on Wednesday (0-0 vs Wolves), we had 80% ball possession and it felt like we played 90% of the match in the last 30 metres.
"Can we develop movements, patterns, behaviour to use his quality in narrow spaces? That's my job and I'm convinced we can because the guy is open, the guy is friendly and the guy is eager to learn."
Another player under the spotlight has been Kai Havertz, and the new boss has warned him that 'he cannot rely on endless talent' but says the fellow German has the potential to 'become a huge part of this club'.
Havertz, 21, was a highly-rated £89million acquisition from Bayer Leverkusen in the summer but has struggled to get going at Stamford Bridge so far, scoring just once in 17 Premier League games.
The Germany international failed to regularly feature under previous manager Lampard but played the full 90 minutes under new man Tuchel in his opening game.
And whilst Tuchel knows the masses of potential his young playmaker has, he has warned the attacker he must put in the hard work to match his ability.
"What I feel from him is a very friendly, intelligent and open guy, with a lot of potential and we will push him," said Tuchel ahead of the Blues' game against Burnley.
"He seems to be like the guy that needs to be pushed, we will not stop it. For him, this league is perfect because he cannot rest.
"He has so much potential that he has to be challenged physically also, it is not enough that he can rely on his endless talent.
"In the end, the question is does he have this, can he show his teeth in the end when it gets tough and I was very happy on Wednesday. It was him that did almost the decisive header in the box against all the towers from Wolverhampton.
"It would have been a nice goal but he did not hesitate and that is what I want to see from him, the rest will come because Kai can be a huge, huge part of his club."
Havertz was one of the most sought-after players in Europe this summer after starring since making his Leverkusen debut at the age of just 17 in 2016.
After establishing himself as one of the Bundesliga's most dangerous players last season, he has found the adjustment to English football a difficult task.
When asked about Havertz's difficult transition, Tuchel said: "His potential is endless, almost endless. It is a challenge for him, and I think he made a very brave choice, you have to understand.
"I am a huge fan of Bayer Leverkusen in terms of how they have developed as a club over years and years and what players they developed and what quality of football they play.
"But, you come from Leverkusen to Chelsea, the culture can not be any more different. A club where it is okay to maybe be second or third best, to reach the top four and repeat this on a very high level.
"Then you go to a club where they talk about trophies and winning titles, it is so open, there is a certain atmosphere like at Bayern Munich thy do this every year, they demand titles, titles and more titles and it does something to a club in the atmosphere.
"So that means that Kai has stopped not just to a different country, not only to a different club, not only different team mates, itself is already complicated, he even changes his culture and club environment in a dramatic way."
And the 47-year old has also revealed his concerns after only being offered an 18-month contract at Chelsea.
The German was frank about his initial feelings after the offer was put to him by Blues chief Marine Granovskaia.
But he determined that a longer deal would offer him no greater security at Stamford Bridge – admitting that it's already been made clear to him the enormous expectations having become Roman Abramovich's 11th permanent managerial appointment – and he was told he must deliver straight away.
"I want to be very honest with you, at first it was a concern," said Tuchel. "I was a little like 'oh, why 18 months?'
"And after one minute I thought 'what does it change?'
"What does it change? If they give me four and a half years, they will sack me anyway. If they are not happy with me, they will sack me anyway.
"And if they gave me four and a half years, they would put in a clause that when they sack me they'll pay me.
"So where can I be sure that I'll be there four and a half years, you cannot. That is the truth at this level."
Tuchel was sacked by PSG despite winning back-to-back titles and four major honours. Abramovich is similarly demanding – and Granovskaia has made the new manager fully aware of the owner's expectations.
"She told me very clearly that when you sign for Chelsea that you have to win trophies," he added. "Not that you have to win, but you have to compete for them.
"This club is about competing to win the most difficult competitions that are the Premier League and Champions League. That's absolutely no secret.
"When I played with Dortmund or PSG in the Champions League, I don't play to reach the quarter finals. I play a quarter final to reach a semi final, I play a semi final to reach the final and when I am in the final, I want to win it."
And the German has already ruled his side out of competing for the Premier League title – instead turning his focus on glory across the Champions League and FA Cup.
"We have to be ready when the next season starts, ready to compete. Chelsea is a club where you compete for trophies and as a manager we have no time to waste.
"We have to compete in the Champions League and we want to create a team that is no fun to play against, and that is confident enough to beat anybody across two games. And at the start of next season we want to close the gap on the top teams like Manchester City and Liverpool.
"We take little steps in terms of details and bonding and improving our game to be able to win games every three days, then the results will come and with that points, and we want to challenge the top four places.
"If you do this job at the highest level, you know what you're in for and for me it's better to speak about it and we will do our best to fulfil our dreams and those of our supporters.
"If we have reasons we didn't make it, I will tell you, but I prefer to know what I'm fighting for rather than saying we'll see."
The German manager is renowned for his highly-tactical approach to the game, playing entertaining football and bringing success to a team and he wants to make his mark on Chelsea.
He said: "On the one hand I like attacking football, the approach to think about scoring and creating chances. That's how we spent time with the players - to think up front, to think offensively and give them guidance to help them accelerate and enter the opponent's box.
"At the same time, I love when we have high recoveries. When we play an intensive style of football, when we force mistakes rather than wait for them.
"Then there's a part where you need to adapt to the characteristics of the players, what's good for the team and how we can turn that into the win. If I'm a Chelsea fan I want to be excited. I want to feel a certain level of energy and want to be entertained.
"This club already means a lot to me after I've had the best time ever over the last few days. If we can fulfil everyone's wishes, then that also means that mine comes true."