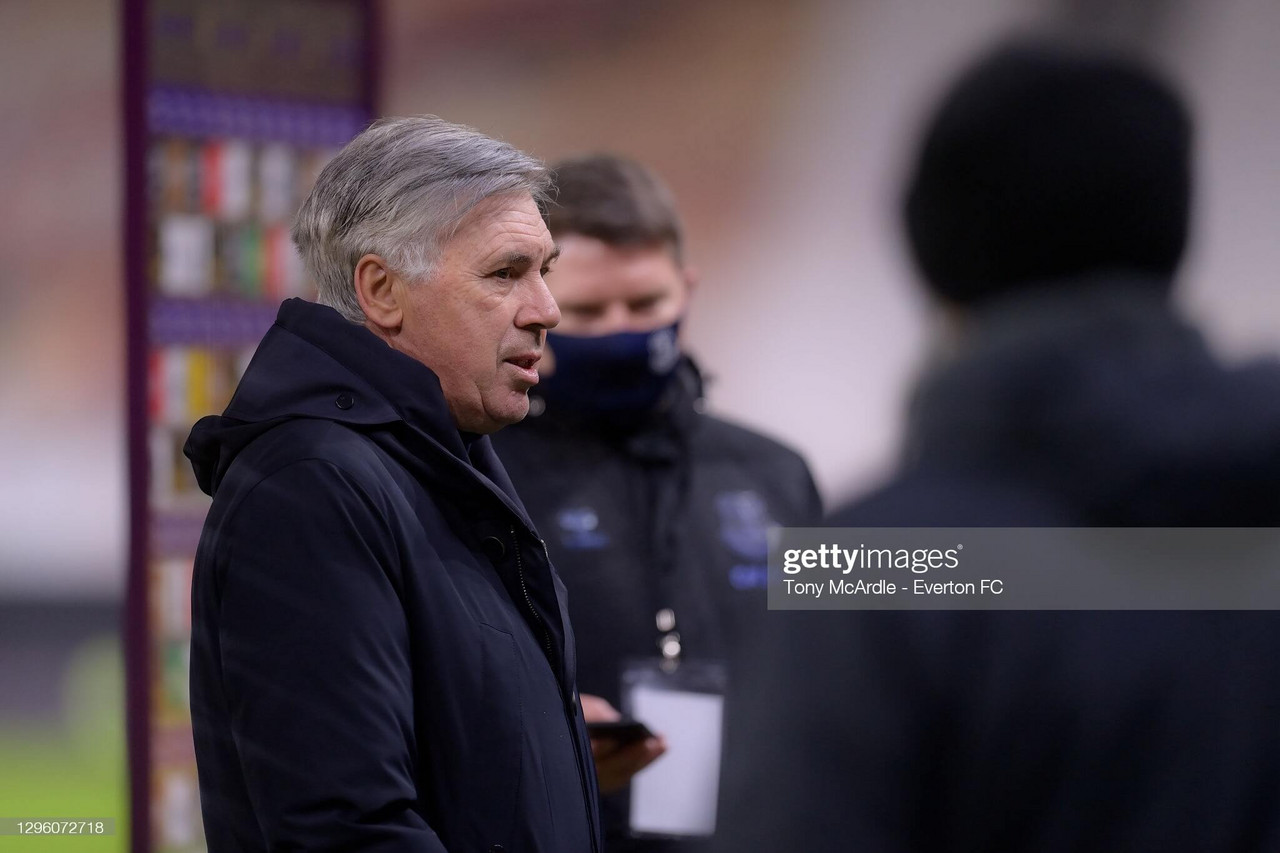 Carlo Ancelotti's Everton side come into their match against Manchester City off the back of a lacklustre home defeat to Fulham in the Premier League, in which his side missed the chance to close the gap on a Champions League place.
Everton have struggled at home during lockdown and welcome a confident Manchester City team who have won on their last three visits to Goodison Park.
City have been in history-making form, on a run of 16 consecutive wins in all competitions and with the opportunity to break further records on Merseyside.
Pep Guardiola's outfit can become the first English club to win their first 10 top-flight games in the new calendar year - Bolton Wanderers (1906) and Manchester United (2009) also have nine wins.
Everton's seemingly ever-growing injury list has left Ancelotti without a number of key players in recent months, however his squad appears to be nearing full strength.
Jordan Pickford and Allan will return; Pickford has missed the last four games [hip], whilst Allan has spent the last two months side-lined [hamstring]:
"Pickford trained yesterday. He will be checked again today and if available will play. Allan is in contention. He had a scan on Monday which went well and he is fit so can play."
However, the bigger news for Evertonians is they will be without top scorer Dominic Calvert-Lewin for a second game running. The striker was forced off against Tottenham Hotspur and has not recovered in time to feature:
"Calvert-Lewin is not available for sure. It is a matter of days and we hope he will be available for Saturday. [Jean-Philippe] Gbamin is also not available."
James Rodriguez is fit after being forced off against Fulham with a knock, and when asked if teams are targeting the Colombian, Ancelotti responded:
"James is available. The contact against Fulham unfortunately forced him off- there was nothing wrong with it. Avoiding contact in football is impossible and if you want to avoid it then don't play."
Praise of Guardiola's City
Ancelotti has faced Guardiola three times during his managerial career, winning twice with one defeat - a 2-1 loss at the Etihad Stadium last season.
Pre-match the Everton manager spoke highly of the City boss, hailing him as one of the best in the world:
"For what Guardiola has done and is doing he can be considered one of the best managers in the world - there is no doubt about this. I have a lot of respect for what he has done with all his teams and feel he has reached the top.
"Their results are coming from the quality of the players and the organisation of the team. Guardiola has been working with this team for a long time and they have a lot of confidence at the moment with a clear idea of football."
Improvements and ambitions
Since his arrival Ancelotti has transformed Everton, transitioning them from a side four points above the relegation zone to now being five points off the Champions League.
The Italian acknowledged the improvements his side have made but says more are needed if the Toffees are to compete with the top teams and achieve their season goals:
"The squad has improved and of course we still need to improve as we aren't on the same levels as the top teams. We are in the right way to work on this and how long it takes I don't know but step by step this team will improve.
"Our ambition is still to reach Europe by the end of the season and our goal is to compete with the top teams. We have the confidence to do well, the season is long and there's still possibility for us to reach our targets."
Everton's latest home defeat was their fifth in the league this season - more than the Toffees lost last campaign (4). Compared to their away form, Everton have picked up nine fewer points at Goodison Park with their away results maintaining their league position.
Ancelotti labelled the home form as not good enough but says it is against the top teams this season that Everton have played their best football:
"At home we have not been good enough, we have lost a lot of games. We are still in a good position in the table and deserve our position because of what we have done away.
"The best we have played at home is against the top teams like Arsenal and Chelsea where we were focused and won. I hope tomorrow will be the same."
Questions were once again raised regarding Everton's defensive stability after two more goals were put past them by the Cottagers, taking them nine goals conceded in three matches.
Michael Keane and Yerry Mina are set to return to the starting line-up, and Ancelotti hopes with the amount of defending his side are expected to do against City, consistency can return:
"The consistency we had before was determined by the strategy of the game as when we were forced to defend more we did well. In open games, we found it more difficult to have balance.
"In a game like tomorrow where we will have to defend most the time and won't be playing as open, I think we can have more consistency."