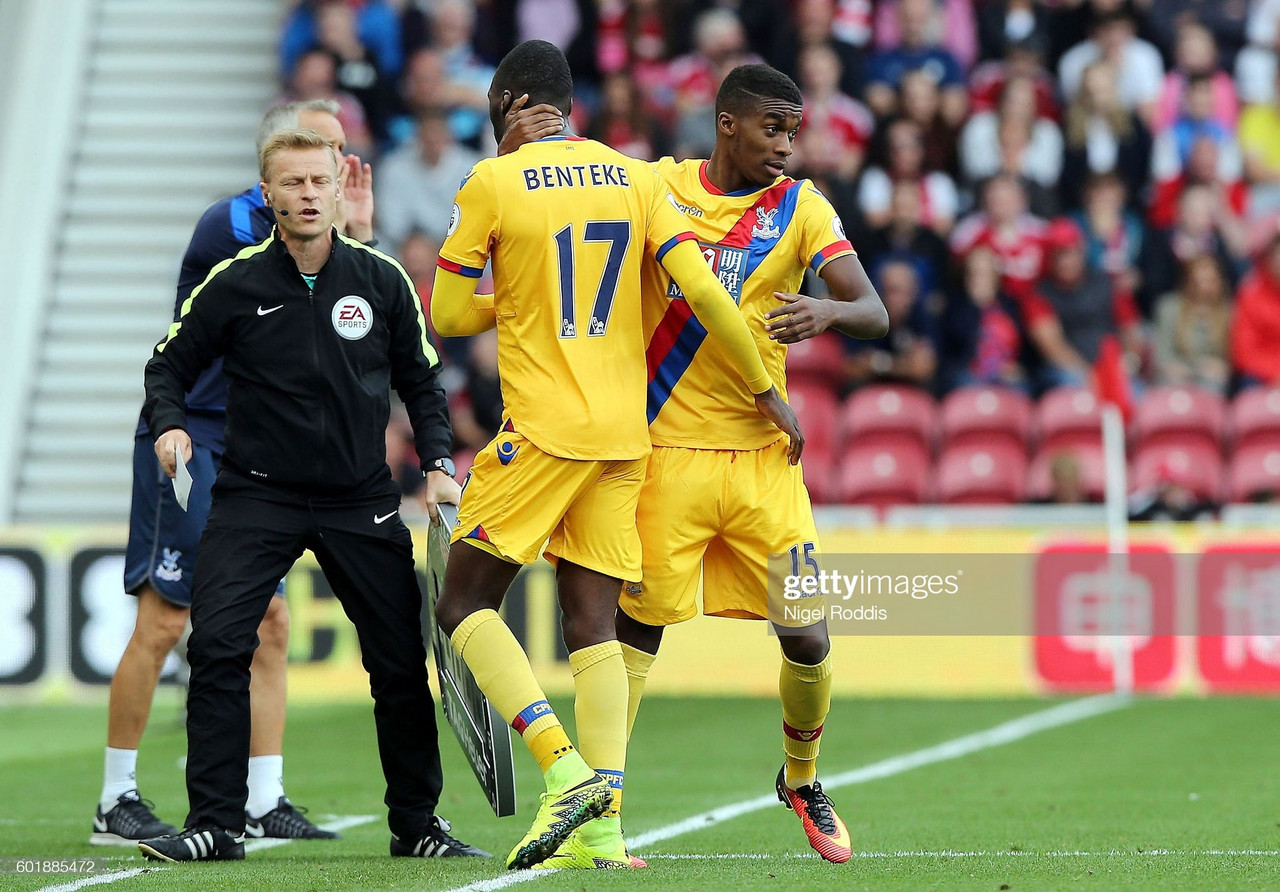 The club welcomed Steve Mandanda, James Tomkins, Andros Townsend, Loic Remy and the marquee signing, who was set to be the key indicator of Crystal Palace's intent to muscle their way into the elite of the Premier League; Christian Benteke was signed from Liverpool for a club record fee of £27 million.
Whilst the poster boy of the summer, Christian Benteke, was set to be the lynchpin for Alan Pardew's side, the club had also been tracking his younger brother, Jonathan Benteke, who was making headlines in Belgium, as a lightning quick, technical player, with an abundance of potential.
Jonathan Benteke had followed on a similar path to his older brother, receiving his footballing education at the Standard Liege academy, a club that had cultivated the talent of today, such as Palace's very own Michy Batshuayi, and Borussia Dortmund's Axel Witsel and Thomas Meunier.
Benteke explains, "When I was a kid, I was playing at school and I always played for fun, but it quickly became serious. Once I began academy football, I realised it was home to the best talent in the country, so it was serious now and there was a chance for me to work towards becoming professional."
In 2012, whilst his older brother was taking to the Premier League with Aston Villa, rising to fame with his domineering figure that bullied his opposition defenders into submission, Jonathan Benteke would work on the technical side of his game, as he took decisive steps to break into the first team at Standard Liege. "I would play a lot of five-a-side, futsal and street games that required a lot more technical ability." He continues, "I'm more technical and quicker, whereas Christian was more powerful, taller and stronger."
Fast-forward four years and the two brothers would be playing alongside each other at Crystal Palace.
Benteke junior recalls how the move to Selhurst Park came to fruition, "I found out about Palace's interest before Christian joined the club. I was in Belgium, in and around the first team at Zulte-Waregem, and by the time I was 21, I had already played 50 games in the Pro League, so I'd had fantastic development already."
He continues, "But when my agent asked me if I would like to join Christian at Crystal Palace, for me, it was a no brainer. Without hesitation, I immediately started to get everything ready to come to England."
Just a few weeks after his older brother had become the club's record signing, Jonathan Benteke joined Crystal Palace on a 1-year-contract.
When he arrived at the club, Benteke would be greeted by Alan Pardew, who would tell the then 21-year-old, 'I know you have quality, just go and show me. I will watch how you settle in with training, but if I see you are ready, you will play. There are other young players, and they are pushing too, so it's up to you.'
Becoming accustomed to Premier League life
Prior to the move, whilst Benteke had been starting to earn recognition in Belgium with his electric turn of pace and impressive natural ability, the striker's playing time at Zulte-Waregem was limited in the 2015/16 season, as the manager chose to keep him on the bench, using Benteke as a weapon to impact games, rather than start them.
Under the pressure of a single year contract, it was going to take a lot for Benteke to adapt quickly to his new surroundings, to a new country, to a new league and to the high standards and expectations which are demanded of a young player at a Premier League club.
"The plan was to start with the 23's, which for me, made perfect sense. However, if I did well, I could train with the first team and you never know what can happened in football; there was always going to be a chance," says Benteke.
When asked if there was a player who helped him familiarise himself his new club, apart from his brother, he said, "I had Christian, but at the end of the day, it's all down to you. Of course, the players around the squad are there to help you if you need them, but you need to help yourself. No one can come and carry you into the first team."
His determination to hit the ground running impressed Pardew, a manager that Benteke says, "Was so, so honest." He adds, "If he had a plan for you, he would stick to his plan. He was incredibly honest and he never sold you dreams."
With injuries to Loic Remy and Connor Wickham, Pardew called Benteke over to train with the first team in preparation for an away game against Middlesbrough. "For me, I had played in the First Division in Belgium, so I had that first team experience already. When I arrived at the 23's, of course it wasn't easy, but it was less than what I had become used to in Belgium. Training with the first team was hard, but that is what I needed for my development," he says.
The training session quickly turned into more, and within the space of two weeks, the 21-year-old had meteorically risen from sitting on the bench in the Belgian First Division, to signing for Crystal Palace, and now, he was travelling up to Middlesbrough, in anticipation of playing some role in a Premier League game.
As he reminisced with a smile on his face and a twinkle in his eye, Benteke says, "It was a 'pinch me' moment. Sometimes you have that opportunity. You just have to be ready to grab it."
He continues, "For me, when I was told that I was going to travel up to Middlesbrough, it was a bonus. If there was something more to come, I would be happy, but just going to watch how a Premier League team prepares for a game, and how it works at the highest level, that was also going to be a fantastic experience."
A 6-minute cameo changed his life
His electric start at Selhurst Park, in the short space of two weeks, saw Benteke rewarded with a place on the bench against Middlesbrough. However, he knew, as the only striker named amongst the substitutes, that should something happen to his older brother, he would be ready to make an impact.
With the game entering its final 10 minutes, and Palace 2-1 up thanks to goals from Benteke senior and Wilfried Zaha, Pardew signalled to Jonathan Benteke, that it was time to make his Premier League debut.
When asked to sum up the feeling of a culmination of 21 years of hard work, dedication and sacrifices, in return for priceless minutes on a Premier League football pitch, Benteke said, "Words can't even describe it; it was a magical moment, not just for me, but for my family also. All I remember is Christian saying to me 'Give it your best. You are here for a reason, so grab this chance and give it everything.'
He adds, "I wasn't nervous. At 21, you don't think, you just do. As I started to grow up, then the more I realised what a massive achievement it was."
Replacing his older brother on the 84th minute was the life-changing moment he had been waiting for. The 6-minute cameo, although short, would justify to Benteke the magnitude of the endeavour and commitment he had put in to get to this moment. Benteke knew that the hard work had just begun.
'Why me? Why now?'
After an accelerated start to life at the club, Benteke's progression was cruelly halted when he suffered a serious knee injury which would sideline the 21-year-old for four months.
With a hint of disappointment still lingering in the background, Benteke says, "It wasn't a bad injury, but it was a bad moment. At the start, I was saying to myself, 'Why me? Why me? Why now?'
He adds, "But everything happens for a reason. I tried my best to recover faster, to come back quicker; I did everything I could. I have no regrets about that injury now. I have to accept it."
The injury would not only curtail his impressive progression, but when Benteke returned to fitness, the character of the club had changed. Sam Allardyce had replaced Alan Pardew, with the club embroiled in a relegation battle, rather than the imagined push to Europe which had been expected, and with Pardew gone, so were Benteke's first team opportunities.
He explains, "When I came back from injury, because the original plan was for me to be in the Under 23's, that's where I found myself when Allardyce came in. But that was okay, because it gave me time to regain my fitness and become confident again."
He adds, "However, when I came back, it was coming towards the end of the season. Palace were fighting relegation, and they knew that I was coming towards the end of my contract. It was always going to be hard for me to break back into the first team at that point."
"I left Palace but Palace never left me"
Come the end of the season, Palace would drag themselves away from the dreaded relegation zone, mainly thanks to the 17 goal contributions from Christian Benteke. However, for his younger brother, the fairytale ending was left unwritten, as the Eagles would choose not to extend his contract for another year.
He details how the unfortunate news was broken to him; "At the end of the season, the club said to me, 'You have been injured and there is no point for you to sign a new deal.' They were honest. It was a shame, because I felt like I could have kicked on and done something for Palace without that injury. It was okay for me; I had to move on."
He adds, "Everything happens for a reason. That experience of playing in the Premier League still helps me today, not only in my game, but how I live my life. It will help me all my life. I will never forget it."
Benteke recalls his admiration for the Palace faithful, and how he was mesmerised by the fans on his first visit to Selhurst Park. "They would sing non-stop!" he says. "You could tell that they were passionate about the club. I really loved that."
Benteke adds, "Palace is my team still. I have watched every single game, from the friendlies to every home and away game since 2016. Even when I was at Oldham, I was coming to watch the team play when I got the opportunity. I left Palace but Palace never left me."
The future
After departing Palace, Benteke would end up at Oldham Athletic, where, although failing to hold onto a regular starting spot, it would be a club he would grow extremely fond of. "I really enjoyed my time there. The chairman was really nice and a good guy, but it didn't quite work out how I wanted it to. In the end, I could have stayed, but I wanted to come back to Belgium with my family and start my career again."
He adds, "It's like you're building a house, but in the middle, you decide that you need to start everything again and build it in a different style. That's how I feel now. Everything that I have ambitions to achieve, I can still do."
Still only 25, Benteke still has the world at his feet. He says he has found his 'perfect house' at URSL Visé, in Belgium's Third Division, but COVID-19 has derailed his plans, and everyone else's in football.
Benteke insists that when the world regains some normality, he is more determined than ever to resuscitate his career. "Now, I want to restart my career. Grow step-by-step. Everything is still possible. I have to be patient. In the end, my work will be rewarded."