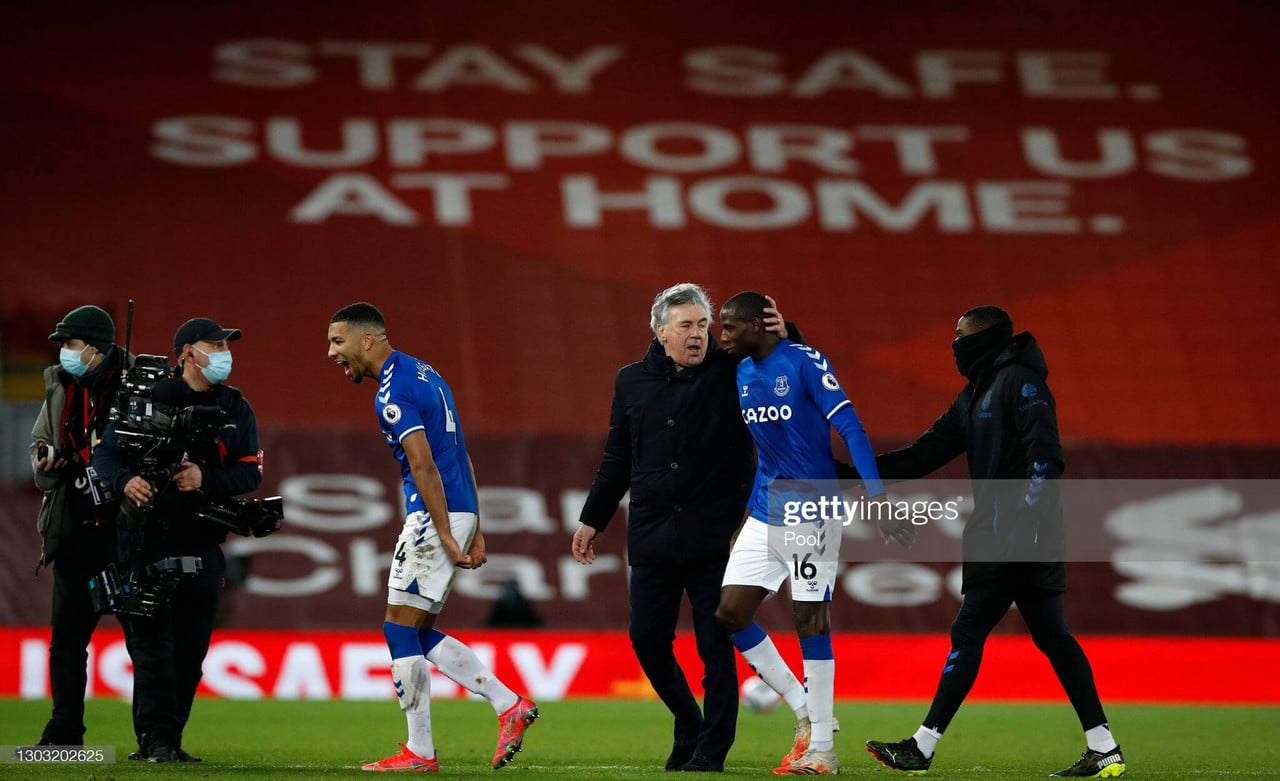 No sooner had the final whistle been blown that Duncan Ferguson was on the pitch and kissing Seamus Coleman on the cheek. The former Everton striker, part of the last team to win at Anfield, with the current captain, who was involved in the last Everton victory over Liverpool before this one.
It was a scene of emotion. As was the embracing of Mason Holgate and James Rodriguez. Jordan Pickford thrust a first while Dominic Calvert-Lewin walked off smiling. This was Everton first win over Liverpool in more than a decade and their first at Anfield since September 1999.
Yet amidst the outpourings of joy and relief, Carlo Ancelotti took this victory in his stride, remaining as cool as ever. The Italian has seen many things throughout his time in the game and this triumph was just another step in the direction that he wants Everton to move. His ambitions and actions are carrying Everton forward.
In this game, his decisions were telling and his tactics were exemplary. His fingerprints were all over this victory which gives the team confidence that they can achieve under the trusted manager.
Surprise starters
Having stated in his pre-match press conference that Calvert-Lewin and Allan were "ready to start" this game he placed both on the bench, thus throwing a curveball at Jurgen Klopp and his players who must have surely been expecting both being in the starting lineup.
Instead, Everton chose to go with Richarlison up-front alone and play with four midfielders behind him and a back five. James and Andre Gomes were positioned in the inside channels while Abdoulaye Doucoure and Tom Davies were central. It gave James the freedom to roam and create without too much of a burden defensively.
That showed when in the third minute the Colombian received the ball and fed a cute ball along the floor and in behind the Liverpool defence to Richarlison who finish off from there. It was a clinical start to Everton's evening.
Starting Davies ahead of Allan was also a masterstroke. Allan has not played since mid-December and irrespective of his qualities, he would not have been at his peak on what would have been his first start in two months. Rather Davies was given the nod having impressed as an able stand-in and his pressing in central midfield was vital.
Keane led by example
Ancelotti's decision to start with a back-five also paid off. Michael Keane continued to show why he is the most improved Everton player under the Italian manager. Ancelotti comes from a background of catenaccio - the style of defending that Italian sides prided themselves on in the 1990s - and Keane demonstrated his renewed confidence here.
He played in between Holgate and Ben Godfrey in a slightly different-look Everton defence. But all three held their line while Holgate intercepted one key Trent Alexander-Arnold cross in the second half and Holgate headed away any ball that came his way. The absence of Yerry Mina could have been sorely felt but the three centre-backs were relatively comfortable in withstanding any Liverpool pressure.
The most intriguing aspect of Everton's backline was that Coleman in the right wing-back position alternated between a right full-back when defending and a right-winger when attacking which consequently turned the defence into a back four.
The difference was clear when he was one-minute harrying Andy Robertson on the byline before running to the other end and diving to head a Lucas Digne cross which he could only direct at Alisson. Ancelotti wanted his captain on the pitch for this one and he was rewarded with a superb performance.
Ancelotti placed a lot of faith in both Coleman and Digne and demanded a huge amount of running from them. It told when Digne was struggling to finish the game such had been his exertion. The disciplined backline had a game to remember.
Pickford saves invaluable
Pickford, who has only recently returned from a rib injury that kept him out for four games, has had Ancelotti's backing since his arrival despite more than his fair share of gaffes. Pickford also experienced a tough time after the last derby, in which he recklessly lunged in on Virgil van Dijk and ended the centre-back's season, but he was at his best in this game.
The England goalkeeper is capable of the sublime and the silly but Ancelotti's faith paid off and his first choice 'keeper pulled off three fine saves to maintain the visitors lead.
Pickford saved a Sadio Mane header, Jordan Henderson half-volley and Roberto Firmino attempt while keeping Everton's fifth clean sheet in the Premier League this season. Conceding goals too cheaply has been a thorn in Everton this season - they had let in 12 in their last four games in all competitions - but Ancelotti stood by his goalkeeper.
"This is the Pickford which everyone knows," said Ancelotti. "Confident in the game, secure in the game, intelligent in the game. He was confident, he wanted to play and he showed this confidence on the pitch."
Perfect substitutes
To show that his hand is firmly on the Everton tiller, Ancelotti threw on Calvert-Lewin midway through the second half, just as Liverpool's pressure was increasing and their desperation was becoming clear. Rather than a straight swap for Richarlison, who had been isolated for much of the preceding hour, Calvert-Lewin came on to play alongside him. Everton were not happy just to hang on for a 1-0, they wanted more.
Ancelotti's substitutions proved decisive as Calvert-Lewin was brought down by Alexander-Arnold in the 83rd minute and Gylfi Sigurdsson, also off the bench, converted the penalty. The Everton manager guided his side to this victory, he is changing mindsets more than anything else: instilling belief and removing the old inferiority complex.
"I realise I was the manager that beat Liverpool after 21 years," the three-time Champions League-winning coach laughed. "I don't know if this is enough to be in the history of this club but if it is not enough then I am working on it.
"What this victory means is that we can compete, using our quality, maybe not the technical quality of Liverpool but we had a strong spirit and our belief is improving."
Even for Ancelotti, this was a memorable day.