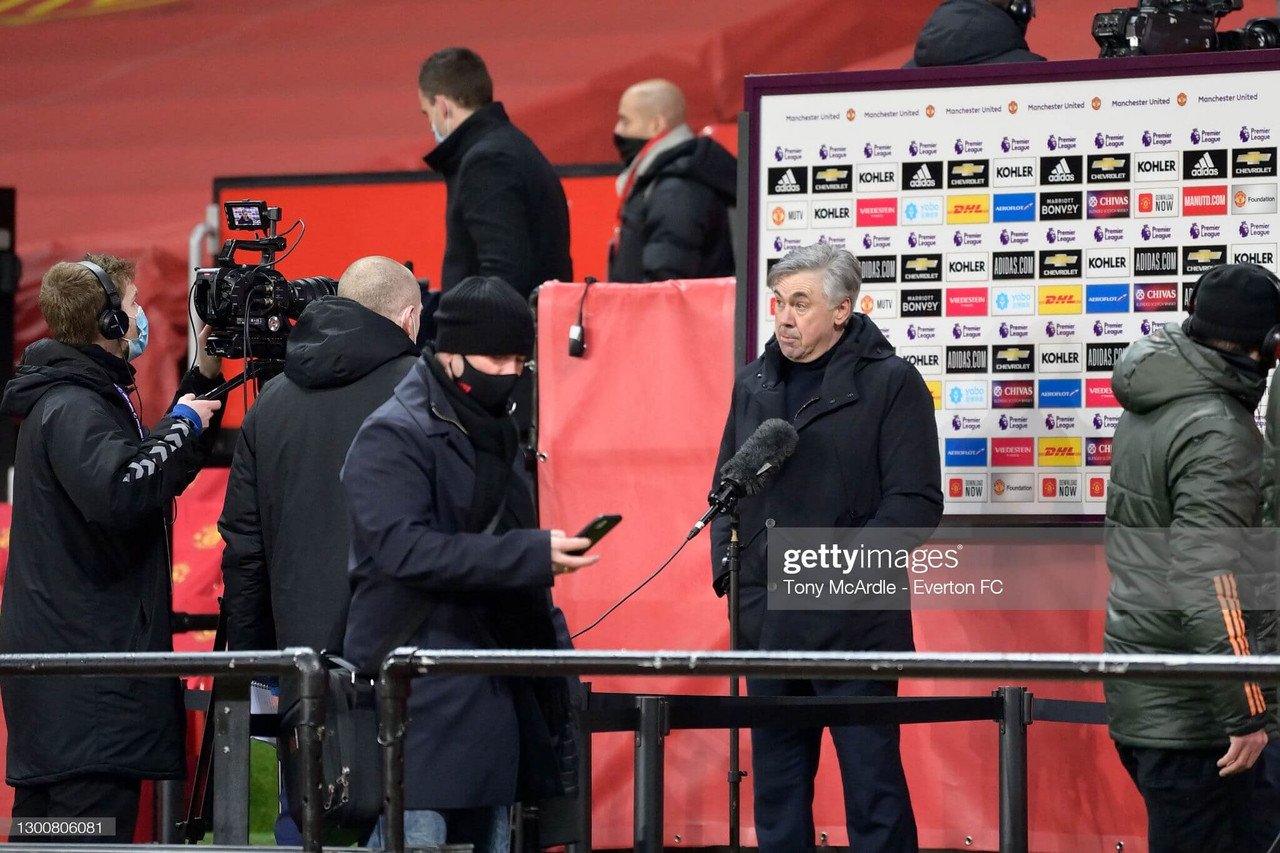 Everton travel to Anfield on Saturday for the latest Merseyside derby with the visitors seventh in the table and Liverpool one place and three points ahead of them.
Both teams have been somewhat inconsistent of late with Everton favouring playing away from home and Liverpool suffering three Premier League defeats in a row.
Allan 'ready to start'
Dominic Calvert-Lewin and Allan are both set to return to Everton's lineup on Saturday as Carlo Ancelotti declared that they're both "ready to start". Allan has not started a game since away to Leicester City on December 16, and the Everton manager agreed that it will give the team a boost having the Brazilian back in midfield.
"Due to the fact that we have a lot of games in this period it is good to have him back and all the squad available or close to fitness," he said. "This is important so we can rotate a little bit and keep the squad fresh.
"Allan was out for two months; to have him back is really important for us. He can add intensity and more concentration defensively, but I have to say that Tom Davies who replaced him most of the time did really well. I think the consistency of the team will improve, however, with Allan back."
Ancelotti confirmed that Yerry Mina is not available for the game and will likely be sidelined for "three or four weeks" due to the calf injury he picked up during the first half against Manchester City on Wednesday. It means either Mason Holgate or Ben Godfrey will partner Michael Keane in central defence against Liverpool.
Goalkeeper criticism unnecessary
Both Liverpool and Everton's first choice 'keepers have come in for criticism lately. Unusual errors by Alisson gifted goals to City and Leicester in recent games while Jordan Pickford has made the most mistakes leading to goals in the league.
"I think the criticism is part of our job. Alisson knows this, Pickford knows this, everyone knows this," Ancelotti said. "Who doesn't make mistakes? No one and so you have to accept sometimes that you don't have to put in discussion the quality of Alisson and the quality of Pickford.
Pickford will start at Anfield on Saturday, after missing four games due to a rib injury, and it was in the reverse fixture at Goodison Park in October that the Everton goalkeeper lunged recklessly in on Virgil van Dijk and bringing the Liverpool centre back's season to a premature end.
"I don't think so," Ancelotti responded when asked if that challenge will be at the back of Pickford's mind this weekend. "He is focused to prepare for the game. Of course he was not happy when this injury happened but I think now he is focused only on the game."
Facing two good teams in a week
The trip to Anfield comes only three days after Ancelotti's side welcomed table-toppers City to Goodison in a game that was rearranged from December. It means that Everton have endured a difficult week of games but Ancelotti believes that such challenges can bring out the best in his players.
"It was a really difficult game against City and it will be a difficult game against Liverpool," he said. "It will be a different game because every team has its own quality and characteristics, but what doesn't change is the difficulties of the game.
"The motivation is really high because we want to compete against our neighbours. It's a derby and a special game."
Desire to beat Liverpool
Liverpool won their first game in four across all competitions when they defeated RB Leipzig in the Champions League last-16 first leg on Tuesday, and it was an improved performance from Jurgen Klopp's side.
Ancelotti also agreed that Liverpool look back to their old selves in midweek after suffering a testing period both in terms of results and the scrutiny they received. "They had a good result in the Champions League, which will improve confidence, and will want to move forward," he said.
The past two Merseyside derbies, both played at Goodison, have ended in draws and suggested that Everton are breaching the gap that was only recently a chasm between the two sides. The next step would be managing a win - a first for Everton in this fixture since October 2019 and the first at Anfield in over 22 years.
"Every derby you play against Liverpool you want to win," Ancelotti said. "It is a long time that Everton was able to win a derby and it could be the right time tomorrow. It could be - but it depends on what we are able to do on the pitch.
"To play against Liverpool you have to compete on the intensity levels that they are used to using during games. You have to try to find solutions in front because you cannot only defend against them. You have to try to propose something and we are going to try to propose something tomorrow."