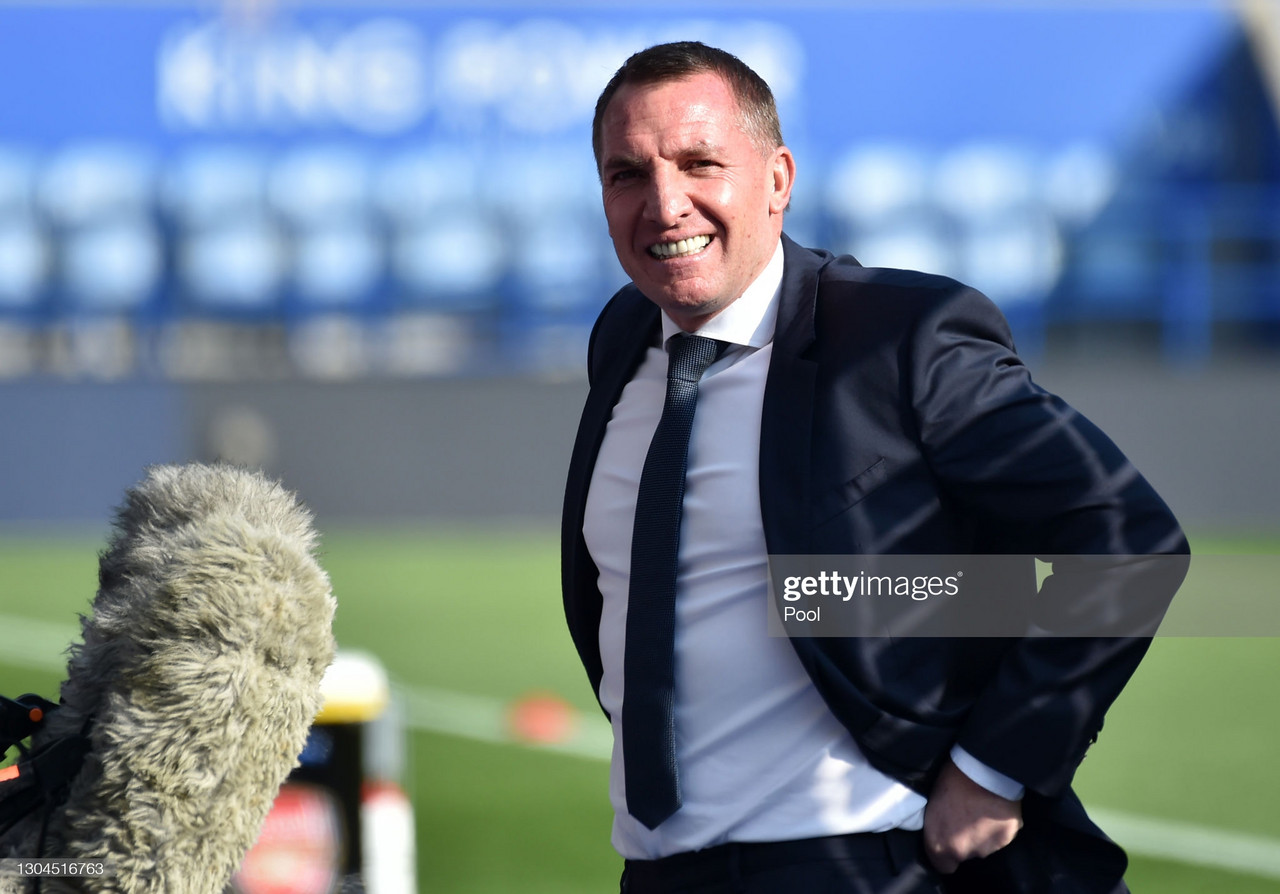 Leicester City travel to Burnley in the Premier League this Wednesday evening in a bid to bounce back from two straight defeats, most recently to Arsenal on Sunday.
Leicester haven't been at their best for a few weeks now, however it hasn't been easy considering the injury issues they've been dealing with.
The next three fixtures for Brendan Rodgers' side are pivotal in the outcome of the season as they face Brighton and Sheffield United after the trip to turf moor.
Rodgers spoke to BBC Radio Leicester ahead of the trip up north.
With the Foxes being riddled with injuries all season, there was more negative news with Harvey Barnes being ruled out for at least six weeks against Arsenal at the weekend.
Rodgers was asked about Barnes and said: "We're hopeful he'll go into surgery tomorrow. Part of his patella has come away, so it's a repair job there. Hopefully he'll be back in six weeks"
Jamie Vardy seemed to struggle slightly at the weekend, but Rodgers confirmed that Vardy is fit to face Burnley. He said: "He's had a reaction, but nothing more than that. Like all players, he was a bit stiff. And the second day you're in that recovery but it's nothing serious.
"You have to remember he is 34. He's a fighter, his mentality is very strong, and he's done amazing with us after his hernia. He's one of the best strikers in this league."
Thoughts on the game ahead
Turf Moor is a ground where it's typically hard to go and get a result, Leicester have lost there in three of their last five attempts.
Rodgers knows how important this game is in the context of their season and is desperate not to have a repeat of last season.
He said: "In every game in this league, anything is possible. For us, we have to recover and get our energy back and go to a tough place on Wednesday. Burnley lost yesterday, so they'll be keen to win.
"We have to be fully committed. We have to go in with belief and confidence to gain the result. It's been a taxing season for us, with Europe and the uniqueness of the season itself."
Youngsters getting a chance?
One thing the East Midland's side have never been shy of, is giving youth a chance. With players such as Barnes, Luke Thomas and Hamza Choudhury all coming through the ranks at Leicester, there's always going to be more with the Foxes' incredible academy programme.
With numbers being short of senior first team players, Rodgers reiterated the fact that we could see some youngsters feature:
He said: "We've had some younger players on our bench before. But how it impacts, it's clear. We're missing talent. I don't worry about it, it's an opportunity for other players.
"I've always believed in young players. You never know until you put them in. I've seen them grow and develop, and I watch them every day in training."