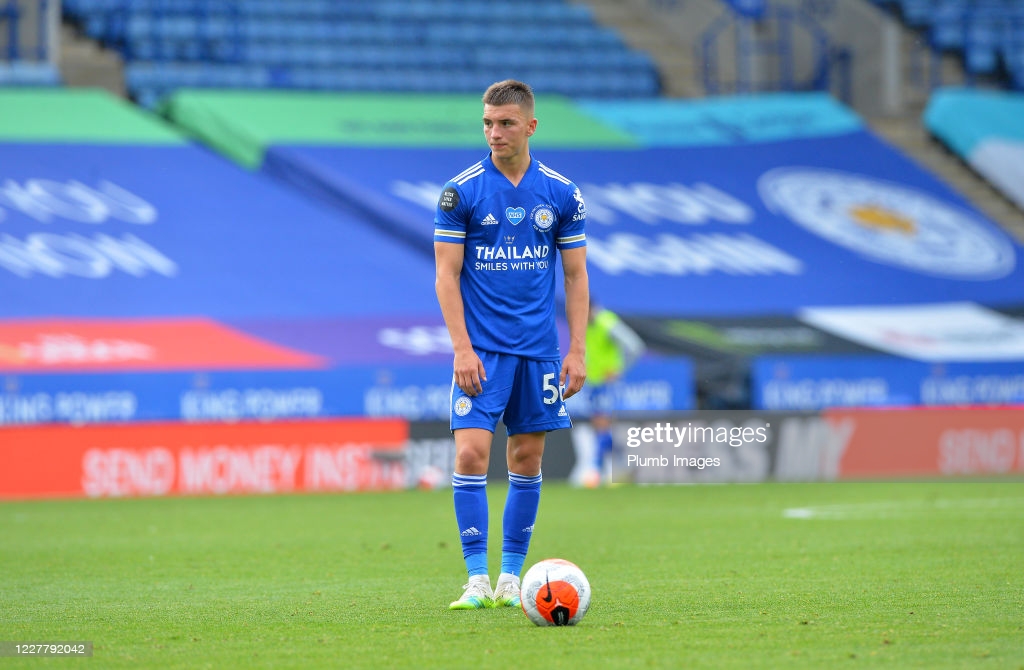 Luke Thomas, 19, has been threatening to become a first-team starter of Brendan Rodgers' Leicester City side ever since his impressive debut in July 2020.
Debuting in the Foxes' 2-0 victory over Sheffield United, the young defender impressed Rodgers, highlighting the defender's "incredible composure" in his post-match comments.
Rodgers' favour for the Syston-born player is hardly surprising. The promising full-back represents many key attributes associated with Leicester's flying defenders: pace, tenacity, and confidence on the ball.
Becoming the third-youngest player to start a Premier League game for Leicester, Thomas instantly showed the physical and technical quality needed for the top flight, as well as assisting Ayoze Perez' first-half goal to put the Foxes ahead.
The full-back has made eight appearances for Leicester this season, with the Foxes winning 50% of those games. He has also shown his brilliant passing ability, making 280 passes in his eight games - an average of 35 passes per game.
However, despite his impressive performances, regular starts have been hard to come by at the King Power Stadium.
But why has the youngster struggled to start consistently for Leicester?
Position Competition
Thomas' position is arguably the area where Leicester are at their strongest, with Ricardo Pereira, Timothy Castagne, and James Justin all competing for contention in Rodgers' starting eleven.
All four of the City full-backs offer versatility and pace for the Foxes as well as quality on the ball, an important element in the 4-2-3-1 formation currently used by Rodgers.
With Castagne's ability to play either side of the pitch and Justin's incredible run of form, Thomas has been unable to gain many clear opportunities of regular game time as a left full-back in the Foxes' starting eleven.
The 19-year-old is also one of the younger players in the Leicester side, possibly making Rodgers wary of playing the full-back too often in an important and demanding season for the club.
However, despite these factors, recent problems may have paved the way for Thomas to cement himself as a starting contender.
How will Thomas get his chance?
The Foxes have suffered from an injury-plagued 2020-21 season, with several starting players missing large parts of the campaign already.
Their suffering continues heading into the end of February as midfielder Dennis Praet (hamstring injury), young defender Wesley Fofana (thigh muscle strain), and high-flying full-back Justin are each out for lengthy periods.
Justin, who suffered a cruciate ligament injury in Leicester's 1-0 FA Cup victory over Brighton & Hove Albion, will be forced to miss the rest of the season - a massive blow for Rodgers and his side.
Whilst this is devastating news for the club and its fans, there could be a spark of hope in the form of Thomas.
The left-footed youngster is the natural choice to fill the hole left by Justin, having already started two of the last three games against Slavia Prague and Aston Villa.
His chances of starting regularly have further increased by the tactical decisions made by Rodgers. The Foxes manager has begun to move Pereira further up the pitch into a midfield role, recognising his skill and attacking threat.
As Pereira progresses into this role as an attacking wide player, Castagne may continue to hold his place as Leicester's starting right full-back. This could leave Rodgers with Thomas as the first choice for the left full-back position.
Whilst Leicester still have a long way to go before the end of the 2020-21 season, many will be anxious to see if Thomas can continue his fine form and keep his place as a regular starter.