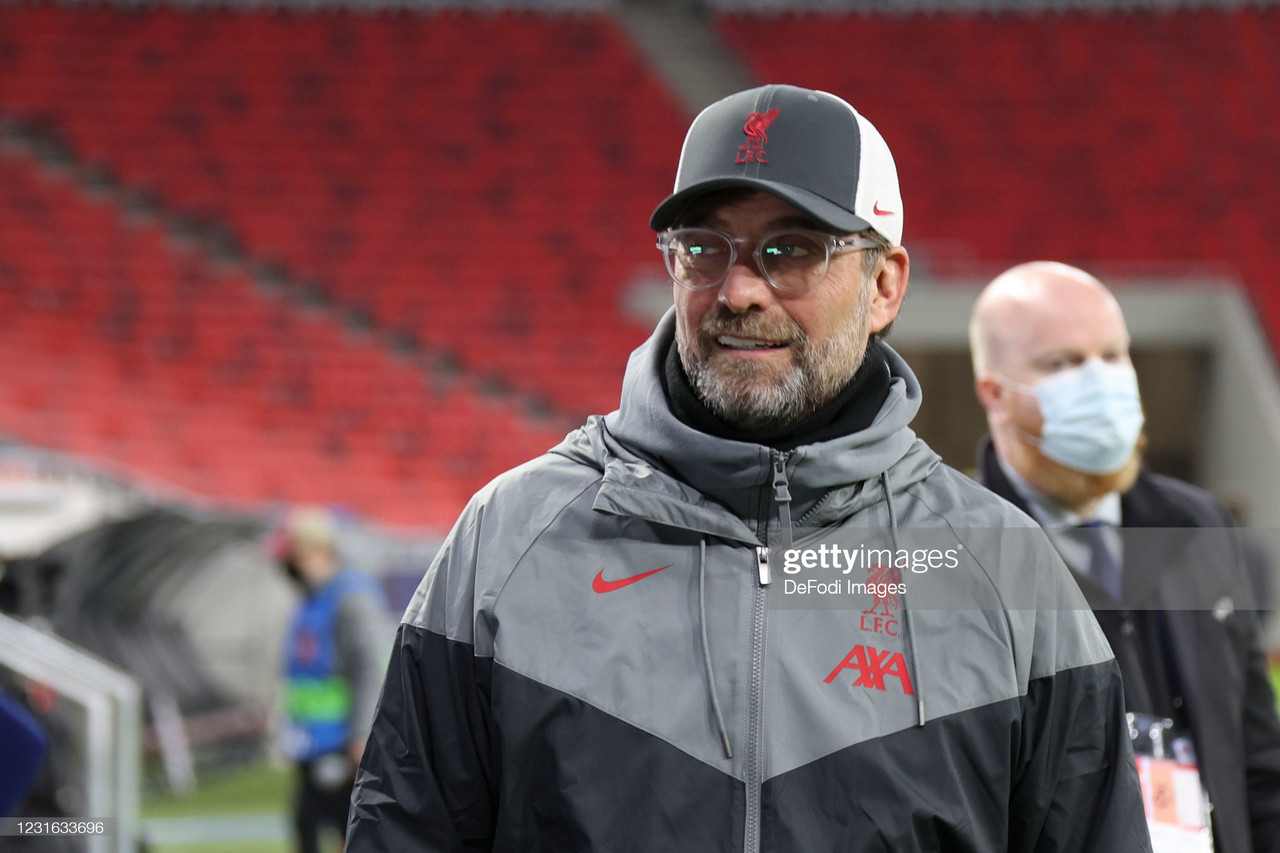 Liverpool will look to build on their Champions League success with a win on Monday night against Wolverhampton Wanderers.
Liverpool beat RB Leipzig 2-0 in the Champions League mid-week to reach the Quarterfinals of the tournament.
However, with Champions League football still uncertain for next season, the Reds will have to improve on their Premier League form if they have any hope of competing in the competition next season.
Their next challenge is Wolves.
Similar to Liverpool, Wolves have been infested with injuries and have not achieved what they had hoped of this season.
Jurgen Klopp spoke to the press ahead of Monday's match, as per Anfield Watch.
Liverpool's new defence duo
After a season long dilema of centre back partnerships, it finally looks like Klopp has found his temporary replacement for the injured Joe Gomez and Virgil van Dijk.
Nat Philips and Ozan Kabak have started two games for Liverpool and have kept a clean sheet in both matches, most recently, an impressive performance against Leipzig in the Champions League.
When questioned about the pairings defending, Klopp replied: "It's about the general defending. As a centre-back you can pick the right balls if they are already defended by the players in front of you, that makes life easier and that is how it should be."
Despite his performances so far, there is still no certainty over Kabak's future at Liverpool. The Turkey international is at Anfield on loan until the end of the season and even though there is an option to buy for the 20-year-old, Klopp has not confirmed he will stay on next season.
"There is no test now for a long-term future. I hope they will stay fit. I cannot sit here and guarantee that - but they are still available and they look good. If they are ready to go then why should we change it? We want consistency."
In comparison to Kabak, there has been no sign of the other January signing, Ben Davies. The former Preston North End defender joined the Reds in January but is yet to feature for them. Klopp explained that new signings take time to adapt.
"He [Davies] just has to train. It will take as long as it takes. It was clear we would not start with two new centre-backs if we didn't have to. In the last line, they need to be used to each other. Ben will play when he plays."
Klopp compared Davies' situation with other players' arrivals when they first came to the club: "Look at the famous story in Andy Robertson - it took him half a year [to adapt] in a normal year. Ben is a really good player but he has to get used to all the stuff here. We have options. Ben Davies has to adapt, that's clear."
The Liverpool boss further explained why for some players it may take time to adapt compared to others, Klopp said: "It takes time but you can throw in an offensive player as a lot of these skills are natural. Defending is much more intense work. You have to invest more work to make a team defend."
After going on a three month hiatus when he injured his knee back in December, Diogo Jota is back in the team and is eyeing up the starting striker position.
Roberto Firmino has been one of the players who have gone down with the ship as Liverpool's form has sunk in recent weeks. Jota looks ready to reclaim a starting position and Firmino seems like the one to make way for the Portuguese.
"He [Jota] was a big miss. He was in a really good moment when he got injured," praised Klopp. "He can play all 3 positions up front to a really high level. He makes us stronger. It is really important that we have him back."
Jota started Liverpool's midweek match against RB Leipzig as Firmino was ruled out with an injury. Speaking on his return, Klopp could not confirm when Firmino would be back in the team.
"Bobby was not with us so he could not play. Two more days - hopefully - we will see."