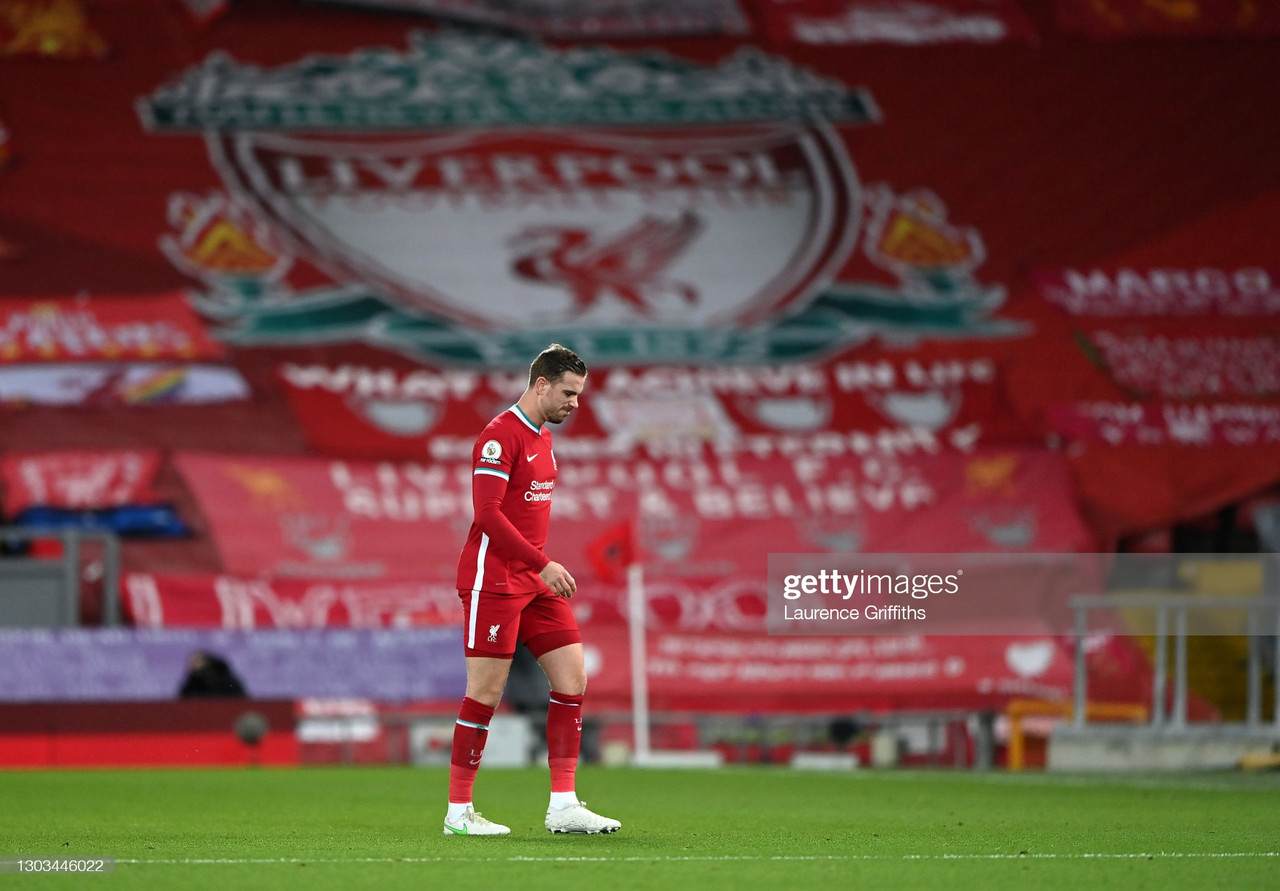 Jordan Henderson's return from injury can not come quick enough. The skipper has been the engine in Liverpool's midfield for a long period now, but perhaps after his spell on the side lines he will used at centre half more regularly during the run in of the campaign.
After a heavily turbulent spell both the sides' midfield and defence finally looks to be more settled, compact and of a better understanding with both their team mates and their role in the side.
Fabinho is back in his natural habitat, and in doing so looks to have brought out a more advanced and impactful Thiago who looks to be enjoying playing in red again.
In defence both Ozan Kabak and Nat Phillips have put in performances worthy of a mention. Their reading of the game and rash decision making has improved recently, and both have given an extra bit of re- assurance to full backs on either side.
With the resurgence of Fabinho's impact in midfield, the longer run in towards the summer could see Henderson as the sides centre half. Particularly for big Champions league clashes where experience will be crucial.
His start to the season was as expected, he was again seen controlling the midfield but this time in a box to box position to the right of the three. The support from Fabinho behind gave him the license to both cover Trent Alexander Arnold as he bombed forward and back up Salah down the right. He was flourishing in his preferred role.
But through a season blighted by injuries the case of compromising for the needs of the team had to be done. The captain was first moved into the number 6 role and then pushed further back into centre half.
In both positions he done well. He always does well. His reading of the game is second to none and like all good captains his leadership was amplified during his time at the back. His stylistic conventions makes him a presence in all areas of the pitch, and his loud mouth assures there is no doubt he would be a good centre half.
When returning from injury in April he could find himself as Liverpool's number one centre half option. The partnership of Kabak and Phillips, while playing well together will not be sustainable to achieve Liverpool's aims for the rest of the season.
At Christmas time it would have been Fabinho who was the first choice midfielder to drop back, but since his return into midfield has been a consolation for the Reds during a unprecedented run of home form, his consistent nature in midfield assures it is paramount for him to stay there.
Therefore, Jordan might have to see his time in midfield come to a half until August. A major plus for the Reds' is that Henderson can play left sided centre back, where Virgil Van Dijk's vacancy left a gaping hole.
The situation is not one of urgency like before with Kabak and Phillips connecting better, but defensive options are still at a sparse situation. Whereas midfield options now look to be the opposite.
Henderson's integral role in this side has been a catalyst for Liverpool's success for a number of years now, and if the Reds are going to find any salvation in the remainder of this season his return could be one of huge importance.