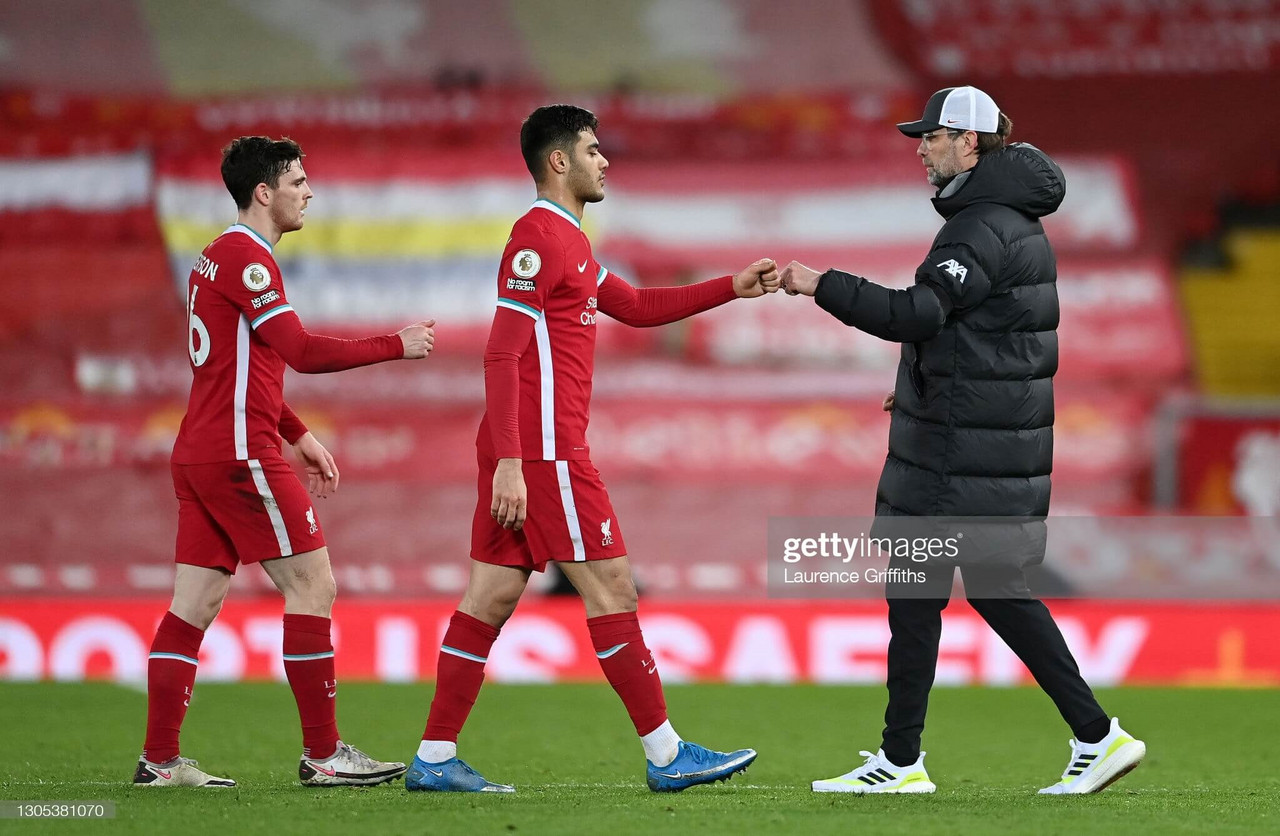 Jurgen Klopp spoke to the media on Friday ahead of Sunday's clash with Fulham at Anfield.
Update on Chelsea performance and Fabinho
Fabinho has been a makeshift centre back during the majority of this season. The Chelsea game seen Liverpool play their 19th partnership of the season at the back.
"Its absolutely ok that everyone has an opinion on the form. You cannot avoid counters against players like Werner, teams who defend deep will face counters. Goal we conceded, we had players behind the ball. To deep in the moment that Mount finished".
The boss highlighted why Nat Phillips wasn't involved against Chelsea and injury concerns ahead of Fulham.
"We had the problem that Nat Phillips coundn't play and we had to make a decision on Fabinho. Ozan Yesterday after the game had a little problem. We will see if he is ready for Fulham . It doesn't look like it now".
Regarding Phillips and Ben Davies fitness for Sunday...
"Nat will be ready and Ben as well. Its not easy in our situation, we brought him in and he's had to adapt".
On Fulham and Scott Parker
Liverpool drew 1-1 with Fulham at Craven Cottage earlier in the season.
"He (Scott Parker) is great. Big achievment to be promoted, i like them. The way Brighton and them play football in the PL is exceptional. They do it in a football way".
"I saw a very active Fulham side and Spurs had to defend them. We will have to do the same. I hope we can create more and have more chances against them but we cannot judge Fulham by the position they're in".
On Salah and the substitution
Jurgen opted to bring his top goal scorer off against Chelsea in the second half.
"We talk, that's how it is. Is this situation a reason for a proper talk about it? I'm not sure. He wasn't happy about being subbed as a striker he wanted to stay on. A normal issue, its all Ok".
"We make decisions in the heat of the moment. Then you have to explain it and you make stories. These discussions we've never had. I make decisions and the boys accept it. We all knew we came to the top together and we will sort it together".
"Coming 2nd or 3rd in a year when it is not perfect is Ok. Our situation is different . I think we all agree its really strange, injury wise and football is more rhythm than people think. We've had to change. That's clear".
More on the Chelsea defeat and how it planned out.
"An average game, you can still win it but we lost games even when we were good. That is the opposite of what we want. We are self critical and take the criticism but it is still our situation. We try and change this in the near future".