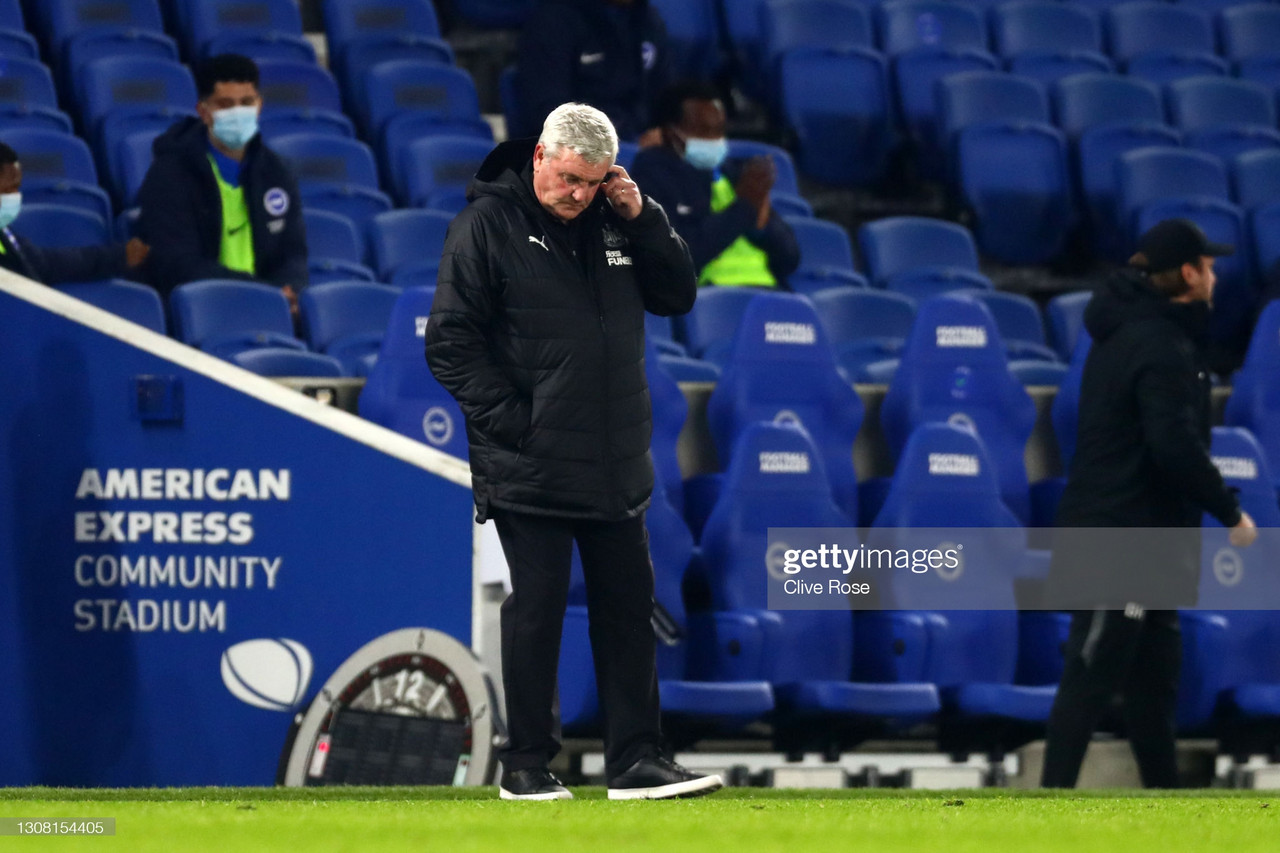 Newcastle United lost further ground in the battle to stay in the Premier League as they lost 3-0 to Brighton and Hove Albion.
Goals from Leandro Trossard, Danny Welbeck and Neal Maupay inflicted another huge blow to the Magpies who have now won just two of their last 20 games in all competitions.
This was just another pathetic showing from Steve Bruce's men that shows just how and why they have gone from a position of mediocrity to grave danger in a matter of months.
Newcastle did not lay a glove on Brighton all game and if anything the 3-0 scoreline flatters United.
You would have been forgiven for thinking you were watching an FA Cup tie where a lower league side plays a Premier League side, such was the immense gulf in quality between the two teams on the day.
The result massively boosts the Seagulls chance for survival and despite Bruce claiming there to be 'six or seven' teams in the fight, it is looking more and more like a straight shootout between United and Fulham.
Winnable run over
Coming off the back of defeats at Chelsea and Manchester United, Newcastle's situation in the Premier League had started to look perilous due to Fulham picking up points which is why the next four looked so crucial.
A run of games against Wolverhampton Wanderers, West Bromwich Albion, Aston Villa and Brighton presented a great chance to accumulate enough points to again give United a cushion.
Newcastle won none of those games and now have just three games against clubs in the bottom half left this season.
To put this run into context, relegation rivals Brighton picked up double the amount of points whilst Fulham didn't lose ground despite having games against Liverpool and Manchester City.
There is plenty of games left for Newcastle to save themselves for the drop but if they are unable to win any of these four, what chances do they have against sides further up the table?
Steve Bruce won't be sacked
Much to the bemusement of Toon fans, it appears that Newcastle United will not be changing managers anytime soon.
Sky Sports' Keith Downie, The Mail's Craig Hope and The Chronicle's Lee Ryder are amongst the local reporters to have said that the club are sticking by Bruce despite the dismal display at Brighton.
Furthermore, Bruce yet again said that he was not going to walk away from the job and why would he when he has a lucrative pay out to look forward too?
The decision to stick by Bruce is arguably one of Mike Ashley's biggest gambles as Newcastle owner; with only two wins in 20 games, added with it being clear to see the playing staff are not playing for their manager. The odds are certainly stacked against Newcastle if they don't make a change.
Many fans have been calling for Bruce to get the chop for months now and at any other club he would almost certainly been fired by now but Newcastle do not operate like any other club.
Completely devoid of any common sense, Newcastle sticking with Bruce is as good as accepting the drop.
Thank god for the international break
Never has an international break been more needed.
Not for the players or coaching staff but for the fans. A week off watching the club is a well needed and well deserved break and Toon fans may even be able to have the rare luxury of enjoying their weekend.
Hopefully in the 15 day break between games, the Magpies will come back fresher with a clear strategy of how to get themselves out of the predicament they are now in. Seems unlikely.