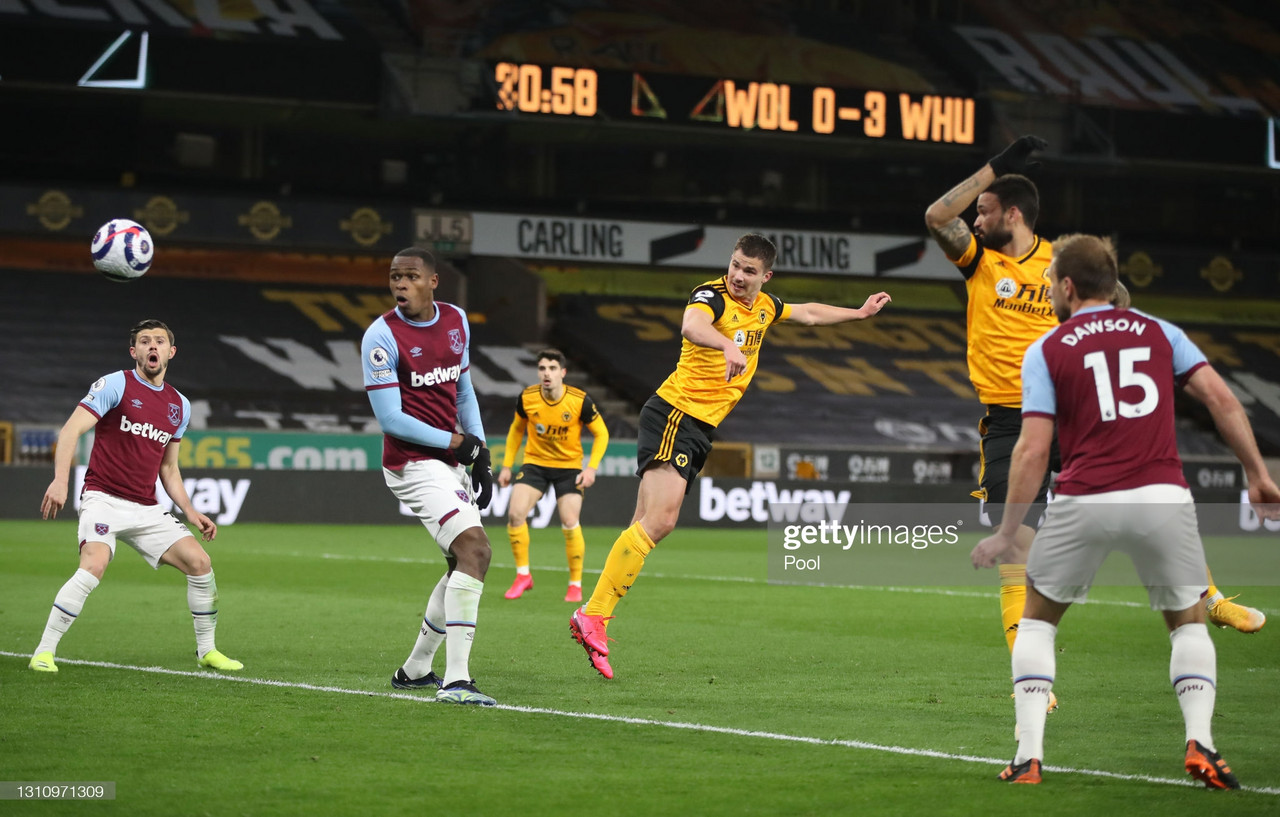 A slow start from Wolverhampton Wanderers cost them three points at Molineux as they were defeated 3-2 by West Ham United.
Jesse Lingard opened the scoring in the sixth minute with a bit of individual brilliance. The Manchester United loanee drove through the heart of the Wolves defence, before smashing the ball into the back of the net.
Pablo Fornals doubled the visitors lead within the first 15 minutes, with a directed finish past Rui Patricio, before Jarred Bowen made it three with a powerful finish at the near post.
Adama Traore's whipped cross into the box set up Leander Dendoncker, who powerfully headed home a glimmer of hope for the home side.
Despite Fabio Silva's 68th minute goal, Wolves couldn't navigate a comeback.
One positive to take from the match was the difference that Silva made coming on from the bench.
Silva replaced Daniel Podence at half-time, and was deployed alongside Willian Jose up front, and it took 20 minutes for the young Portuguese striker to find the back of the net.
Silva ran in behind and was found brilliantly over the top by Pedro Neto. Silva then took one touch and drove a shot powerfully into the bottom corner, reducing the deficit to one goal.
His goal couldn't inspire a late comeback for Wolves, however it was another glimpse of the potential he has, which he has sporadically demonstrated throughout the season.
It was the 18-year-old's third goal of the season, adding to his goals against West Bromwich Albion and Burnley.
Silva has spent the majority of the season as second choice to both Raul Jimenez and Willian Jose, however his goal tonight could see him get a chance to start against Fulham this weekend.
Given how impressive Traore was last season, a lot was expected from the Spaniard at the beginning of this season.
However, so far it has been a disappointing campaign for the most part.
His assist tonight was an example of what he can do. His quick feet and trickery allowed him to create space to dangerously whip a cross into the box, which was met powerfully by Dendoncker.
As great as the Traore's involvement in the goal was, it was about his only contribution during the entire match.
Traore lost possession seven times, which was the most on the pitch, and more than twice as many as any other Wolves player.
To his credit, he did complete eight dribbles. However, aside from his assist, they were in unthreatening positions, and didn't lead to any major chances, and his assist was the furthest forward dribble he completed tonight.
With the pace and ability to beat any defender, Traore needs to occupy the more threatening positions. He continuously finds himself either too wide, or too deep, making his job harder.
If Nuno Espirito Santo can get Traore back to his best, then Wolves will have a great chance of finishing the season strong.
Once again, an incredibly slow start really cost Wolves tonight.
The likes of Lingard and Michail Antonio were breezing past the home sides midfield and defence, and getting into some really threatening positions.
It took less than 15 minutes for West Ham to be two goals ahead, and less than 40 minutes for them to be three ahead.
As good as Lingard's opener was, it was way too easy from Nuno's perspective.
What was even more concerning, is that the players hadn't learned from the first goal. Lingard had three players around him and still managed to dribble and get his pass to Bowen, who consequently scored the third.
It really shouldn't three goals for Wolves to start playing well, and for a team who, since their promotion, have been praised on their defensive solidity, it is something which needs to be amended quickly.