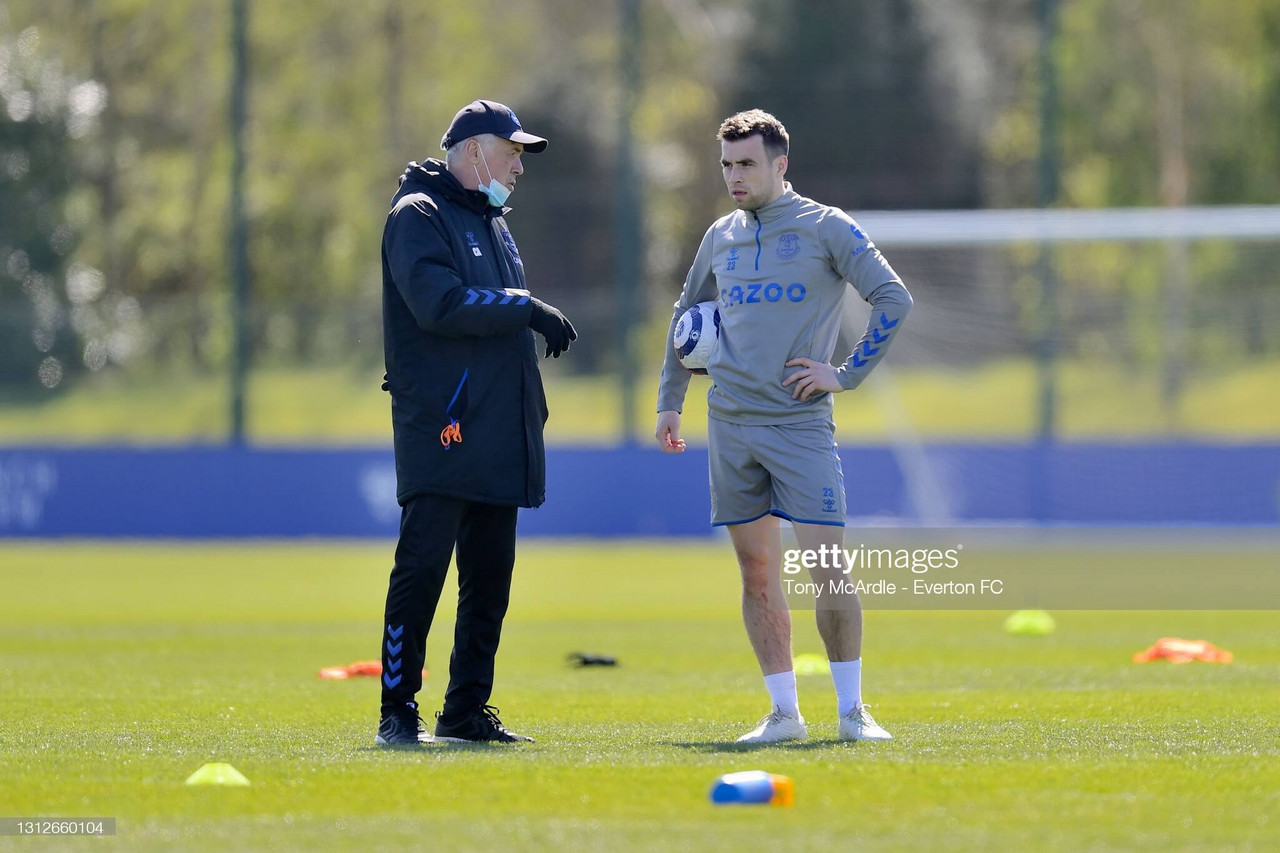 After a disappointing draw and an all-round uninspired performance against Brighton & Hove Albion on Monday, Carlo Ancelotti will need to galvanise his men when Tottenham Hotspur come to town on Friday night.
Despite being in the midst of an injury crisis, this appears a must win game for Everton if they are to qualify for European football.
Spurs come into this game in poor form, with one win and one draw in the previous five, including a 3-0 collapse to Croatian outfit Dinamo Zagreb.
Before kick-off, Tottenham and Everton sit three and four points off the magical sixth position in the table respectively, although Everton still have a game in hand on all the sides above them.
On injuries and squad news
"The plan for him [Jean-Philippe Gbamin] is to be back for the start of the new season. The news is that he doesn't need surgery, but he has to stay out at least eight weeks so, this season will be finished for him"
"Available for the game are, Jordan Pickford, Allan, Joshua King and [Andre] Gomes. The next week we are going to have [Dominic] Calvert-Lewin, we are going to have Yerry Mina, [Fabian] Delph and Bernard. And longer Gbamin, as we have said and [Abdoulaye] Doucoure."
Thankfully, the end to this sinister injury crisis seems to be near with several key names set to gradually return both this week and next. The imminent return of midfielders, Andre Gomes and Allan is massive especially, when you consider the side travelled to Brighton with one fit central midfielder in Tom Davies while, centre-back Mason Holgate had to deputize alongside him.
Meanwhile, Josh King should provide a goal scoring option both of the bench or as a starter until Calvert-Lewin's return.
Elsewhere, for Jean-Philippe Gbamin there is disappointing news, after such a lengthy spell on the side-line, Ancelotti confirmed he will be out for eight weeks missing the rest of the season. While Doucoure is still without a return date. However, despite these injury woes Ancelotti reminds fans that he thinks Everton "can compete against Tottenham".
On recent form
"A combination [injuries and fatigue], I think that there were games we were not good enough. I think the game against Crystal Palace we could deserve to win, we could deserve to lose against Burnley. It is a difficult period for us that came now with a lot of injuries. We must continue to fight because, the fight for European competition is there".
Clearly Ancelotti knows one win in the previous five league games is not good enough especially, when chasing European qualification.
This poor form can no doubt be put down to both a culmination of injuries and fatigue. The loss to Manchester City in the FA Cup could be a blessing in disguise, playing less football could positively affect the club because of the increased rest.
In terms of injuries, the crisis should be ending, in time for the club to finish strong and push for Europe, a goal Carlo still feels achievable.
On Progression
"I think we have improved, we are in a good position in the Premier League compared to last season the team has improved as a knowledge, as a character, as a personality. We have had some good results this season so it will be good to reach our target"
From a 12th place finish last season, Everton have no doubt improved both in terms of their results and the football they play.
Dominic Calvert-Lewin, Mason Holgate and Andre Gomes (just to name a few) have all improved while astute summer signings have bolstered the squad.
However, given how unpredictable this season has been and the number of points the 'big six' have dropped this may be the best time in years to qualify for Europe.
European qualification provides both more revenue and an attractive opportunity for the world's most elite footballers so Everton cannot less this pass them by.
On Tottenham
"It is really difficult to say how the game will be. The last time we played in the FA Cup the result was 5-4, I think it will be an open game because they need points, and we need points. They have fantastic quality up front, maybe they could score but we could score also."
Despite the poor form of Jose Mourinho's men, Carlo is under no illusions on the size of the task that awaits him.
The Everton defensive line will have their hands full, dealing with Harry Kane and Heung-Min Son, both have been amongst the goals this season while, the secret to success could be keeping these two prolific forwards quiet.
Ancelotti will also be looking for a hattrick of wins against Spurs this season after two very different, but narrow victories. The 5-4 Everton triumph does not look on the cards again however, with the Toffees only managing two goals in the previous five.
On Josh King's return and impact of Calvert-Lewin's absence
"It is important for Josh to be back, the absence of Dominic it is important. But upfront we have an option, and we were able to play without Dominic before and we did well".
Obviously, any team would miss a striker like Calvert-Lewin, he is not just a goal scoring threat. Calvert-Lewin leads the forward line, a brilliant long ball outlet who can flick on balls if needed.
The return of a Premier League proven striker in Josh King is encouraging until Dominic's return but, one win in four league games without their number nine is a cause for concern for Everton.