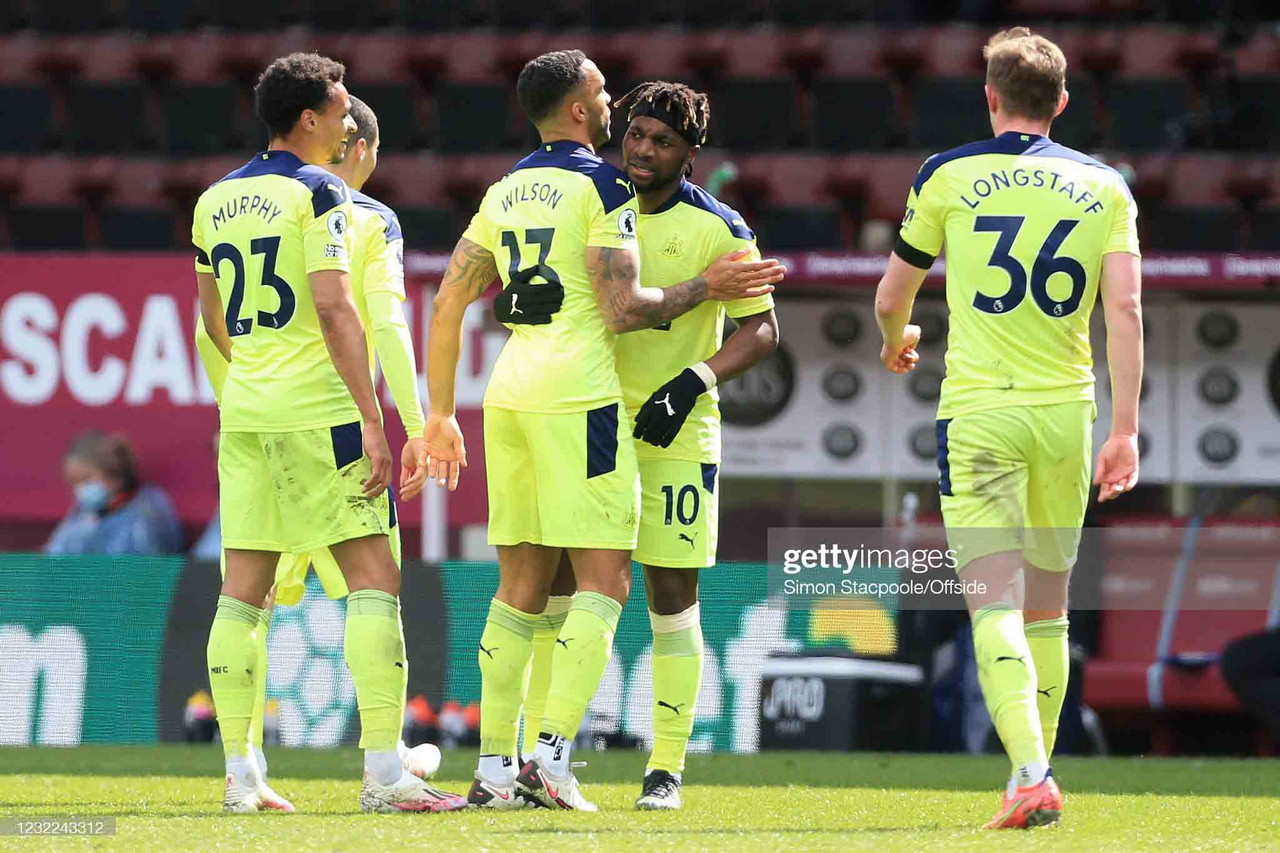 Callum Wilson and Allan Saint-Maximin could be in line for a return to Steve Bruce's starting 11 for the clash with high flying West Ham United.
The latter was the match winner last time out despite being limited to a substitute role. His goal and assist at Turf Moor saw Newcastle claim three massive points in their bid to stay in the division.
Wilson did not have such a big part to play but it was still great to see the top scorer back in action after a lengthy spell on the sidelines.
Bruce now has a choice to make whether to bring his two key men in from the start and it should be a fairly easy decision for the former Manchester United defender to make.
Fitness shouldn't be an issue
One of many criticisms that are levelled at Bruce is that he has a tendency to rush players back following injuries but this can not be said this time around.
The 60-year old has been cautious in his approach and both men now have weeks of training under their belt before being asked to take a starting role.
Saint-Maximin has had two cameo roles whilst Wilson made his return from the bench at Turf Moor and both are unscathed and with valuable minutes in the tank.
Much to the delight of Newcastle fans, Bruce confirmed that the pair were fit and available for the game in his pre match press conference this morning.
You can't leave ASM out after Burnley
Without Allan Saint-Maximin, Newcastle would have lost the game against Burnley and relegation worries would be on everybody's mind,
It's easy to forget because of the Frenchman's brilliance but United were horrendous for the most part and thoroughly deserved to be a goal down at the break.
Saint-Maximin completely changed the game and it was so obvious that Burnley's defenders just did not have a clue what to do with him.
Without him, Newcastle are painfully void of any imagination going forward and sides have found it very easy to defend against them.
West Ham fans, players and staff will be hoping that he does not start and that is exactly the reason why he should, strike some fear into the opposition.
Newcastle miss Wilson's goals
Considering the forward has been injured for a while, it is mental that almost half of the goals Newcastle have scored have been put in or set up by Wilson.
He is so pivotal to the team and without him we would probably find ourselves keeping Sheffield United company on around 15 points.
For a striker in a team as bad and as negative as Newcastle to have 10 league goals and five assists to his name is nothing short of extraordinary.
His finishing is a huge upgrade on Dwight Gayle's or Joelinton's and that's not all that's good about the former Bournemouth man's game.
He is strong and fast and can bully the opposition defence far more than anyone who has played in his place.
Wilson offers the Magpies a fluidity in their approach, he is quite happy to pull wide and drift into channels which he did to great effect in the 2-0 win at Goodison Park.
On another note, Wilson's goal scoring record against West Ham is top notch and he opened his Newcastle account at the London Stadium in the season opener.
The front three
Before all three got injured, Newcastle had stumbled across a front three to get the fans excited.
Wilson, Saint-Maximin and Miguel Almiron had all the hallmarks of being a very fruitful trio and it is time to see it again.
The best football Newcastle have played all season came with that trio in operation and the win over Southampton was a perfect example with Almiron bagging twice and looking like a completely different player when given more freedom to attack.
The returning pair bring out the best in the Paraguayan and he can often fail to put his mark on games when not higher up in a front three.