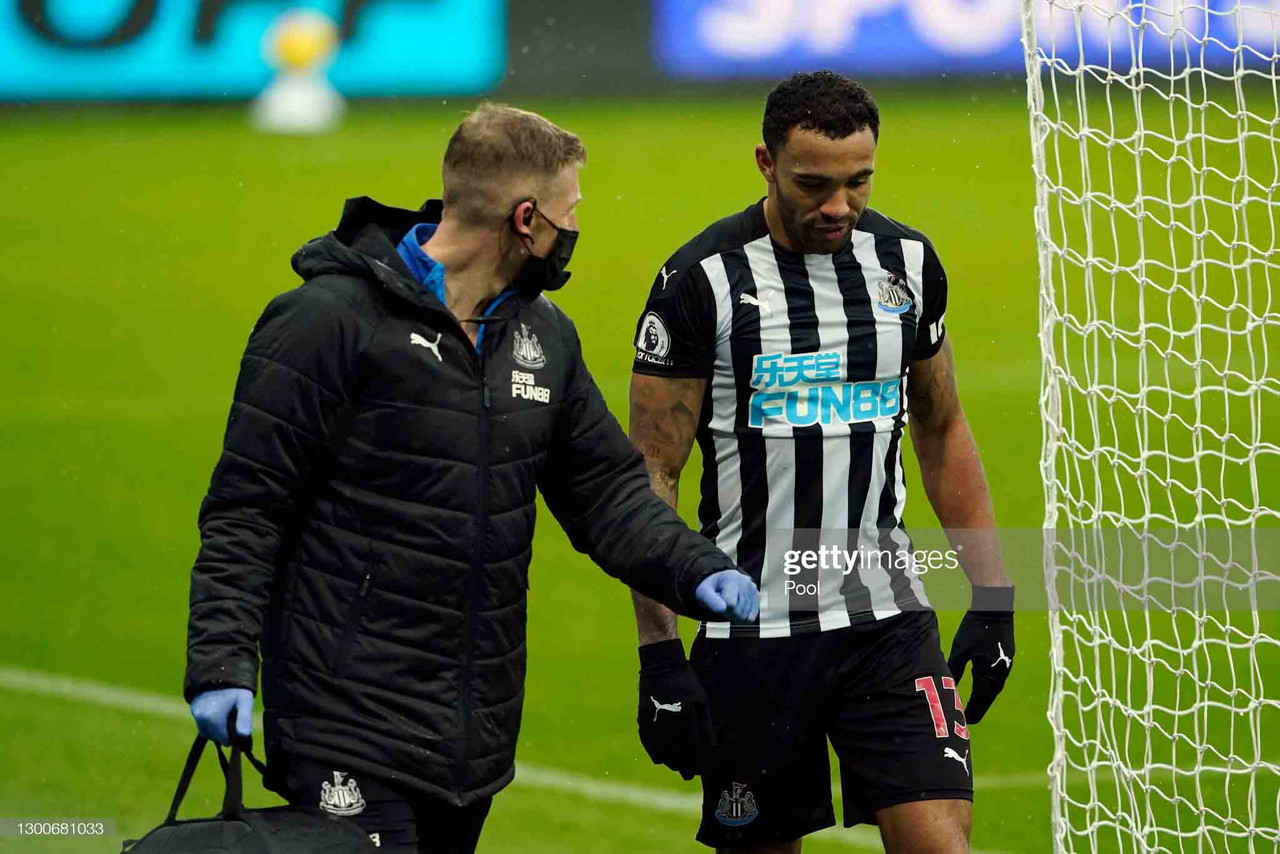 Callum Wilson has been a shining light in an otherwise dismal season for Newcastle United and it will be a tough ask to replace the England International for whoever is tasked with leading the line.
The 28-year old forward has scored 10 goals and set up a further five for United in the Premier League, which means he has been directly involved in a staggering 57% of his sides goals.
There are many avenues available for Steve Bruce to explore when it comes to picking his replacement from his squad but all have serious question marks over them and wether they are capable of replacing Wilson's goals.
In their next four the Magpies take on Wolverhampton Wanderers, West Bromwich Albion, Aston Villa and Brighton and Hove Albion.
This run of games presents Newcastle with some winnable games and an opportunity to distance themselves from the bottom three that they simply must take and the ability to put the ball in the back of the net is an absolute necessity.
What are the options available to Bruce?
Dwight Gayle
Probably the most conventional answer to the question of who should stand in for Wilson.
Dwight Gayle is the player whose game is the most similar to Wilsons; he may not be as strong or able to finish as efficiently but Gayle's movement should still be enough to give defences some trouble.
The former Crystal Palace striker has struggled for a decent run in the side but when he has had a chance, he has shown he can still be of use for the club.
Post lockdown, Gayle came into the side and hit a good run of form as he helped Newcastle successfully steered clear of the bottom three and he will be hoping he will be able to do the same this time around.
Gayle was the man that Bruce first turned too but he didn't stand by his man and he was dropped for the next game.
Now is the tine to put faith in the 30-year old and give him a good run of games in a crucial run in to try and survive the drop.
Andy Carroll
Andy Carroll seems like the least likely option to start for the Magpies against Wolves.
The 32-year old's return to Tyneside has unfortunately not gone the way anybody would have wanted it to and with just one goal to his name, his stock is pretty low at the moment.
Furthermore, with the new pressing style that United have adopted of late is surely the complete opposite of the strengths that the target man has in his locker.
You struggle to see any Premier League defenders get too worked up about the prospect of an ageing, broken Andy Carroll running at them in attempt to press the ball.
You can however expect to see him brought in on in the final few minutes of games with Newcastle trying to salvage something from games.
Joelinton
The more time Joelinton spends as a Newcastle United player, the less faith anyone has that he may one day come good.
The Brazilian is half decent at holding the ball up, not too bad in the air and is dribbling could be given the benefit of the doubt and called average but we are yet to see one area where he excels.
Somehow, United's record signing has played 57 times for the club in the Premier League and with just three goals to his name, surely he can't be far from being all out on chances at St. James' Park.
His inability to move like a striker, think like a striker and finish like a striker is exactly why he should not be the man to replace Wilson.
Ryan Fraser
Ryan Fraser has had a torrid start to life in Tyneside with injuries and suspension being the main words that sup up his time with the club.
He is not and has never claimed to be a striker so this is possibly the least likely option that Bruce will go for.
Despite a poor start, the Scotsman has showcased an incredible delivery from dead ball situations that make Newcastle much more of a threat from every corner and free kick.
The Toon have missed his delivery since he's been dropped to the bench but he is unlikely to start ahead of Allan Saint-Maximin or Miguel Almiron, so Bruce may well be tempted to get Fraser back in the side and go strikerless.
Just picking the best players without any thought for how it may work in the formation and tactics can be a dangerous way to go and it would mean a slight change in tact.