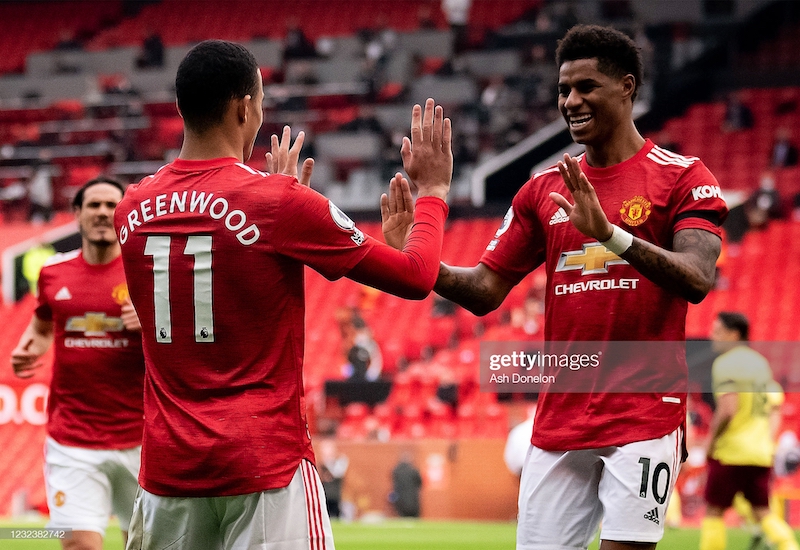 In-form Mason Greenwood scored a second-half double to give Manchester United their first home victory against Burnley since February 2015.
The Reds have endured difficulties at Old Trafford against Sean Dyche's side and it's worth reflecting on the contrast between this victory and last year's defeat.
Ole Gunnar Solskjaer's future was unsure after Burnley won 2-0 in January 2020. It's certain now and although this was not a perfect performance, it was a good win for a United side about to have their first midweek off since September.
Greenwood put United 48 minutes in but Burnley struck back 114 seconds later with a Tarkowski header. United worked hard for their winning goal but required a fortunate deflection to find it. Cavani's late tap-in was set up by Donny van de Beek who came off the bench on his birthday to contribute significantly.
Solskjaer's team now sit 10 points clear of third-placed Leicester and eight points behind City. Burnley stay six points above the relegation zone and after Fulham.
Aged 19 years and 199 days, Mason Greenwood is the youngest player to score 15 league goals for Manchester United since Norman Whiteside (18 years & 281 days - February 1984)
Significantly, United have now equalled the points tally they amassed last season (66) with six games still remaining. Solskjaer and his players have consistently referred to that as a key objective and it does show progress.
Story of the game
Chris Wood caused Manchester United problems at Old Trafford last year, and the year before that. In 2021, it was the same again. It took a mere 16 seconds for Wood to head goalbound and were the Burnley striker not offside by a margin of centre-metres, it would have been a stunning start for the visitors.
Aware of the pair's aerial weakness, Wood pinned himself onto Lindelof and Wan-Bissaka. McTominay dropped back to help his teammates out with the physical challenge.
In attack, United set good foundations in the first half. They dominated possession and recycled it well, forcing Burnley's players to "keep talking, keep talking", as their vocal manager, Sean Dyche, instructed from the touchline. Chances were regular, but rarely brilliant. United got seven shots off, including a fierce drive from Rashford that Bailey Peacock-Farrell tipped over. Their best opportunity, though, ended without a shot. Fernandes crossed from the left to Rashford who pushed it back across goal on the volley. Greenwood, who had cleverly held his position in the box, just failed to make contact with the ball. Had he, United would have led. The shout from his teammates were encouraging; the movement had been good.
Burnley counter-attacked at speed, pressed well - forcing creators Pogba, Fernandes and Rashford to release the ball quickly and allowing weaker players like Fred and Wan-Bissaka to enjoy more time on the ball - and defended well.
United tried time and time again to play the quick diagonal ball over the top to Rashford and Greenwood, sprinting off the shoulder of the defender, but too often saw the linesman's flag raised for offside. Both players must develop the timing of their runs further.
Having mainly played on the left-wing in the first half, Cavani replaced Fred to give United a more conventional attacking structure. Rashford headed out to the left where he created three chances in 15 minutes thanks to two nutmegs and an entertaining flip-flap. The first of those was finished off by Greenwood and was an excellent goal. Rashford nutmegged his man on the left, drove forward and passed into the box. Fernandes, showing excellent awareness, let the ball move through his legs and fall for the on-running Greenwood who finished emphatically. It's the second time United have scored that kind of goal, with an important dummy, in recent weeks. Van de Beek did the same against Leicester to see Greenwood score.
114 seconds later, though, United conceded another set-piece goal. Maguire and Wan-Bissaka were too weak and Tarkowski headed in from Westwood's excellent delivery.
United threatened regularly down the left but rarely down the right where Burnley allowed Wan-Bissaka to sit in acres of space. The Clarets clearly deemed the right-back as unworthy of close attention.
It was from that right where the Reds regained their lead through in-form Greenwood. Pogba splayed the ball out to the youngster who stepped infield, drove a hard right-footed shot goalwards and watch it deflect in off Jack Cork.
Burnley drove for a second equaliser but in doing so left space behind late on. As at Everton back in December, Cavani finished off an efficient and smooth United counter-attack to wrap up the result for the Reds. The scoreline was flattering but United deserved their victory for the quality of their goals if nothing else.
Fernandes began the counter-attack, Cavani continued it at speed and Greenwood switched it back over to the left flank where Van de Beek poked it across goal for Cavani to finish.