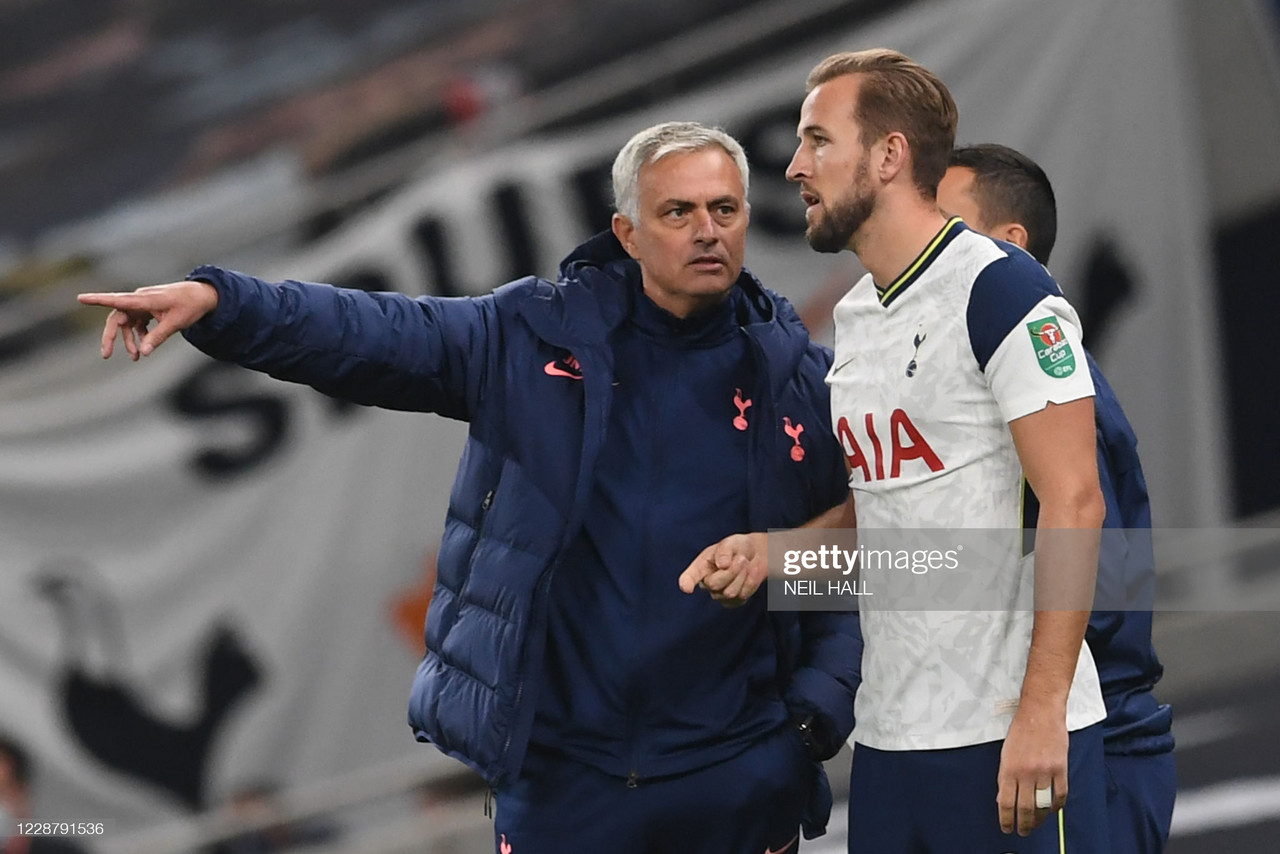 When Jose Mourinho first took the job at Tottenham Hotspur, he was very clear with his plans to help Harry Kane become one of the best strikers in the world.
"I think by being with me, I can help you to [explode]" Mourinho told Kane in their first meeting together in 2019.
Now, although the Portuguese manager has been sacked, there's no doubt he kept his promise to Kane.
Numbers
According to OPTA, Harry Kane was directly involved in 62 goals in 62 appearances in all competitions for Spurs under Jose Mourinho (45 goals, 17 assists).
Since Mourinho was appointed Tottenham Hotspur manager (23/11/2019), no Premier League player has more goal involvements than Kane.
The 'HurriKane', who is currently leading the Premier League in goals (21) and assists (13) this season, took over social media to thank Jose Mourinho for his help over the last two seasons.
''Thank you for everything Boss,'' Kane wrote on Instagram. ''A pleasure to have worked together. I wish you all the best for your next chapter.''
Along with Kane, multiple players from the first team squad and the academy thanked the Portuguese manager for his time with the club, including Heung-Min Son, Lucas Moura, Eric Dier, Dane Scarlett, Marcel Lavinier, and others.
According to The Athletic UK, out of the entire Spurs squad, only Harry Kane was loyal to Jose Mourinho until the very end.
OPTA reported that during José Mourinho's time at North London, he averaged 1.64 points per game in the Premier League, which is lower than Tim Sherwood, Mauricio Pochettino, André Villas-Boas & Harry Redknapp.
New beginnings
In order to move forward and finish the season strong, Tottenham Hotspur have named Ryan Mason interim manager for the remainder of the season.
Kane's relationship with Mason is a bit different than with Mourinho, considering they both played together at Tottenham and with the national team.
"A relentless obsession with scoring goals. Harry has proved he's one of the best in the world, if not the best number nine in the world," Mason told talkSPORT last year.
"The obsession to train and want to improve and better yourself. It's not easy to do and that's why very few can do it."