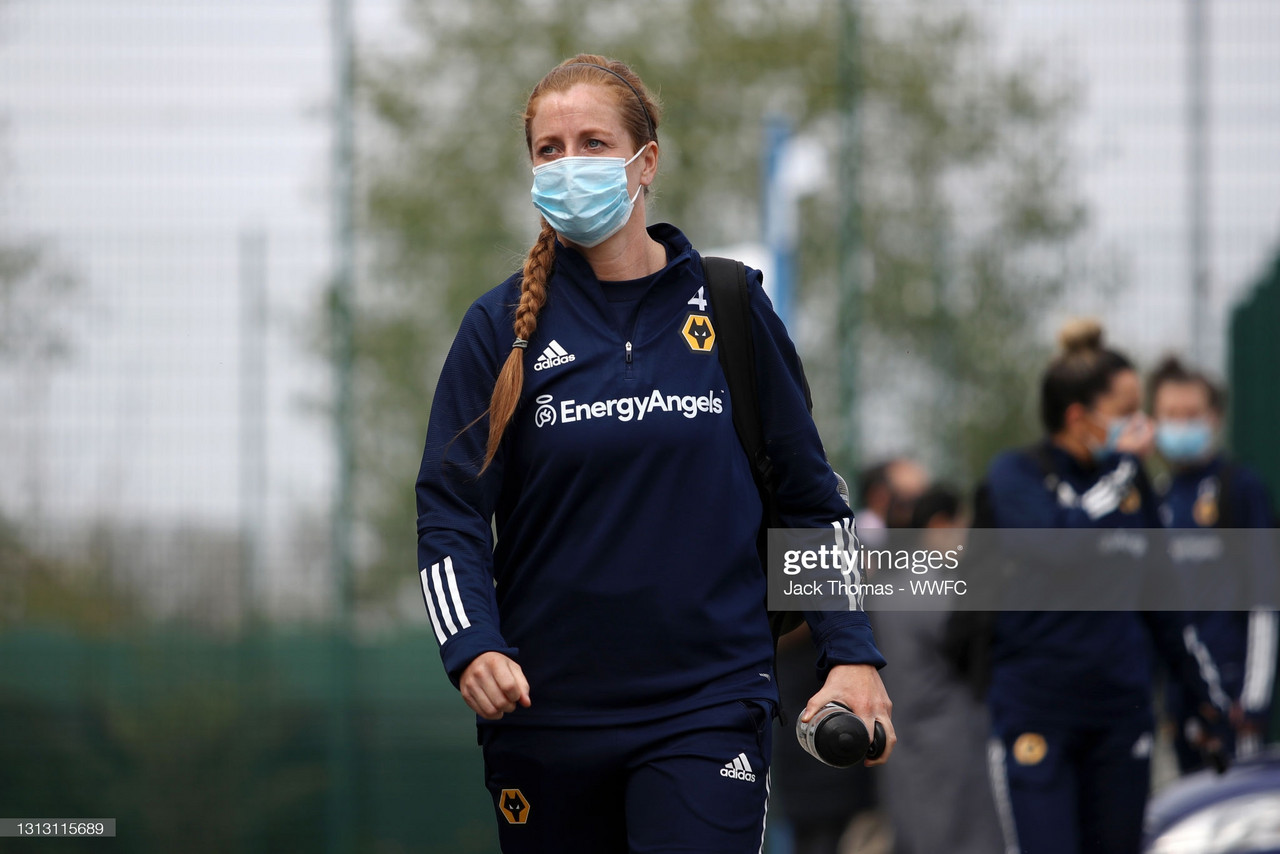 Despite Wolves Womens' FA Women's Cup journey coming to an end, captain Anna Price is delighted with the memories that will always stick with the team following the disappointment of having promotion denied in the previous two years.
Blackburn Rovers, two tiers above Wolves, came from behind to defeat Dan McNamara's side thanks to goals from Maria Edwards, Saffron Jordan, Elise Hughes and Georgia Walters despite a spirited display by the Wanderers.
Price, who played the full 90 minutes at New Bucks Head, remains proud to be part of this team after successfully overcoming Nottingham Forest and Watford in previous rounds.
Speaking before the clash with Blackburn, Price said: "We've got to make sure we go in there with our heads held high and give it everything. Whatever happens, happens. We've done ourselves proud."
And they certainly have done that. Forward Alisha Miller's goal was the perfect start for Wolves after 11 minutes but their lead lasted 15 minutes before Edwards equalised for the Championship side.
Rovers' quality was telling later on, eventually running out 5-2 winners. Despite the defeat, the whole team can hold their heads high after having their league campaign curtailed, again, after winning six out of six prior.
"It takes a lot of character and motivation to do that [preparing for the FA Cup] after the news we had to digest. We put it to one side and tried to carry on.
"We've been able to match these teams from the league above. Not only technically, but the fitness levels we've managed to stay at and maintain. All that goes to the club and how much they've offered us in terms of fitness plans and zoom sessions.
"Also the players. We've had to buy into something when you're not seeing them face-to-face. A lot of credit to the girls for sticking at it."
Wolves TV, the official club's YouTube channel, streamed all three FA Cup games for Wanderers fans to watch the games from the comfort of their own home after they were played behind-closed doors.
40,000 people tuned in to view the games and the project within the Women's team at the club is at the highest it has been for some time now.
Speaking about the coverage from the football club, Price said: "I have to pinch myself. I can't believe it at times. I'd struggle to find a picture of a game six years ago, an actual picture of our team playing in a competitive game against whoever.
"So to have people watching it on their phone, TVs and on YouTube. It's unbelievable. It makes you so proud of what we're part of and where it's going.
"It just makes you think that all those training nights, those games when your families are supporting you but can't follow you unless they can come to the games. Now I've got my friends having parties to watch the game, family getting together to watch.
"That would never be able to happen so it's amazing and we couldn't be more thankful for what Wolves have done for us these past two seasons. It's been really tough being a women's footballer these past couple of seasons and I think with what they've done, it gives the girls motivation and support we needed really."
Jubilation in the sun
After 112 days without playing, the Wanderers returned to action at the start of April when third-tier side Nottingham Forest visited the Castlecroft Stadium.
Wins against Sutton Coldfield Town, Long Eaton United and Stourbridge before the November lockdown set up the tie with the East Midlands club.
Goalkeeper Becky Thomas was the hero on a sunny afternoon in Wolverhampton as she pushed Olivia Cook's spot-kick behind the post in the penalty shoot-out after a sensational 120 minutes that ended 2-2.
Looking back on a memorable afternoon for the side, Price reminisced on a special day. She said: "The game was like an emotional rollercoaster. We dominated the first half, came out second half and they ended up scoring first.
"So you think 'oh god, how have we dominated the whole half of football and now a situation when we're 1-0 down?' Then we've got back in the game, scored the second goal in extra time and you think that's going to be enough.
"Any neutral watching the game over the 120 minutes, we did deserve the win. For it to go to penalties, it's like a coin cross. Fortunately, we came on on top with Becky saving the penalty, it was a fantastic way to end it," Price says with a smile.
"Becky deserves it, she's a fantastic keeper. Sometimes in our league, this season and last, because it hasn't been the most challenging at times, we haven't had to call upon her as much as you would at a higher level, so for her to save that penalty and be the hero of the day, I was chuffed for her. She deserved it."
In the penalty shoot-out that ended 5-4, Rosie Axten and Cooke both missed for the Reds with Price the only girl in Black and Gold that missed from the spot.
The miss eventually didn't come to regret the skipper, as Kelly Darby converted the next one before Thomas' remarkable save. But the missed spot-kick still upsets Price.
"I was devastated when I missed. I've always offered to take a penalty, never minded," Price says. "There's a lot of girls who find it too much pressure, so I've always stepped up. But I've always gone first, get it out of the way.
"So when I got back to the huddle after the coin toss and found out I was fifth, it was nerve-wracking.
"Missed in, absolutely gutted because straight away you think you've cost the team. Obviously, Kelly scoring hers and Becky saving, I was so happy for them.
"Took the pressure off that I had missed mine. I was disappointed. I still am because I put the team through the tense of going through sudden death. It's football, I didn't mean to miss it. It doesn't matter, we won."
What followed after 4:49 pm when Thomas made the game-winning saved was special and brilliant for all to see. McNamara composing himself to lead a team talk whilst jumping over his players.
The smiles on the Wolves player's and staff were unexplainable. They had beat a team from the league above and they were worthy winners after so much previous disapointment.
"The singing in the dressing room, we were all so happy. It was incredible, a moment I'll never forget really. Just singing, obviously celebrating the win.
"It had been so long coming, we've had some unbelievable victories these past two years. But to actually have a moment like that with celebration, against the odds really.
"We weren't meant to beat Forest, so we've gone in with no pressure and no expectation. To actually come out and win it, the way we did as well. I think it made the celebration and singing even better."
Dominant against Hornets
A week later and it was another tier-three side in Clinton Lancaster's Watford side.
The Golden Girls, like Wolves, had their league campaign curtailed early and were sat top of the FA Women's National League South. Their 3-1 home win over MK Dons in the second round set up the tie at non-league's King Langley's home ground.
In her best moment at the club, Wolves went on to win 4-1 in a thrilling performance by the Wanderers.
Preparation for the game in Hertfordshire couldn't have been better and Price digested what the week prior to it looked like. She said: "Turning up to training on Tuesday, everyone's still on cloud nine after Sunday's result. The atmosphere amongst the girls and staff was fantastic, but at the same time, I think realism came into it.
"We'd beaten on tier three side, we need to take this week and prepare like we do every week in terms of how we can beat Watford," the Wolverhampton-born midfield said.
"We prepared really well, there were some tired legs as you can imagine after 120 minutes. Not playing since December, there were some tired legs. I'm sure training had to be adapted to the coaches point of view, but we prepared really well.
"The staff had done their research, we knew what we were going to come up against and training was focused towards the game plan and how we could go about beating them.
"On the actual matchday, we met at Molineux, which we do every game now. Had breakfast there, which is unbelievable. We get it all provided for us and cooked for us prior to the game.
"Atmosphere is really good amongst the girls. A little bit because there was no pressure there."
Was Price nervous? No. She was just excited. Like a little girl in a sweet shop.
"I just wanted to make the most of the day. I was smiling from the minute I got into the car, thinking what a day we have in store, whatever happens.
"We had the first-team coach which Wolves provided, incredible. The preparation couldn't have been any better from our point of view. When we got to Watford, it was difficult because there weren't any changing rooms because of Covid restrictions.
"That was different, getting off the bus and going straight on the pitch. Couldn't use the toilet until a half-hour before kick-off. If anything it made us more motivated, to go out there and give it our all."
Unlike the Forest game, Wolves made their positive start pay after nine minutes. Jade Cross opened the scoring when goalkeeper Chrissie Wiggins had the ball stolen by the forward being tapping into an empty net.
But they were pegged back on the brink of half-time when Katie O'Leary converted Francesca Ali's cross past Thomas, against the run of play, it must be said.
With no changing rooms to vent their anger, Price revealed the atmosphere on the pitch at half-time after letting Watford back into the tie.
"We were gutted that we had conceded. But we knew with the quality they had, similar to Forest, these teams playing at the higher tiers have got the quality to do that.
"You can have all the play and they can come up with a piece of magic, which they did for the goal. [It was] a well-worked, fantastic goal that they scored, but we were gutted.
"Again, there's something about our team. We'd been there before, we'd been 1-0 down and gone onto win games. There's a strong belief in the team that we can do it and at half-time, coming from the players and staff, we knew if we went back out there, empathise the game plan we would get more chances.
"That's what happened in the end."
Goals from Darby, Anna Morphet and Jamila Palmer secured a place in the fourth round in a perfect second-half performance for Wolves.
They didn't just overcome a side from the tier above. They dominated against the team who sat top of the tier above and once Darby turned in Morphet's free-kick at the far post, the outcome never seemed in doubt.
"They are a great side with great individual players, some of the best that we've come across in the last two seasons. But everyone stepped it, it was very much a team effort.
"We all stepped up, people did their jobs, helped each other out and that little bit of quality that we've maybe lacked at times, we produced on the day," Price added. "Jade's finish early on really gave us a boost and Kelly Darby's set-piece goal from Morphet's cross, unbelievable free-kick.
"The penalty and Jamilla's strike, she's very talented. If you'd told me going into that game we would come away winning 4-1, I would love to know what the odds were for that to happen.
"But once we were on the pitch, we deserved it. I wasn't surprised by the end of the game that we won 4-1. We played to our strengths and their weaknesses, but going into it, I wouldn't have thought we would beat top of the Southern Premier League 4-1 like we did.
"But in the end, I wasn't surprised. The girls deserved it."
With two very different types of victories in a fortnight, the jubilation and celebrations were for all to see in attendance as they celebrated on the pitch. As one pack.
"There are some great photos and footage from it. Everyone's jumping and congratulating each other. It was probably bigger celebrations [than Forest] because we haven't just done it once against Forest, we've done it again the following week against arguably a harder opposition.
"I know they are in different leagues, but they were top of their league so you can say they are on a stronger team on paper and we've beaten them 4-1.
"The celebrations were unbelievable out on the pitch. Unbelievable memories that will always stick with us as a team."
Plans going forward
Sunday's defeat does put an end to the club's tremendous cup journey, but it doesn't see their season come to an end. Their league season would have ended like a regular season, in May-time, and the Wanderers will participate in a mini-league until then.
"The management team have set up a mini-league with Lincoln City, Loughborough Foxes and Stoke City.
"It's not going to be the end of the season, we are running until the end of the season like we would if the league was running. We are going to be playing in this league that the clubs have set themselves.
"That'll be nice, to have something to win, even if it's not an official league. It will be something to motivate us to the end of the season. Then we'll have the normal break, ready to go again come June/July."
The curtailment of their league season was a tragedy for the club after clearly being the best side in the division. Winning six out of the first six, including a 9-0 win over Burton and 6-0 victory at Wem Town, Wolves were denied the chance to earn promotion to the same level as Watford for the second season in a row.
But plans are in full force to apply for promotion to the FA and Price is confident they have met the right requirements to be granted their deserved promotion.
"It will just depend on what the FA decide. I don't know what else we can do on the field and off the field to get promoted. But at the end of the day, it's out of our hands.
"It will be the FA's decision on whether they want to extend the league above because they're not going to relegate anyone. So no one's going to come down, it's whether they decide to make the league debugger on a short-term or long-term basis.
"If our application hits the criteria and they give us the go-ahead, that'll be our celebration of promotion. A very different one to what it would be normally, winning the league through a win on the pitch but for the bigger picture, if we can get promoted, that was our aim.
"If it's through an application that's how it will be. We'll celebrate it as much as we would if we won it on the pitch because it is an achievement. Fingers crossed."
With the Wolves' campaign, 'Feed Our Pack' that was launched in January alongside the Wolves Foundation, Price remains an ambassador for the foundation alongside MBE Jacqui Oatley, Conor Coady and former Wolves midfielder Karl Henry.
"I was honoured when they asked me to do it with being from Wolverhampton myself. What the Wolves Foundation do is incredible for those who need it, the help and support they offer to the community.
"So when they asked me to be an ambassador alongside the men's captain, it was one of my proudest moments. To help support the work they are doing, honoured.
"I've done what I can, it is difficult in the current circumstances. Obviously working full-time too, but I've helped out with the 'Feed Our Pack' campaign, the Molineux sleepout. I've done bits through Zoom through the pandemic with some of the girls footballers'.
"I'm proud and honoured to be asked to do that with the work that goes on. You don't realise how much they actually do and impact the city and those in need."
It's not just the on the football field that Price has been represented by the club either.
Energy Angels, a Wolverhampton-based firm, became the club's official energy partner in November 2020 and are the main sponsors on the Women's strips.
On their YouTube channel, Price and Coady have featured in the 'Captains Call' series where they discuss everything associated with leadership. After working with the men's skipper, Price is full of praise for Coady.
"He's a natural leader, on and off the pitch. You can see that when you meet him, you feel that when you meet him. He's very humble, makes you feel comfortable and he's respectful.
"He's a great leader and captain of our club. I'm sure that's how he's been so successful in the role and continues to lead the Wolves the way he does.
"Obviously with his England call-ups this season, from what you hear about the impact that he's had within that set-up in terms of his leadership skills. I think he's been added to the leadership group so it shows what qualities he brings.
"Nothing but positive words to say about him."
If Wolves are granted promotion then they have certainly demonstrated the ability to compete against the teams above them.
Whatever happens, Price is and will always be a Wolves legend.