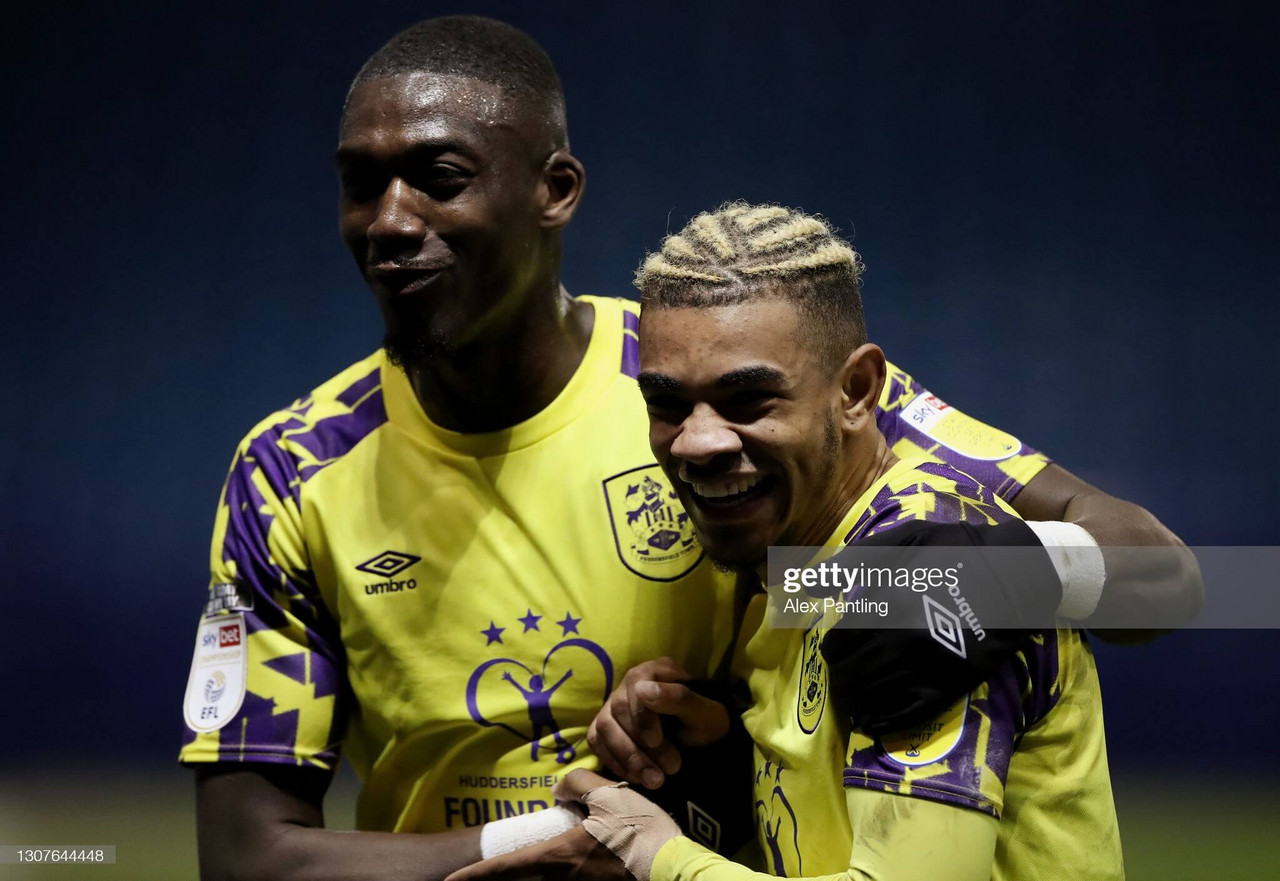 With just two games left in the current Championship season, now felt like an appropriate time to evaluate the futures of the 15 Huddersfield Town players whose contracts expire over the summer.
Carlos Corberan's Terriers have been far from their best this season and can count themselves fortunate that they are in a safe enough position to avoid dropping into the bottom three over the next couple of games.
But if Huddersfield want to be competing towards the other end of the Championship table next season, work needs to be done to rebuild the squad over the summer, so a squad clearout is a must to make space for newcomers. So out of the 15 players out of contract here is who they should keep hold of and who they should let go.
Keep
Starting the list of players that Huddersfield Town should retain over the summer is Canadian goalkeeper, Jayson Leutwiler.
The 31-year-old arrived in West Yorkshire back on deadline day in the winter transfer window and while he's yet to be rewarded with a chance in the starting 11, it would make sense to keep him as the second choice for next season, particularly with Joel Pereira's loan expiring.
Demeaco Duhaney
A player in a similar position to the aforementioned Leutwiler, Demeaco Duhaney is another backup option that Huddersfield should retain over the summer.
While the Manchester-born right-back hasn't hit the heights in his 13 league appearances so far this season, he is still young and can still establish himself as a reliable backup to the impressive Pipa who is the Terriers' undisputed first-choice right back.
Jaden Brown
A player who will split opinion from the Huddersfield faithful, Jaden Brown, is another player that the Terriers will have to decide about over the summer.
Like Duhaney, Brown has failed to kick on this season and even in the absence of first-choice left-back Harry Toffolo (with injuries and suspension), head coach Carlos Corberan has frequently decided against choosing Brown as his replacement.
Nonetheless, Brown does have undoubted potential and is worthy of a new contract with the West Yorkshire team as he's a good backup option.
Romoney Crichlow
Another young member of the Huddersfield Town first team whose contract expires over the summer is former Hartlepool United loanee, Romoney Crichlow.
While the 21-year-old has found game time limited this season, he has undoubted potential, and a new contract is a no brainer. The big decision from a Huddersfield perspective will be whether to give him more opportunities next season or further his development with a loan.
Another player who has found himself in and out of the Huddersfield Town squad, but another player that they should retain, is Spanish midfielder Alex Vallejo.
The former Córdoba midfielder has proven his importance to the Huddersfield team this season and with a handful of players expected to depart over the summer, squad players like him will only become more important.
A player with undoubted ability but one who completely lacks consistency, there is perhaps no other player in the Huddersfield Town squad who divides opinion from the faithful like Juninho Bacuna.
On his day the former Groningen midfielder can be up there with just about any other player in the division, the problem is the infrequency of him delivering these types of showings.
While his recent performances against Nottingham Forest and Queens Park Rangers are another reminder of his talent, application doesn't always come as easy for him. Nonetheless, letting him go for nothing would be a foolish decision from Huddersfield and they should trigger the extension clause they have with the 23-year-old, even if it's just to earn a fee for him in the summer window.
Another player who I think Huddersfield should try to keep hold of this summer is Belgian winger, Isaac Mbenza.
There has been much speculation about the future of the former Montpellier winger who seems to have finally settled down with the Terriers.
Up until recently, the Belgian had been in fine form for Huddersfield and while his performance level has dropped, this is more than likely to be due to his uncertain future.
So like Bacuna, Huddersfield should extend his contract even if it's just to cash in on him over the summer, and if they don't succeed in their attempts to sell him, they at least have another opportunity to add consistency to the duo's game.
Next up on this list of players for Huddersfield to retain is hometown boy Fraizer Campbell.
The former England international has been hot and cold for the Terriers this season and while he needs more competition for the striker role in the Huddersfield team, he should be retained as he brings passion to the team and is still good enough to be in and around a Championship squad.
Last up on the list of players to be retained and one that some Huddersfield Town fans will disagree with is former Arsenal striker, Yaya Sanogo.
Since arriving in West Yorkshire in February, Sanogo has provided Huddersfield with a different option in attack, with his tall frame and physical presence giving the Terriers an opportunity to play more direct football.
While Sanogo is yet to get off the mark with Huddersfield he is deserving of a full season with Huddersfield to try and prove his worth and when you bear in mind the fact he'd not played competitive football for over a year before signing for Carlos Corberan's side, it makes the rather small impact he's had quite an impressive feat.
Let go
Starting the list of players that Huddersfield Town should let go of this summer, is former Wolverhampton Wanderers defender, Richard Stearman.
Signed in January 2020 to help retain the Terriers' Championship status last season, Stearman has done a solid job in West Yorkshire during his spell with Huddersfield.
But while it would be harsh to let the veteran go, Huddersfield must improve their defensive options for next season and Stearman is one of a handful who will have to make way.
Next up on the list of players, Huddersfield should say farewell to this summer is Tommy Elphick, who hasn't appeared for the Huddersfield Town first team since November 2019.
While the 33-year-old has done remarkably well to recover from his knee injury and prolong his career, Huddersfield must be ruthless and part with the defender over the summer, who will likely have to seek a new team.
Very much a short term fix, Richard Keogh arrived at Huddersfield Town in January to bolster the Terriers' numbers at the back.
While Keogh has featured frequently in the second half of the season, Huddersfield will surely part with him over the summer alongside Stearman and Elphick to allow themselves the opportunity to recruit younger players, who may be more suited to Corberan's possession-based football.
A painful departure, Huddersfield and Christopher Schindler are likely to part ways this summer.
A true club legend, the German centre-back who famously scored the penalty that earned Huddersfield promotion to the top flight in 2017, has spent the vast majority of the campaign injured in what's looking like it will be his last season in West Yorkshire.
But as bittersweet as it is, now is probably the right time for Schindler to move on, but the German will leave a legacy in Huddersfield and has written his name among the legends to have donned the blue and white stripes of Huddersfield Town.
A player who has failed to hit the heights for Huddersfield, it's a near certainty that Alex Pritchard will depart the John Smith's Stadium this summer, bringing to an end a challenging period in the midfielder's career.
When the Terriers broke the bank to add the now 27-year-old to their ranks back in the Winter of 2018, there was much optimism that the former Brentford midfielder would be a good signing for Huddersfield.
But while his early performances were impressive as Huddersfield Town retained their Premier League status back in 2018, he has struggled since with poor form and injuries being the un-doing of Pritchard. As mentioned above it looks almost certain that Pritchard will depart upon the expiration of his contract and the midfielder will face a challenging task to get his career back on track.
A player who Huddersfield Town will have a big decision to make over the summer with is former Everton striker Oumar Niasse.
Perhaps Huddersfield will only plan to retain one of Oumar Niasse and Yaya Sanogo who both arrived in West Yorkshire recently, to strengthen the Terriers attacking options between now and the end of the season, and it's Sanogo who is in the better position out of the two to be retained.
Nonetheless, Niasse has undoubted prowess and it really does depend on how much patience they can show with the Senegal striker, who is currently on the sidelines and is yet to make his debut for the Terriers.
The loanees
To finish this evaluation you have to take into account the two players currently on loan with Huddersfield Town. One who they should retain and the other who they should let go.
The one they should at least attempt to keep is talented young Dutch midfielder Carel Eiting, who has been an impressive performer for Huddersfield this season.
While injuries are a concern with Eiting, the Dutchman does boast a significant amount of potential and they could live to regret not extending his stay in West Yorkshire, in spite of his injury woes.
On the contrary, the other loanee Joel Periera is one who Huddersfield should cut ties with at the end of the season.
The Portuguese goalkeeper hasn't adjusted to life with Huddersfield, making just two appearances all season for the West Yorkshire outfit, in a loan that hasn't been successful.