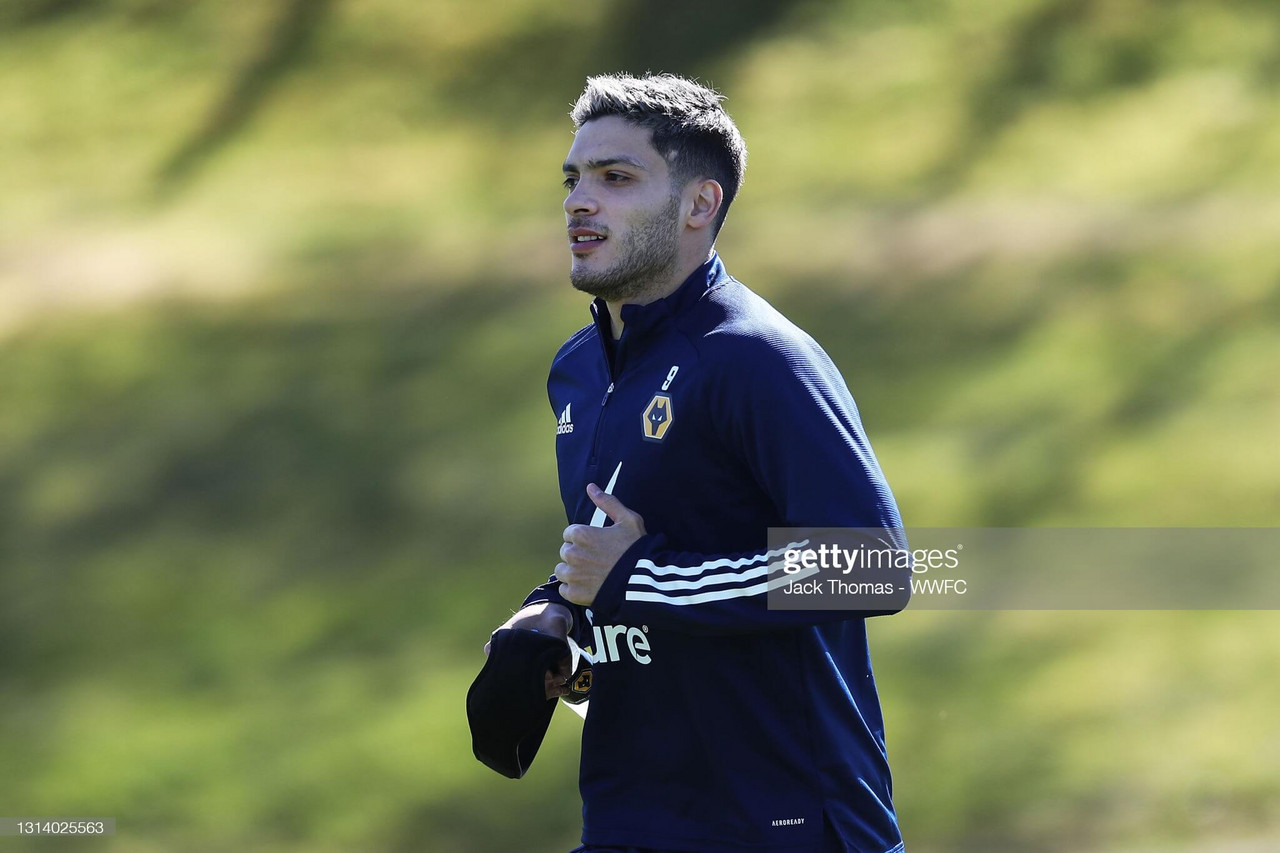 Wolverhampton Wanderers boss Nuno Espirito Santo provided some very positive news about Mexican striker Raúl Jimenez and his eventual return to action.
Jimenez has been out of action due to a fractured skull, which he picked up against Arsenal. However, in recent weeks he has been getting back on the training pitch, and is looking ready to return to Premier League action.
"Exactly the same, he is working well and looking very good, scoring and happy, but we still have to wait for the medical decision."
"It is a method that requires patience because it is too serious to make a mistake. I see him ready to eventually play, but I cannot see everything. I cannot see inside his head and how the bone is and this is what we have to respect."
When asked about when we could see Raúl back in action, the Wolves boss hinted at his return being a lot earlier than Wolves fans expect.
"If the medical clearance came, probably on Monday he will be involved because I see him looking really good.
I see him ready but I cannot see everything, there are things that only MRI's can see."
It is no secret that Wolves have been hit hard by injuries this season, with numerous first-team players being kept out of action for multiple months, due to long term injuries to Raúl Jimenez, Jonny Otto and Pedro Neto, who are both suffering with knee injuries.
It is also no secret that Nuno likes to have a small squad, and know exactly what he is going to get from his players whenever they feature.
However, this season Wolves have paid the price for something that seemed to work so well in recent years, and that is having a small squad.
Nuno spoke about the small squad and the issues that the club have been having this season:
"I don't see it as a risk I see it as a different way to approach what we have to do. Always a balance, inside our preparation and our planning, I will always look to avoid having players if I don't totally trust them and haven't made myself committed to put them to play if the chance comes."
"It would be absurd to have players in numbers just because of precaution but we have to find the right balance."
On the topic of boosting the numbers in the squad for next season, and making sure that something similar to this doesn't happen again, the Portuguese manager didn't want to give too much away.
"We are not looking into the transfer window now. The reality tells you that we have some players with long term injuries, which you already know."
It is a date in the calendar that would have been marked since the start of the season for both sets of fans. The Black Country Derby. The only time the two fierce rivals [Wolves and West Bromwich Albion] have faced each other in the last 10 years was earlier in the season, where The Baggies picked up a surprising win as they were struggling down in the relegation zone.
When speaking on the importance of this game, Nuno said:
"Every game is important for ourselves and for our fans. We know that our fans are committed to us, and they feel our joys and they feel our sadness."
"Of course it is very important, what we can promise is we are going to give everything to our fans to give them joy, because we feel the strength when they are behind us."
"They [West Bromwich Albion] are a very strong squad and they have been showing that. We know that and we have to prepare well."
Nuno also touched on the players that are fasting due to Ramadan, and how this may affect the game.
"It has been hard and it is tough on them but it is something we respect and something that we try to support."
Wolves have three players currently fasting, and they are Romain Saiss, Adama Traore and Rayan Aït-Nouri. It is currently unclear whether these three players will feature on Monday due to the fasting period, but the midlands boss hinted that tough decisions may have to be made.
"When we see and we feel that there is something that maybe tells us that they shouldn't play, we will take it, but like i said before, the circumstances that we are now, we cannot allow ourselves to leave these three players out because we are short on players."