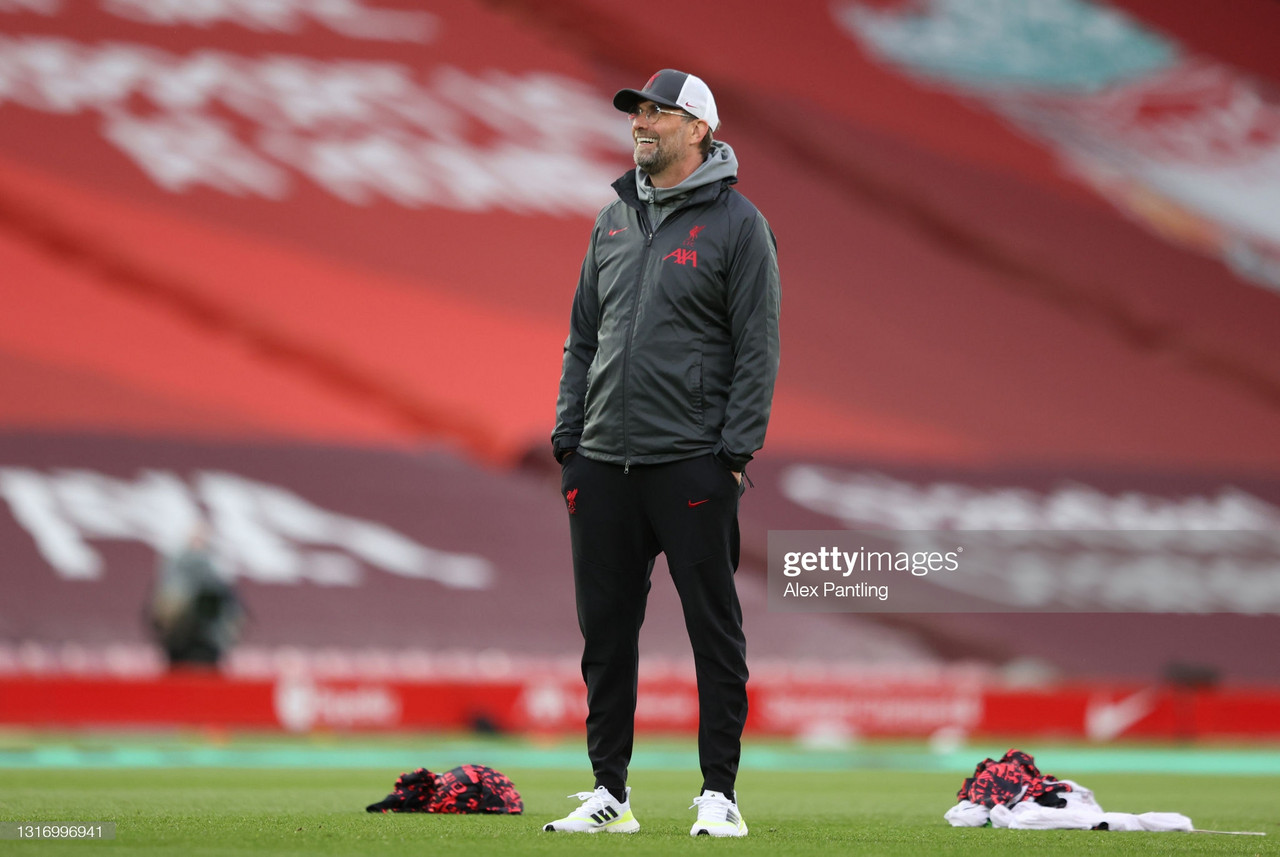 Liverpool boss Jurgen Klopp decided to keep his cards firmly close to his chest on Wednesday afternoon when he was asked about Liverpool's plans for the summer transfer window.
It comes as no shock to anyone that many clubs' upcoming transfer window will, again, be impacted by the financial ramifications of the Covid-19 pandemic. Liverpool revealed last month that they had made a pre-tax loss of £46 million for the financial year ending in May 2020. However, the recently published report does not paint the full picture as it only covers the first three months of the pandemic, the true damage will be detailed when this year's accounts are made public.
Pandemic aside, the Reds have always been forced to play catch-up in the transfer market, choosing to operate smoothly and coherently under the guidance of Sporting Director Michael Edwards, as they don't boast the same affluent riches of Manchester City or Chelsea. Under Edwards' orchestration, Liverpool have been able to unearth gems in the transfer market such as Andy Robertson, Mo Salah, and Gini Wijnaldum just to name a few.
As Klopp's men face the harsh reality of missing out on a place at the summit of European football and with the current season throwing up a concatenation of unprecedented factors, Klopp was asked if the potential disastrous final standings of this season could impact how his side operates when bringing in reinforcements this summer.
The Liverpool boss remained adamant that this summer, like any other, will be increasingly hard to pre-plan as there are a handful of factors that could happen to force Liverpool into acting in what Klopp described as a "really strange" market, where he doesn't expect many big deals to be sanctioned.
What did Klopp say?
"It depends on the business what happens. If somebody wants to leave or players want to go or we sell, stuff like this is why never really plan early. Not playing Champions League doesn't help, obviously, but, it is not our biggest problem because the market will be really strange. I hear a lot about big money moves, is Kylian Mbappe going or not, whatever happens with (Jadon) Sancho, (Erling) Haaland this kind of things I don't see them happening a lot this summer because the football world is not in the same place like it was before (pre-Covid)."
Klopp is adamant that Liverpool's injured cavalry will have the impact of new signings as he looks forward to welcoming Jordan Henderson, Joe Gomez, Joel Matip, and Virgil Van Dijk back ahead of next season.
"Getting the (injured) players back makes us already better, definitely, that's how it is. These are our first 'transfers', we don't know exactly when that will happen, but it will happen at one point and all the rest we have to see. If we don't get the Champions League it is not good but first and foremost there is still a chance, and as long as we have a chance we should not speak about it like we have no chance, but if not, then we have to deal with that.
"The situation is better than I thought it would be a year ago from a financial situation. But it's not a year where everyone suffers and we then ask about signing players for this and that. We will see how the market will develop, it will not be an early market, that's for sure."
Fenway Sports Group recently secured a "significant investment" from RedBird for a share in return for a share in their ownership group, which includes Liverpool. The investment's effect on Liverpool is led to believe the club will be able to operate in a pre-pandemic manner when it comes to bolstering their squad. The investment, which was announced last month and it appears to be what Klopp is alluding to when he suggests the financial situation is better than what he expected.
How do Liverpool reclaim their crown and catch Manchester City next season?
Klopp was fairly jovial when asked how he plans to cut down the 23-point gap between his and Pep Guardiola's men. Liverpool have had unpleasant luck when it comes to injuries this season, missing so many of their star men who helped them end their three-decade wait for a league title. But after falling way behind the blue side of Manchester and the possibility of a quiet summer, how does Klopp swing the points gulf back in his favor.
"Don't you think City and Chelsea always had (financial) advantages? And we still won the Premier League and the Champions League. So, it's our situation we work like we work, I will never look at another club and say they can do this and we can't do that. The only thing I'm interested in and I said it before when I arrived (at Liverpool), I'm not interested in being the coach of the best team in the world, I'm interested in being the coach of a team that can beat the best team in the world and if two or three of them play in our league; then we will try to beat them. And if we can beat some others too we might have enough points to win something, so absolutely not a situation to moan or cry about.
"Our situation is fine. A year ago, no one knew how football would go on and only one year later we speak about what we can do in the transfer window. People talk about changes to football structure completely (the 50+1 debate), changing the owner model and they wanting to sign Haaland for £150m just doesn't work together."
What else did Klopp say?
Nevertheless, Klopp is not perplexed by Liverpool's league position as he knows they've made hard work of what should have been a fairly routine task of securing Champions League football. Six consecutive home defeats in the early months of the new calendar year is where Liverpool will begin their post-season autopsy.
More recently, as Liverpool's cutting edge has continued to evade them, Leeds and Newcastle have condemned Klopp's men to frustrating draws that massively dented their Champions League aspirations. As Liverpool enter the final weeks of the season, with their heads, marginally, above the water.
"We just have to use our situation better than we did this year. Yes, we had bad luck, definitely. This was not a season that we could have become champion, it just was not, no chance. But could we have five, six or seven points more in this exact moment, yes and I think we should have, but we don't; that's something I don't like too much, but that would just improve our position for the final four games.
"Even with five or six points, we would still have to win all our games because the others could still win all their others. We have nothing to moan about, nothing to cry about."