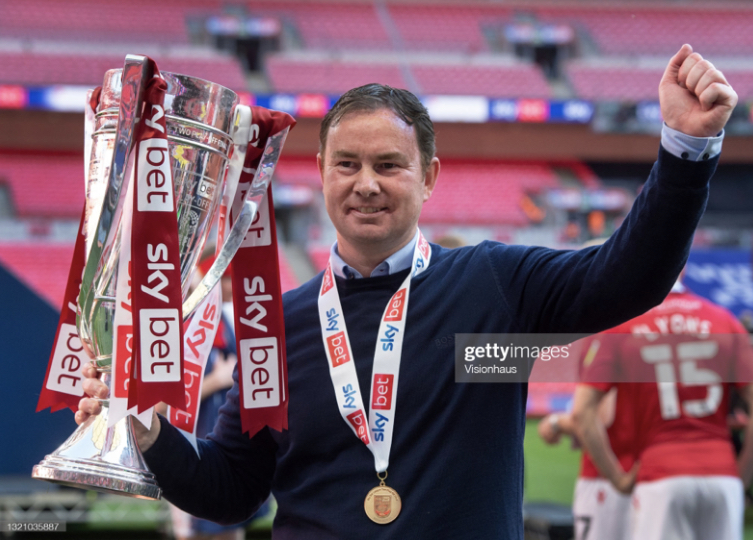 Bradford City have officially unveiled the appointment of former Morecambe and Plymouth Argyle manager Derek Adams.
The 45-year old manager began his coaching career in Scotland, taking the reigns at Ross County originally as a player-manager before retiring and reprising the role as the sole manager. In his first stint with the club, he shocked the likes of Celtic and Hibernian to reach the Scottish Cup Final, but lost out to Dundee United.
Adams departed Ross County for half a season to join Colin Calderwood as assistant manager at Hibernian, but his stay was short lived and less than a year before he returned to Ross County as manager.
On his return, the club went on a remarkable 34 game unbeaten streak and sealed promotion to the Scottish Premier League, and was elected as the PFA Scottish manager of the year. In his first year at the helm of Scottish Football, Adams missed out on Europe by one position, and after steadily plying along for two seasons he left the role by mutual consent.
Adams' next destination was in the South of England, as he joined League Two outfit Plymouth Argyle. Despite being out of the game for nearly a year, Adams led the Argyle to the play-off final, but the club were bested by AFC Wimbledon. He stayed on however, and achieved automatic promotion to League One in his second season in charge.
In his first season in England's third tier, Adams' Plymouth finished just one position shy of the play-offs, but a rocky run in his fourth and final year at Plymouth ended as the club battled against relegation, meaning Adams was relieved of his duties.
His third managerial challenge was back in League Two with Morecambe, a club highly predicted to struggle against relegation. Adams joined mid-season, replacing the long-serving Jim Bentley, but in his first full season with the Shrimps, he did the unthinkable, missing out on automatic promotion on the final day but defeating Newport County in the play-off final to steer Morecambe to League One, their highest ever position.
Adams left his role less than a week after promotion, with it being clear that he would be Bradford's new manager.
League Two expert
This season will now be the Bantams' third consecutive year in the fourth tier, after coming so close to the Championship in 2017, this is something the club need to be concerned about.
Adams is the perfect manager to guide this club out of the final professional division in England, as he has achieved promotion with two other clubs in recent years from League Two. This includes Morecambe, who were widely predicted to struggle against relegation.
Getting the best out of his players
Adams' recent achievement with Morecambe can be placed down to one main positive, his ability to get the best out of his squad. Players such as Cole Stockton or even Liam McAlinden haven't set the world alight in recent seasons, but under Adams they thrived.
With Stockton being one of League Two's most feared talisman and McAlinden being a large reason Morecambe got promoted, it shows Adams' fantastic man management and how he helps improve players. This could see a huge upbringing in players such as Elliot Watt, a Scotsman, like Adams, who could definitely further his career at just 21-years-old.
New signings?
New signings are guaranteed under new managers, but Adams has a certain signature for when it comes to arrivals.
The 45-year old tends to sign players he's worked with in the past, such as Yann Songo'o, who has been with Adams at every club he has worked with. This opens the door to a number of Morecambe, Plymouth and potentially even Ross County players that could be a potential target to Adams, with the rumour mill already swirling and Stockton apparently linked to Valley Parade.
Style of football
​​​​​​​Whilst his style of football isn't the most pretty of sights, it clearly works on the pitch. Adams favours a formation including a defensive midfielder and a lone striker, allowing an overhauling dominance in the middle of the pitch and defensive reassurance. Therefore it's key that Bradford bring in a striker, as they currently have none contracted to the club, that can work alone and fit within Adams' style.
Not a long-term manager
​​​​​​​Adams was once quoted saying that "Three years with one team is probably enough", meaning that he isn't the sort of manager to commit to a long-term project.
Whilst this will worry some fans, it's also excellent news for a club like Bradford. A team that perhaps aren't looking too far into the future but focusing on the here and now, which is getting out of League Two and once again becoming a League One promotion contender. This also means that Adams knows when he has outstayed his welcome, so if things were to go south he would leave with his head held high.