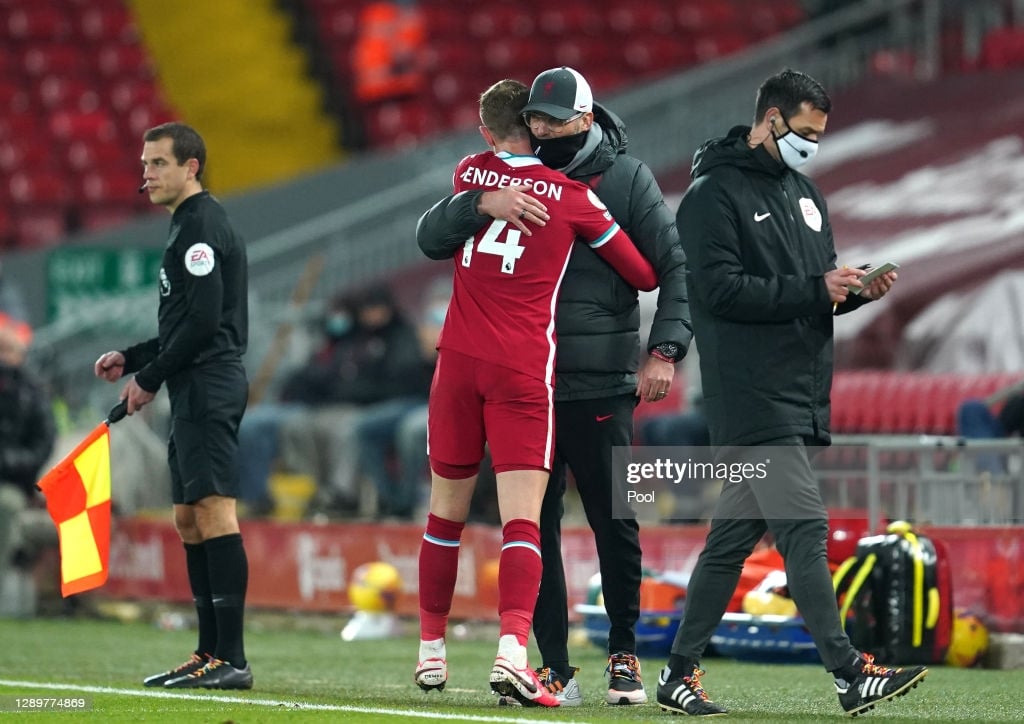 Jurgen Klopp has issued a promising update on the contract situation of Liverpool captain Jordan Henderson, stating that the midfielder's future "will be solved" over the coming weeks and months.
Henderson has been an integral part of the Reds' recent success under Klopp, with the Sunderland-born midfielder guiding the club to their first Premier League title in 2020.
However, despite his clear importance on and off the pitch, Henderson's future has come into doubt in recent weeks with reports suggesting post-season contract negotiations were unsatisfactory for both parties.
Having turned 31 in June, Henderson has two-years' remaining on his current Anfield deal, meaning he will be 33 by the time his current contract ends.
And given the way Henderson's former teammate, Gini Wijnaldum, departed Anfield, after being unable to agree terms of a new deal, it's become apparent that the Liverpool captain would want to avoid exiting the club in similar fashion.
What did Klopp have to say on the situation?
However, Klopp played down any talk of a contract dispute in his press conference ahead of Liverpool's trip to Carrow Road on Saturday evening.
"[It's] important but it will happen," said Klopp when asked about Henderson's contract situation.
"We will solve it. No doubt about that.
"I spoke yesterday to him and it looked like that, yeah," replied Klopp when asked if his captain was in the right frame of mind ahead of the Reds' Premier League curtain raiser again Norwich.
Given the transfer model that the current Liverpool owners, Fenway Sports Group, operate by there is often a reluctancy to hand out big contracts to players exceeding 30-years of age.
Former Liverpool captain Steven Gerrard and Wijnaldum are just two previous examples of players who have been victims of FSG's strict policy.
Although, at current, Henderson is key to Klopp's plans, in two years time the landscape could look very different. With the club aiming to make the age transition of the squad as effortless as possible - with contract renewals already begging this summer.
Many seem to believe there is no reason why Henderson couldn't follow in the footsteps of James Milner, who, at the age of 35, continues to preform at the highest of levels.
However, Henderson's battles with injuries in recent season may have placed doubt on his body's ability to let him enjoy the same longevity as Milner, with the Liverpool captain missing 40 games through injury since August 2017.