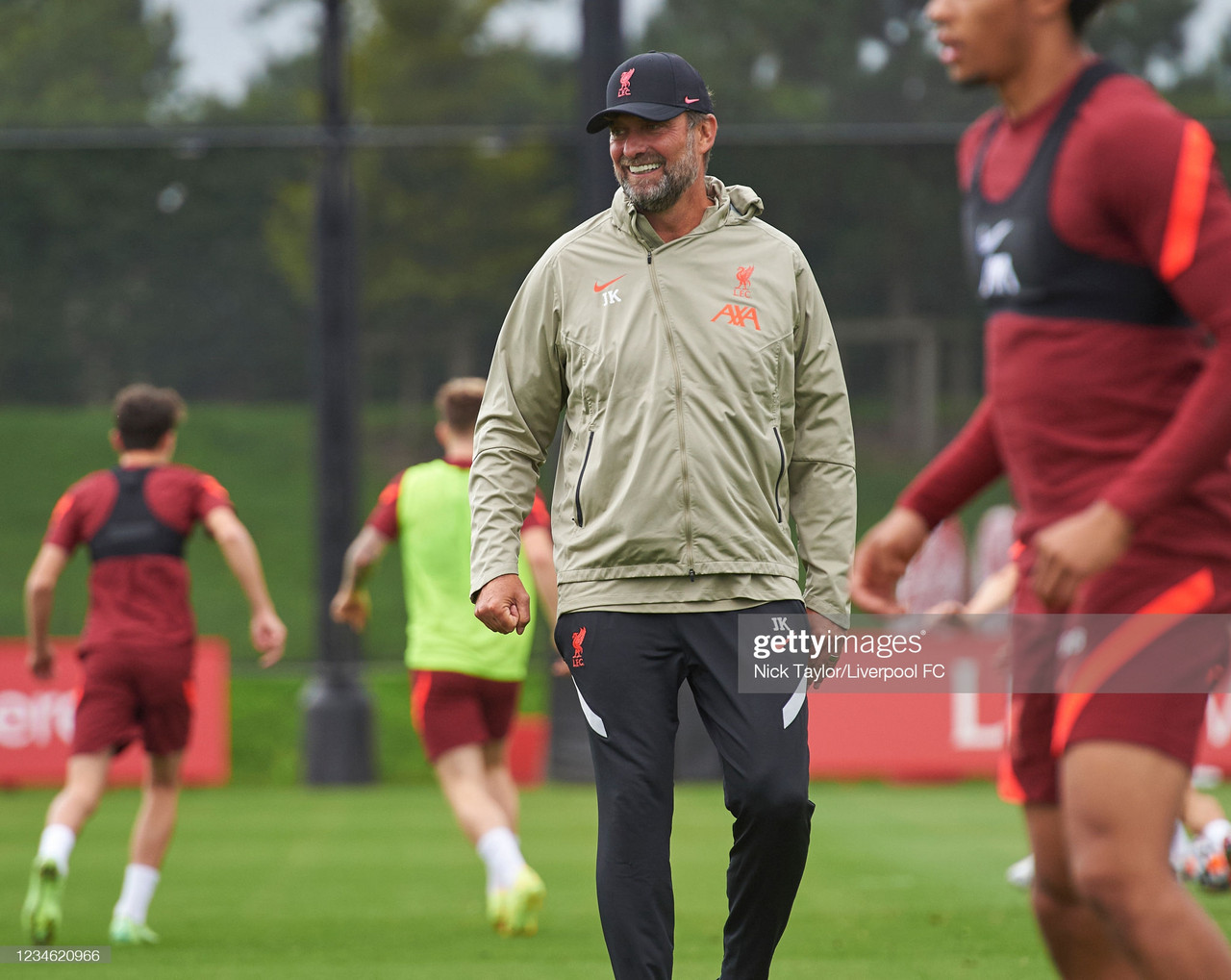 Having won the EFL Championship last season, Norwich City will be as up for the Reds' visit as any side will be in this campaign.
The Canaries will hope to put up a stronger fight than the last time the two clubs faced off in their curtain-raiser when Liverpool ran riot in the first game of 2019/20, winning 4-1 at Anfield. Earlier today, Jürgen Klopp spoke to the media ahead of the game.
Liverpool suffered a couple of blows at the back end of pre season, and the German Head Coach gave fans an update.
"[Jordan] Henderson and Thiago [Alcantara]'s pre-seasons started late, and they needed that because we prepare for a full season, not just one game.
"We have no major injuries apart from Andy Robertson, obviously, who is unavailable for the weekend. Curtis [Jones] is fit again but it is a process and we have to respect that.
"That is the situation. It is a good situation, but I have to make some decisions."
Spending in the transfer market
Much has been made of Jack Grealish's £100m move to Manchester City and Klopp was asked about his team's business in the window.
"We all know the situation of [Manchester] City and we all know the situation of PSG. I don't know what they are doing but we have our way that is how it always will be.
"We are allowed to spend the money we earn. It is always the way. This year, we spent before we earned because we brought Ibrahima Konate because after last season it was obviously clear that we cannot take any risks in this position at all.
"We keep the team together, that is another part of business as well. I know it's not as exciting and people think that if you don't sign [players] then you are not working. That is not the case.
"If you are a real Liverpool fan, you are really happy with the news the club has delivered in the past few weeks with the new contracts for Alisson Becker, Trent Alexander-Arnold and Virgil van Dijk and more will follow.
"We are in a better position than [this time] last year, so let's see where we will end up."
Klopp was also questioned about how he will fill the gap left by the departure of Gini Wijnaldum, having not signed a replacement.
"He was the most consistently available player and you don't have to hide the relationship I had with Gini, but he is not here anymore. You tell me which player we need.
"We played a few games [in pre season] with James Milnerand Naby Keita, Fabinho and Alex [Oxlade-Chamberlain], we also have Curtis [Jones] and Harvey [Elliott]. These are the players I think we will use.
"I am not angry or annoyed, I am really interested. Which kind player do you think we should sign? Should he score more goals than Gini? Should he defend more? You tell me who we should sign and I will think about it."
The financial effects of the pandemic
"February 2020, the pandemic started. Nobody knew how long it would last, I was hoping of course that it would be over in a month. Now we know so much more about it and it's still a difficult time. It was for football clubs as well, for different reasons," said Klopp.
"I'm not surprised (that other teams have spent big), because these clubs don't depend on this kind of thing, I think. We all know the situations at Chelsea, [Manchester] City, PSG. What's happening at [Manchester] United, I don't know - I don't know how they do it.
"We have our way and it's always been the same since I joined."
Harvey Elliott's development
Teenage winger, Harvey Elliott, enjoyed a brilliant pre-season and Liverpool's man at the helm spoke highly of the young forward.
"He showed up in an exceptional way. He's only 18 but we don't deal with him like an 18 year-old boy on the pitch. Like all our midfielders he brings a different dimension into the game. His dribbling and passing range are top. He played top in pre-season but so did Kaide Gordon, who is only 16.
"If you don't have these spaces in the squad you block these boys so we have to keep these spaces open to show we are a club who gives opportunities to these kind of boys and these talents."
Last season's finish and starting strongly in 2021/22
"The last few games [of last season], we knew it was in our hands and we came through it. For us, the third place last year was not far off the other positions in the two years before to be honest and was really special with the problems we had. We found a way how to win football games and that's a really important message. It was obviously a sensational feeling and that will help us because it's another feeling we experienced together".
"A good start is important, but we wouldn't stop if we couldn't start well. I'd love to win the first game, but it's disrespectful to talk about that before we even face Norwich. We have to go there, we'll do that this afternoon, have a nice sleep.
"I know how good they, how great a job Daniel Farke is doing there. Norwich have incredible trust in him - a new four-year contract, so they believe in his work. They lost at least one good player but they did sensational business.
"Billy Gilmour is one of Scotland's biggest talents over the last 50 years, bringing him in on loan. They lost [Emilio] Buendia, but the replacements are exciting. So we have to be spot on and have a good start."