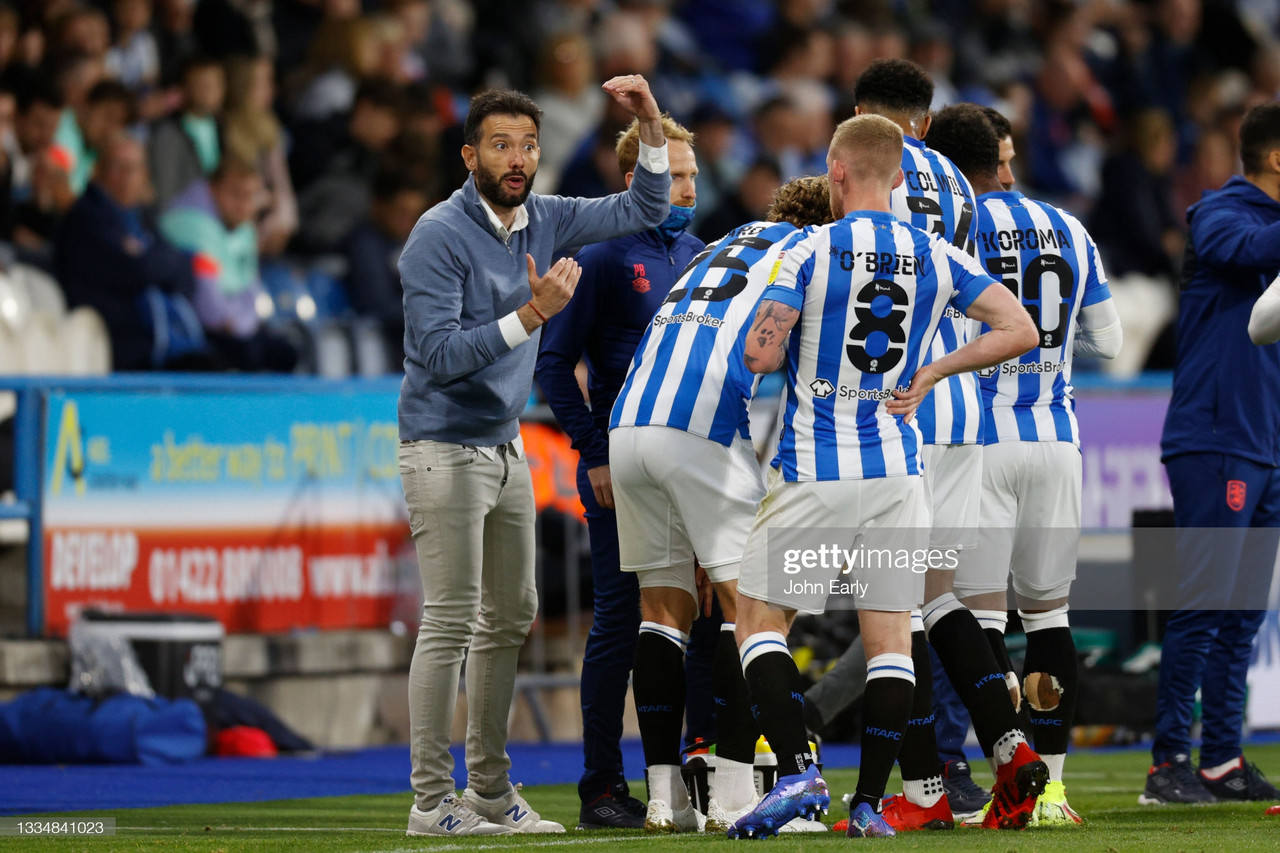 The Terriers travel to rivals Sheffield United on Saturday in a mouthwatering tie for the West Yorkshire side who will fancy all their chances against a Sheffield United squad lacking in confidence since their relegation from the Premier League, registering the lowest points total of recent joining the Likes of Derby County and Aston Villa. The Blades managed just 23 points in 38 competitive league games whilst Town were fighting it out at the bottom of the table in the second tier. Both teams now face each other in the Sky Bet Championship. Slavisa Jokanovic has a major job ahead of his hands as he tries to regain control of his troops. Ahead of this one Huddersfield Town manager Carlos Corberan spoke to Club TV ahead of the local clash.
Corberan touched on team news and injuries from the previous encounter at home to Preston North End.
"Like I said after the game he felt a bit dizzy before playing the game. He was ready to be a starting player but in the warm ups he was feeling he couldn't manage how he felt in that moment to play the game. Then the decision was he couldn't be in the team. After this yesterday he went to the doctor, a day after the game he wasn't here, he was recovering. Today he went to the doctor to make a scan, everything is fine and we are going to test him today to see if he can be available on Saturday for Sheffield United or not. We don't know the reason why he felt dizzy, maybe can be because of something that he didn't manage well, or maybe his body. I cannot tell you, it could be his ear was blocked."
"Danny Ward was feeling a strain, but he had a scan and is fine. He is another player that we are going to test today in training if he can play or not. Sometimes of course it is not nice, we decided to make the necessary changes to help him relax. Harry Toffolo trained two days ago, a day after the game and yesterday he was doing a specific plan and today he will be ready to train. We will see today how he feels but is one clear option we have in the team, to be in the first eleven or in the squad. Josh Ruffels on the other hand is not in the same process he needs more time because he was suffering more the consequences of Covid-19, so he wont be available as he didn't train with the group."
Previous result away against Preston North End was a massive result for the Terriers.
"I think in some moments of the season it is going to be very important to compete well, sometimes even more than play well. When you are trying to play well sometimes you don't compete well, sometimes when you try to compete well you don't play well. During the season you have to find a balance between both things to the competitive level at the highest possible you can and put you performance to the highest level you can. But it is true we were playing two days before against Fulham and one defeat can create a loss of confidence in the behaviour's on the pitch. Little by little we need to recover positive confidence in ourselves, the team will then find a way to perform even better."
"Always is very important to get the first win of the season. We did good things against Derby County to try and get the first win but we couldn't do it in the end. Fulham was a game where we didn't achieve much it didn't work out the way we wanted it to and it was a bad performance and a very bad result. It was important for me to get a level of reaction the other day against Preston which achieved the three points."
On improving the shot count on target
"I think it is true but the only thing is we scored. It is true the team didn't create enough chances on the pitch on Tuesday night. How we can create more chances is by attacking better, simple. It can start from the keeper or after one replacement. Every time our target when we have the ball for me is an opportunity to create a chance in the opposition half. The target we have and want is to see chances every time we have the ball, but not always we are able to do this."
Sheffield United not at the races early on in their return to the second division
"I think it is normal, Covid is going to have an impact in every team. They have changed the coach and have had to make many changes in pre season. Now we are going to try to make this a win and take advantage but I'm sure they will come through this patch as they are a good team, a high level opponent for any team. They are playing a line of four at the back and they have the players to be dangerous. The club has a history to promote a great level of football."