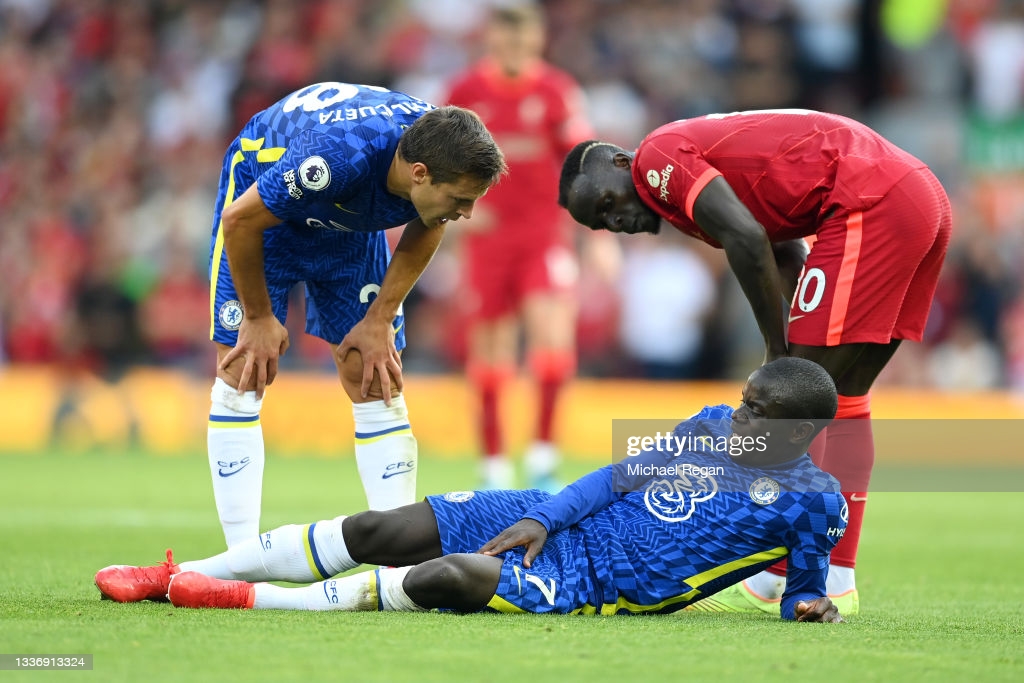 The midfield pairing of Jorginho and N'Golo Kante is arguably one of the best midfields Chelsea have had in a long time.
Having already won the Europa League, Champions League and UEFA Super Cup together, that midfield is likely to be central to anymore success that the Blues achieve both this season, and in the future.
Still only 29 and 30 years of age respectively, they are both right in the peak of their careers and are largely considered as two of the best in the World.
This was backed up earlier this week when Jorginho won the UEFA Men's player of the year award for the 2020/21 season and Kante won the best midfielder award.
So why are Chelsea considering bringing in a new midfielder?
Well, despite the array of talent on the Chelsea bench, they are lacking a replacement CDM. When Kante had to come off injured during the Blues' 1-1 draw at Anfield on Saturday, the only out and out midfield options to replace him were Matteo Kovacic and Ruben Loftus-Cheek.
Both are brilliant players, but neither really fill the Kante-sized void in the midfield when the Frenchman isn't playing, although Kovacic played very well against Liverpool on Saturday when he was called upon.
Now, it is unknown exactly how long Kante will be out for but, thankfully, it isn't expected to be long-term. But there may be times when they're not so lucky and Chelsea will at some point this season have to play big games without their dynamic Frenchman.
So, can they replace him internally? Or do they need to use the last couple of days of the transfer window to sign a replacement?
Saul Niguez and Aurelien Tchouameni
There has been lots of talk the last couple of weeks that Saul Niguez could be on his way to the Bridge. If it does happen, it's likely it will be a loan deal from Athletico Madrid, with the option to buy once the year-long loan is up.
That deal may be more likely now that the attempted signing of French centre-back Jules Kounde appears to have fallen through.
Chelsea have received almost £30 million from the sale of Kurt Zouma to West Ham, and are looking to offload more players before Tuesday's transfer deadline.
This will free up funds and squad space for them to potentially complete the Saul deal. The Spaniard has just come off the back of playing a vital role in Athletico's La Liga winning season, and his defensive nature would make him a perfect fit alongside Jorginho if, for whatever reason, Kante isn't playing.
It would also give the European Champions the opportunity to play a three-man midfield, if Thomas Tuchel wanted to get away from his 5 at the back formation. A three-man midfield of Jorginho, Kante and Saul would be something to behold.
Another option for the Blues, although perhaps a touch unlikely this transfer window, is young French midfielder Aurelien Tchouameni. At just 21 years of age, he would be seen as a more long term option and may not make a huge difference on Chelsea's ambitions this season.
He would, however, be good cover if Chelsea have a few midfield problems and, despite his age, he does have a lot of games under his belt having become a fixture of Monaco's side last season.
In the long term, Chelsea are determined to sign Declan Rice. The young English midfielder has been one of West Ham's best players several seasons in a row now and at the European Championships in the summer, he became a fixture of England's side.
His stock is rising every game it seems an it surely won't be long before a big club comes swooping in for him. It seems as though Chelsea are in pole position in that respect, with the 22-year-old being a boyhood Chelsea fan and having a good relationship with a number of Chelsea players, including best friend Mason Mount.
Whether it happens next summer or whether it becomes one of those long transfer sagas that seems to go on forever remains to be seen. But he is certainly seen as the long term replacement for the likes of Jorginho or Kante.
The Hammers would be unlikely to accept any less than £90 million for their star man however, bringing into question whether Chelsea would risk that much money on a defensive midfielder.
Chelsea have got such great squad depths amongst their ranks, and they may find that they have what they need already, both this season and in the future.
Matteo Kovacic proved he's more than capable of a big game performance when he was called upon against Liverpool on Saturday. Chelsea had their backs to the wall in the second-half after Reece James had been sent off, and Kovacic provided some respite with his brilliant runs with the ball past Liverpool's midfield.
He excellently mastered their press and gave Chelsea the chance to get out and launch attacks of their own. He has been a loyal servant at the club for a few years now and he may feel as though it's his time to step up and become a fixture of the Blues midfield.
As well as Kovacic, Chelsea also had Ruben Loftus-Cheek on the bench against Liverpool. After some very good performances for Fulham last season, it seems as though he is going to be given the chance to prove he still has what it takes to become an important player for Chelsea.
If Chelsea do keep him, rather than loaning him out again, it does call into question whether they really need to sign anyone else or whether they can rely on Loftus-Cheek to be the player many believe he can be.
Although those two players may not be what you consider an out and out central defensive midfield player, Chelsea also have Trevoh Chalobah who can be deployed in a midfield role.
The young centre-back was used as a midfielder in the latter stages of Saturday's draw. As a centre-back, he of course has good defensive attributes which therefore makes him a good fit for the role, but it's also his composure on the ball which suggests he could find himself being used as a David Luiz type of player.
His brilliant goal on his Premier League debut against Crystal Palace a couple of weeks ago also shows that he can cause goalkeepers problems with strikes from distance.
The Blues also, of course, have Billy Gilmour who is currently out learning his Premier League on loan at Norwich City.