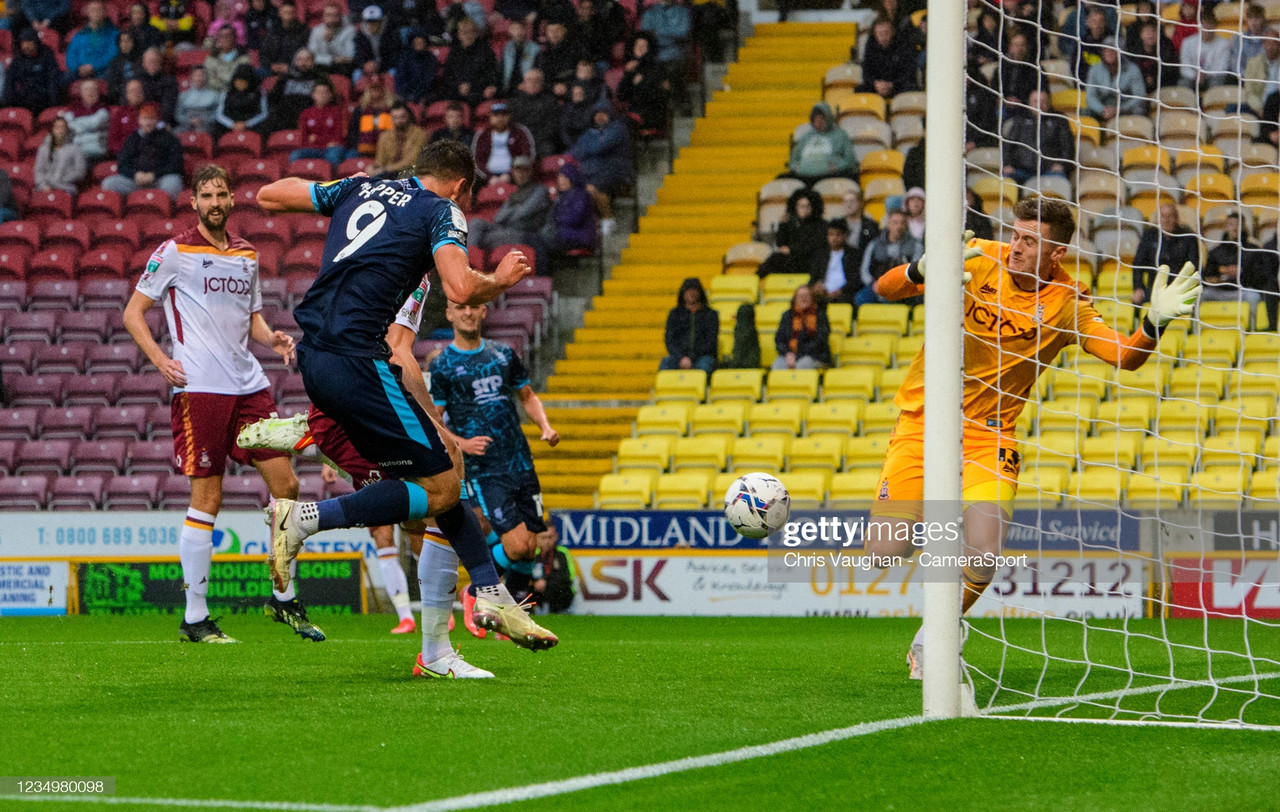 A flurry of goals from Tom Hopper, Hakeeb Adelakun and Anthony Scully meant that Lincoln City comfortably grasped their second victory of the EFL Trophy, at the expense of Bradford City.
Derek Adams named a strong starting eleven, after previously stating that Bradford were in the Papa John's Trophy to win it.
Lincoln had a similar idea however, as both sides made just four changes from their Saturday league games.
These two sides had faced each other just once in the last ten years prior to tonight's game- in a 5-0 thumping for Lincoln, as the Imps advanced in the EFL Cup.
Adams' opted to make four changes from Saturday's defeat to Leyton Orient, as Sam Hornby, Oscar Threlkeld, Fiacre Kelleher and Gareth Evans all emerged into the starting lineup.
Bradford City: Hornby; Threlkeld, Kelleher, O'Connor, Ridehalgh, Watt, Evans, Gilliead, Cooke, Vernam, Cook
Michael Appleton made changes of their own, as Sam Long, TJ Eyoma, Lewis Fiorini and Tom Hopper all started.
Lincoln City: Long; Poole, Montsma, Eyoma, Adelakun, Bishop, Fiorini, Bridcutt, Bramall, Scully, Hopper
Any game on transfer deadline day is bound to have fans feeling nervous, and Lincoln had their fans on the strings prior to kick-off.
As the departure of Tayo Edun was confirmed to Blackburn Rovers, their sorrows were quickly soothed by the addition of Dundee United starlet Jamie Robson.
But perhaps their distractions got the better of them early on, as some nice link-up play involving Evans, Callum Cooke and Alex Gilliead ended with Long smothering Gilliead's shot.
Gilliead was at the centre of the Bradford attack, as he spearheadeed another Bradford move but this time Andy Cook's shot was parried by Long.
But Lincoln weren't phased by the early spell from the Bantams, and responded in the best way possible- the opener. A superb move involving Adelakun and Cohen Bramall was finished off by the returning Hopper, who pounced on a back-post cross before nodding past Sam Hornby.
Bradford looked to spawn a fight back before half-time, as Charles Vernam lofted a cross to the back post, where Gilliead awaited, but had his powerful strike cleared off of the line.
Appleton's side would show their class however and ended any hope of an equaliser just a minute later. It could only be described as 'pure filth', as mentioned by the Imps' twitter account, as Adelakun pounced on a loose ball and weaved between two Bradford defenders, before rifling the ball past a helpless Hornby.
Heading into the second half, Lincoln looked to triple their advantage, but a long-range strike from Teddy Bishop sailed narrowly wide.
It wouldn't take long for the Imps to have another roll of the dice however, and within four minutes of the second half, Lincoln extended their lead to three. Manchester City loanee Fiorini drove in on goal, before selflessly teeing the ball off to Scully, who was composed in diverting into the far corner.
Lincoln had the ball in the back of the net for their fourth, but it was controversially ruled out for offside by the linesman.
Bradford looked to snatch a consolation goal, as substitute Caolan Lavery latched onto a poor back pass, but his effort skidded narrowly wide of Long's goal, and Cooke met Vernam's pass but could only scuff his strike.
The Imps came close to snatching a fourth on the 70th minute mark, as Bramall drove down the wing and pulled the back back to Hopper, but Kelleher's slide tackle denied the striker his second.
The Bantams would have one final chance for a consolation goal, as substitute Matty Foulds stole the ball from a Lincoln defender deep in the box, before pulling back to Gilliead, but the winger couldn't direct his effort on target.
Lincoln wrapped up the game and their qualification to the Papa John's Trophy knockout stages with an assured 3-0 victory over their Sky Bet League Two counterparts.
Whilst the game didn't pan out the way Bradford were hoping, the players can take praise for their efforts.
Facing a near full-strength Sky Bet League One side will always be a difficult chance, and the Bantams lacked luck at times when it came to scoring, having shots saved and cleared off of the line.
The returns of Threlkeld and Levi Sutton off of the bench is also a sign of progress, as the injured players begin to return to fitness.
A solid performance and a job well done from the Lincoln squad, who came to West Yorkshire and did exactly what was required of them.
Adelakun especially showed his quality tonight, at times toying with the Bradford defence and implementing a tactic which saw the wingers and the full-backs switch positions every now and then, just to alter the tempo of the match.
A clean sheet, three goals and an excellent performance- not much more you can ask for from a Lincoln viewpoint.
A fantastic performance from the former Scunthorpe United winger, who worked brilliantly with Bramall and dominated the wing.
His pace and power was excellent, but his movement was what made the difference. Tracking down every loose ball and giving Bradford defenders little time to spark an attack, he did exactly what was required of him today.
From a Bradford viewpoint, Gilliead had a solid game, being at the centre of most attacks. Alongside Cooke, Gilliead was a creative spark in the Bradford midfield.