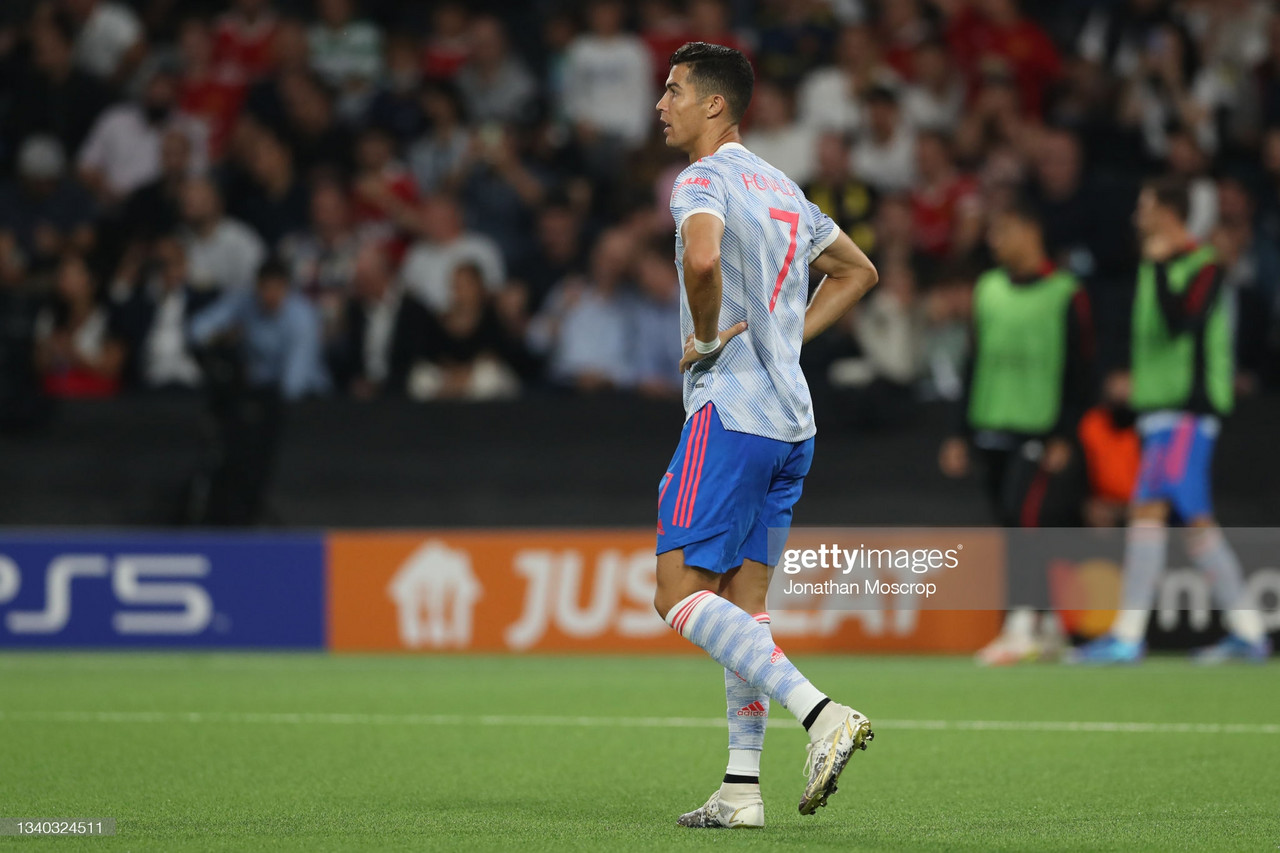 Manchester United fell to a shock 2-1 defeat to Swiss side BSC Young Boys, in the UEFA Champions League group stage, despite a brilliant Cristiano Ronaldo goal, which was assisted beautifully by Bruno Fernandes with the outside of his right foot.
Aaron Wan-Bissaka was dismissed in the first half for a dangerous tackle on Christoph Martins, from then on, the same old issues reared their ugly heads once again for the Old Trafford side.
After Wan-Bissaka's red card, United brought off Jadon Sancho for Diogo Dalot and Donny van de Beek was replaced by Raphael Varane, United moved to a back three.
This led to the pressure being put on United's goal which eventually led to a Young Boys equaliser through a header from Moumi Ngamaleu. United were a minute away from a point before an awful back pass from Jesse Lingard, who gave the ball straight to Theoson-Lordan Siebatcheu, who had a simple finish.
1. United once again buckle under pressure
When Ronaldo saw his shot go through the legs of goalkeeper David Von Ballmoos, United were in control and looked set to cruise to three points. However, when another of Wan Bissaka's heavy touches led to his studs going into Young Boys midfielder Martins ankle, United slowly lost control of the game.
From when the red card was shown to full time, United did not have a single shot at goal which is a damning indictment of United's performance on the AstroTurf pitch in Switzerland. United were camped in their own half and were constantly giving the ball away in midfield, the inevitable did happen and despite Solskjaer making five substitutes, it did little to turn the tide in the red devils' favour.
2. Lack of midfield signing may well be United's downfall this season
United on paper has solved two of the three biggest issues United have in games, a world-class central defender in Raphael Varane and a playmaking winger to play on the right to create space for others in Jadon Sancho. What United didn't get which may well go a long way in deciding whether this season will be a success or not is the signing or lack of signing a defensive midfielder.
With just 46% possession against a side who had to play six qualifying games to just get into the group stage is worrying and the lack of control from midfield was even more worrying. Every time United won possession off Young Boys, they either lumped it forward, where an isolated Ronaldo struck a frustrated figure despite the goal, or United tried to play it out but struggled to progress the ball and ended up losing it.
If United had a calming presence in midfield, like Fabinho, Jorginho or Rodri, then United would improve tenfold. Without a player in midfield who can circulate the ball and be comfortable under pressure, like former player now a coach on the bench Michael Carrick would be excellent in these scenarios, without that influence United will struggle.
3. Bruno Fernandes and Cristiano Ronaldo's partnership is beginning to blossom
When United announced the signing of Ronaldo, there were fans who suggested that Fernandes and Ronaldo would struggle on the same team, due to the midfielders' performances for Portugal in which he struggled to show the same efficiency and consistency in front of goal in which he showed at Sporting Lisbon and at United.
However, in the two games, they have played together, Ronaldo has scored 3 goals and Fernandes has scored one fantastic goal against Newcastle United and provided one fantastic assist which was a brilliant pass on a plate for Ronaldo to score, which the keeper maybe should have done better with.
Fernandes is a player described as someone who always goes for the difficult pass, if a striker makes a good run or is in a good position, Fernandes doesn't shy away from that and try to play it safe, he is a risk-taker in possession, which can be frustrating but when it works it can have many benefits for the team.
Now that Ronaldo is United's striker, who will always make those runs and will cause havoc in the penalty area, Fernandes will always have a target to aim for in the box and Ronaldo will always make the runs. If Tuesday's defeat in Switzerland, gave any positives to Ole Gunnar Solskjaer it's that the partnership of Ronaldo and Fernandes may be about to blossom.